Anushka Sharma, Alia Bhatt, Sridevi – Is there a void beyond the L-word in Bollywood?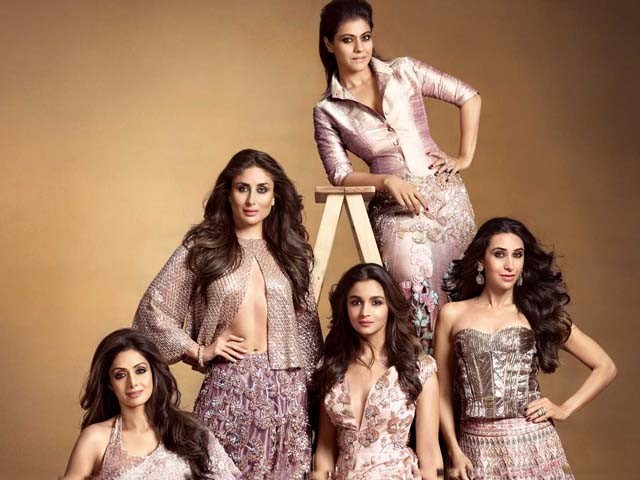 Once he gets over how annoying she is, in every second shot, he stares at her as if to uncover her hidden magic, her power of bewitchment, her secret ability to make the ground shift beneath his feet.
As he keeps up his pontification about how she must protect her virginal, doe-eyed, wild-haired self from his big bad sex-riddled being, she mocks him before sunset, and hugs him tighter than a cross-stitch at night. His discovery of good facets of his sinful soul is the culmination of her airy comments, her clueless maiden act, and her demure body trying to find way to s-excite him.
The older bad man and his young good love, the story of Jab Harry met Sejal, essayed by the king of romance Shah Rukh Khan – arguably in 'one of his best career' performances – and Anushka Sharma, the princess of good-natured fluff, in my favourite Imtiaz Ali's another journey of self-discovery that highlights how flippancy, dancing and hopping all over Europe will gain you profound insight into recesses of your soul you didn't even know existed.
Petite and fragile, as she guides a giant camera and shoots a scene with a profundity that belies her young age, you smile – finally there is a female protagonist who is actually doing something substantial with her reel life. Wishful thinking! In a scene or two later, as she breaks her very decent boyfriend's heart with her matter-of-fact declaration of sleeping with her film's producer, there is a grudging appreciation of her honesty, but a disclaimer: Don't read too much into it.
Again a scene or two later, the reaction to her new boyfriend's infidelity with his old flame sends her into a paroxysm of reaction that is eerily what you expect an Indian film heroine's reaction to be, and you watch the brilliant Alia Bhatt's Kaira in Dear Zindagi turn into a cliché. In her defence, she gets to salvage her character later.
Visually impaired, you see her in control of her life, working, dressing up and looking impeccable, dancing, romancing and doing everyday stuff until misfortune befalls her faster than you can say, you go, girl! She suffers in silence and darkness, and 'handles' her problem-giving self to ensure her 'kaabil' husband does not have to suffer any more.
Instead of looking for a tangible solution – like maybe move out of that place, no? – she  decides to end her life so that her husband doesn't have to protect her, plunging him into so much misery that there is no way out other than death. For the villains, of course. The beautiful Hrithik Roshan and the sweet Yami Gautam in a sightless love story, Kaabil, where the woman has to be helplessly and hopelessly destroyed for it to become a saga of pain and sacrifice.
While her stepdaughter treats her with utter disdain or callous indifference, the (step) mother finds ways to win her over, but in vain. Even after the girl's very brutal rape, her pain is only to be shared by her real dad, as no amount of efforts to attain closeness wins the 'sauteli' maa (stepmother) any empathy vote.
The very same stepmom of a teenage stepdaughter who barely talks to her goes on a murder spree to avenge the rape. Watch a chemistry teacher turn into a methodical killing machine to prove the depth of her maternal feelings. How most normal women don't consider murder as the final option even when their lives are turned upside down is of no consequence in this disturbingly potent glorification of vigilante justice veiled as a fantastic endeavour to showcase strength of a woman's conviction when her motherhood – in this case not even that of a bond with a child she gave birth to – is threatened. Strength is shown through death, the ultimate equaliser.
Of what that is in Mom, portrayed by the supremely talented Sridevi – in one of her most poignant performances to date – remains a conundrum.
When you don't have money, you steal money from gas station cash-tills, rob banks and agree to get married to people you don't love to please your father to give you money to make up for the money you don't have. Your eyes get a manic expression, you go shrill like a magpie on crack, you behave like a crazy person, you walk and talk as if you just arrived from a village in Gujarat, and you become a criminal quicker than you change one quirky facial expression to another.
Breaking Bad didn't do Walter White much good, and breaking bad in an awfully shoddy way lands Simran's Praful in nothing but a bigger mess than what she set out to untangle – crime doesn't pay, not even when your need is huge, you savour the high of pulling off a heist, and your character is being enacted by as big a talent as Kangana Ranaut. Maniacal energy is not always strength, ask Jim Carrey.
She is more beautiful than your best Monica Bellucci-hued dream, and she loves with no strings attached. She writes poetry, seductively guides you deeper into your soul, has steamy sex with you in secret alcoves in public places, recites Faiz, is worldly and yet sweet and gracious.
Do you love this woman anyone else would die to be with? Hell, no. You lament and you pine and you wait for the woman who laughed, joked, danced in streets, and bar hopped in the first 40 minutes of the film while she opened her heart about her painful former relationship, and the man she was dangerously in love with.
The ever-relevant 'ladki' (girl) of Hindi cinema, Aleezay, aka Anushka Sharma, is the love of your life, while the exquisite 'aurat' (woman) Saba, made unforgettable by the Aishwarya Rai, cannot make your heart go Ae Dil Hai Mushkil, you impossibly emotional, Ayan aka Ranbir Kapoor.
In a film after film, young women (the 'ladki) represents all that is strong and emancipated and refreshingly honest about today's women – getting drunk and dancing on table tops, sleeping with a man in a casual liaison, wearing the skimpiest of clothes, being unapologetic about life choices. More power to the 'ladkis' of Bollywood. In a patriarchal world, a woman's right to choose is the hard-earned result of many battles waged by countless victims and silent warriors.
But is that all there is to woman power, gender equality, freedom of choice? Are these films reluctant to go beyond the love aspect of a woman's life? Is strength of character denoted only by what you wear, who you date, who you dump, who you rob, who you kill?
Is freedom of choice limited to the size of your shorts or does building of relationships, education or career options also play any role? Is emotional struggle limited to how long you love a man or does it also matter how much effort you put in excelling in your life? Is success related to the man you end up with or the life you lived overcoming societal obstacles to become the best of you?
Is there a void beyond the L-word in film stories? Is love a 20-something heroine experiences the only guiding force in her life? Are there no stories beyond the flighty 20s?
The dumbing down of sensibilities, the narrowing of choices, the paucity of originality. If that is true, why do films that don't toe the line of acceptability work more than others? Why do films that empower and eulogise women as normal ordinary beings strike a chord with millions?
How do films like Kahaani, Black, Ram Leela, Bajirao Mastani, Pink, Piku, Dangal, Sultan, Queen – honestly, I can't think of too many names in recent-years films – manage to celebrate women highlighting their strengths and vulnerabilities in a relatable manner without narrowing them into stereotypes and clichés?
When will the 'ladki' of Indian films become a woman who while fulfilling the promise of a celluloid dream is a proud specimen of her gender, embracing best the knowledge of that power endows her with?
This post originally appeared here.