Sultan: Salman Mubarak!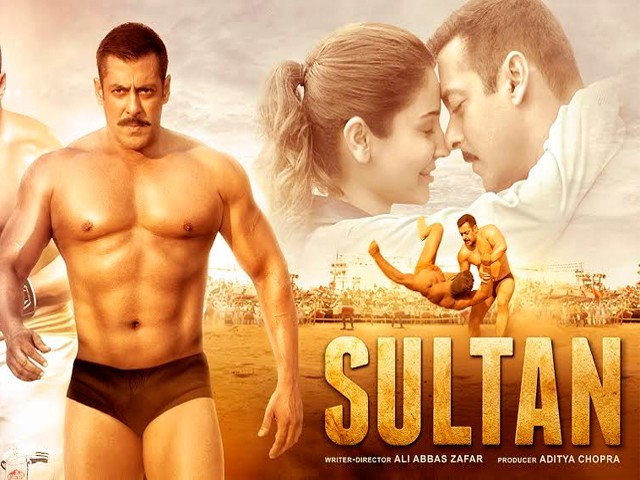 You could very well yap out those stimulatingly fervent lines like Sly Stallone from any of the Rocky's instalments. Good on ya for mastering all there is to learn about martial arts by simply watching Mr Miyagi mentor The Karate Kid (1984).  Or perhaps, you are now effectively able to roll with the heaviest of punches – thanks to Russell Crowe's James Braddock from Cinderella Man (2005). It doesn't frikkin matter how many classic underdog movies you have watched in your lifetime, because Sultan is unlike any other sports drama that you would ever have witnessed.
"Why?" you ask naively.

I blurt out 'Bhai!', condescendingly!
Loading ...
Before we delve deep into the critique, let me get this straight for the sake of sound reasoning. I am an unapologetic 'Salmaniac', so everything I say should be taken with a massive helping of SRK salt. Now with my colours firmly nailed to the (Sal)mast, how about we revel in the brilliance of Salman Khan's latest Eid offering.
Sultan Ali Khan (Salman Khan) is a small-town Haryanvi loafer with zero ambition and a bizarre kite obsession. A chance meet cute during one of his crazy kite-chasing dashes ends with him falling hard for a state-level wrestling champion Aarfa Barkat (Anushka Sharma).
In his quest to woo her, our hero decides to become a pahelwaan (wrestler) himself. Sultan then goes on to win global accolades along with Arfa's heart and grabs medals by the dozen. But in his greed for glory, he ends up losing his kid along with the woman he loves and the world comes crashing down upon him.
Years pass by in loneliness and self-loathing for our 'down but not totally out' protagonist, until salvation arrives in form of a professional Mixed Martial Arts (MMA) tournament. A shadow of his former self Sultan manages to man up and take the challenge to win both his self-esteem and love back.
Let's just face it, logic and a Bhai movie – like Salman and any of his flames – they seldom go hand in hand for long and Sultan is no different.
From winning gold at the world wrestling championship and the oh-so-easy Olympics in a matter of month since taking up the sport, to fighting with broken ribs against a best-in-class athlete and still prevailing, there's no shortage of absurdities in Salman's latest venture.
But then, do we really give a flying frick!
Bhai does what Bhai wants! #HatersGonnaHate
But jokes aside, if you are seriously someone who lets reason cloud his judgment of a bhaiventure then you, my friend, are a very sad person indeed. But if it's any consolation, Sultan is a story-oriented film unlike his usual endearingly brainless comedies
Admittedly, there is nothing novel in terms of the premise, but we don't watch a Salman starrer to experience inimitable storytelling, we catch it for his spell-binding allure.
The narratives may vary, but the persona doesn't change. We simply love his unpolished heart-of-gold, shirtless man-child parts and no amount of criticism directed at Salman's lack of acting nuance should dissuade us from the charisma on offer.
This probably is the first movie where instead of cheers and whistles, bhai takes off his top and everyone including himself quivers with revulsion at the sight.
Playing a fit and lean combatant who subsequently turns into a middle-aged, out-of-shape former wrestler, Sultan is easily one of his most credible performances. Salman acts out the rise and fall and the ensuing mount to glory again of the titular character with élan.
Anushka is her familiar feisty girl and does an adequate job of playing his love interest.
There are a couple of good acts in key supporting roles, including Amit Sadh as the entrepreneur behind the MMA League, Randeep Hooda as a cynical trainer, and Anant Sharma as Sultan's trusted sidekick.
In trying too hard not to seem overtly like a formulaic sports film, Director Ali Abbas Zafar of Mere Brother Ki Dulhan (2011) and Gunday (2014), opts to infuse this typical underdog drama with trademark Hindi film romance tropes. The song and dance numbers seem totally out of place, saved only by, in true Dhinka Chika form, bhai's sure-to-be universally mimicked signature dance move.
Allow me, to put this on record that I am the first person ever to call it …
'The Sultan Slam!'
At a butt-numbing two hours and 50 minutes, the film should have felt torturously long but since it's a Salman fare; the more, the merrier
As far as the audience is concerned the movie packs a truly tight punch, albeit with a slight 'Bhai' caveat attached that regular rules don't apply. As for Salman Khan, cinema's heavyweight champion, Sultan is yet another knockout by B-town's true prize-fighter.
I would give this movie three stars out of five but since it featured Bhai, so..
Loading ...