Ram-Leela: Sanjay Leela Bhansali's visual treat to the world!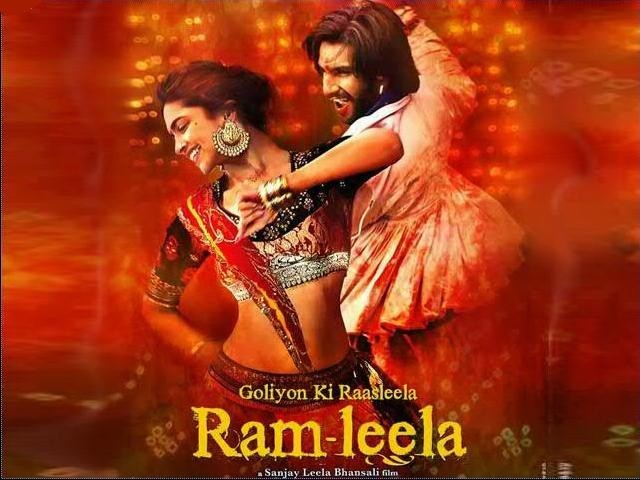 The moment I saw the first promo of Sanjay Leela Bhansali's film Ram-Leela, I decided I had to watch it. I did not think that it would change my views about world cinema, nor was it the most captivating promo one would ever see; but it did look absolutely stunning.
I knew that it would be nothing less than a visual treat. However, before you classify me as a die-hard fan of Sanjay Leela Bhansali, let me clarify. I am not a huge Bhansali fan, I particularly did not like Hum Dil De Chuke Sanam (HDDCS) or Devdas and I could not bear Saawariya for 15 minutes.
Having said that, it is true that when you watch a film that is based on Shakespeare's Romeo and Juliet, you do not watch it for the story. Romeo and Juliet has had many adaptations, not only on stage, but also musical versions – West Side Story, soft romantic versions – Qayamat Se Qayamat Tak and of course, contrived versions like Ishaqzaade.
So there is no doubt that Ram-Leela is a generic film. After all, how can a plot set in violent times in Rajasthan bring anything new to the screen in terms of story?
So what remained to be seen was how 'Bhansali-esque' the film was and boy, it was very 'Bhansali-esque'. From the song in the opening credits to the grandeur of the sets and chroma keying; from the uber artistic choreography to the exceptionally beautiful frames, Ram-Leela oozes Bhansali's class as a filmmaker even if his writing is somewhat questionable.
Ram-Leela thrives on technical superiority and performances, with Ravi Varman's camera work taking the cake. If you thought that Sudeep Chatterjee was good in Guzaarish, Ravi Varman has taken cinematography to a whole new level in Ram-Leela. The camera work in the film is literally a piece of art. There are just too many beautiful moments to write about and you will have to go see for yourself!
The film's second strength is its choreography. Even though I think that there are two songs too many in the film, it is the music videos where the film reveals its true 'Bhansali-esqueness'. The songs have been picturised exquisitely, such as the blood eluded Lahu Munh Lag Gaya, which is reminiscent of Aankhon Ki Gustakhiyan from HDDCS. 
Of course, there is also the utterly sensual imagery in Ang Laga De Re where Leela entices Ram and even Priyanka Chopra's completely misplaced item song Ram Chahe Leela does make its mark with regards to picturisation.
Add to that the film's sound design, costume design, make-up, art direction and dialogues, and you see the infinite creativity of Sanjay Leela Bhansali as a director.
Then, there are the performances.
Although Gulshan Devaiya as Bhavani is below par and could have delivered more, the rest of the supporting cast has really stepped up. Richa Chadda proves her mettle yet again while Abhimanyu Shekhar Singh, although less terrifying than he was as Bukka Reddy in Rakta Charitra, is right on the money.
Nonetheless, the film belongs to three characters – Ram, Leela and Baa.
Baa is played by the underexposed and highly plausible Supriya Pathak. Her character is both, fearless and fearsome at the same time. She is a woman who can go to the extreme of cutting her beloved daughter's finger simply to take off a ring. Pathak, who was forgotten for her roles in Kalyug and Bazaar, and is remembered as the comedian from Khichdi, has made a comeback of the highest order and filled her role splendidly.
Then there is Leela. Gorgeous, aggressive and tempestuous in those ghagras and cholis, Leela is Bhansali's replacement of Devdas's Paro. There were moments when I actually forgot Paro like when Leela wrote Ram's name on the mirrors in her room, or when she held a gun to his stomach and vowed to kill him if he cheated on her, or then when she touched his feet in complete submission.
There literally seem to be fifty shades in Leela's character and Deepika Padukone has done justice with all her emotional outbursts.
Deepika has left her comfort zone of being the new-age urban girl from Cocktail, Love Aaj Kal, Yeh Jawani, Break Ke Baad and so forth. Her scenes with Richa Chadda in the second half are utterly brilliant. If Ram-Leela is a success, this will be her fifth consecutive hit and her performances wholly deserve that sort of success.
Last but not least, there is Ranveer Singh – an actor who is completely at ease with himself. From the nonchalant guy in Band Baaja Baaraat, Ranveer has come a long way because Ram is not like the everyday lover boy that any actor could play. Disreputability is his pride. He does not play cute, compelling you to love him back. Instead, he runs suspicious video stores and flaunts his well-toned body at women.
And then he changes.
From an authentic lover who slits his wrist, he becomes a resolute leader who shuns his sister-in-law implying that he has forgotten his personal life. As good as Ranveer is in playing this character in its physicality, he is even better at playing the hazy pre-requisites of a Bhansali movie. His energetic dance moves and his manifestation of holding back something from spilling out are a treat to watch.
Any actor in a Bhansali movie has to be a performing artist and Ranveer Singh fulfils this requirement with great aptitude. His confrontation scene with Leela towards the end of the movie before the sarpanch played by Raza Murad, is arguably the best part of the film.
Although we have seen the world that Bhansali has created in Ram-Leela before in HDDCS with its rich colours, similar soundtrack and even the same bhavai, it seems less mawkish and more vehement this time. I, for one, prefer this world over the earlier one. Yes, there were a few dragged sequences in the film and I would have personally liked to cut a song and 10 minutes from each half, but that does not take away the fact that the film was indeed a visual treat.
It looks like Ram-Leela could well be the return of Sanjay Leela Bhansali and perhaps, the emergence of Ranveer Singh as a serious actor.