With grandeur that leaves audiences a teary mess, has Sanjay Leela Bhansali replaced Shakespeare as the king of tragic romance?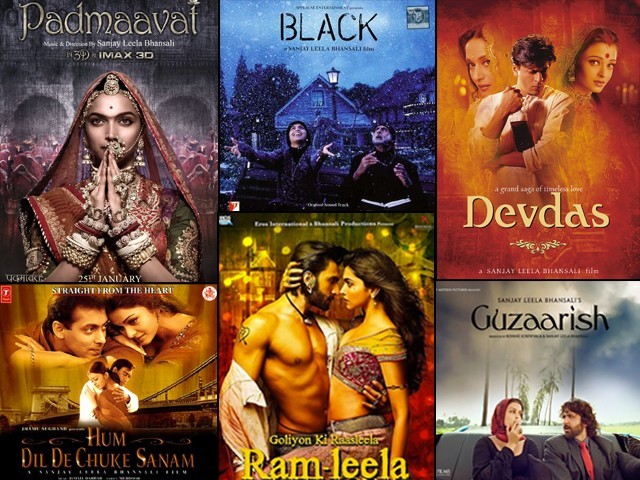 If there is a synonym for visual opulence, it is none other than the great auteur, Sanjay Leela Bhansali. With only nine directorial ventures under his belt so far, Bhansali's career as the main man behind the camera has not been less adventurous than a roller coaster ride.
From being an assistant director to the crafty Vidhu Vinod Chopra, to his debut directorial flop; from successfully taking risks to creating a national level controversy, Bhansali has probably seen it all in his career. Yet he always strives to deliver a magnum opus like never before, with Padmaavat being the latest example. The canvas in his films is always larger than life, and the cinematography always treads closer to making his films seem mythical and dream-like.
Having said that, Bhansali comes across as one of the most intense directors of Indian cinema at present; having a reputation of being particular about his work to the point of obsession. Fragmenting this obsession only reveals the depth of passion he reserves for his work, reflected in various aspects of his film making.
Bhansali seems to be fixated upon certain contextual settings in the world he creates in his movies – particularly a Christian iconography. This can be seen in Khamoshi, which tells a story of a Catholic family based in Goa, starring Nana Patekar as Joseph Braganza. Also based in Catholic Goa is Guzaarish, the story of Ethan Mascarenhas, a paralysed magician-turned-Radio jockey, and his nurse, Sophia D'Souza. In Hum Dil De Chuke Sanam, Salman Khan plays Sameer Rosselline, who lives in Italy with his mother, Mrs Rosselline (played by Helen). Black, inspired by life of Helen Keller, tells the story of Michelle, a deaf and blind girl in Simla.
This overwhelmingly Christian depiction can scarcely be found in the work of any director other than Bhansali, who goes to church weekly. He also counts a Catholic school teacher as one of the biggest influences in his life, and adding Christian representation to his movies may well be his way of paying tribute.
Another impulse driving Bhansali's work is his unconventional and out of the box casting. Who else would cast Patekar, known for his dialogue delivery, as a deaf and mute character? Who else would think to present Hrithik Roshan, an immensely talented dancer, as a quadriplegic and paralysed man? How many takers would there be to rope in Rani Mukerji, one of the leading actresses at the time, for the primary role in Black? And finally, who else could have managed to convert the flamboyance and exuberance of Ranveer Singh, into a stern and disciplined Maratha warrior, Peshwa Bajirao? Bhansali definitely defies the conventions of casting, and makes actors do things even they would not deem themselves capable of.
There is a fixation with love triangles that can be witnessed in Bhansali's work, specifically in Hum Dil De Chuke Sanam, Devdas, Saawariya, Bajirao Mastani and to some extent, even in Padmaavat. However, the element of tragic romance has remained the crux of almost all his films. With the exception of Khamoshi, every film has left the main characters apart and the audience sobbing towards the climax. The emotional coefficient in Khamoshi too ensured everyone was teary eyed, but the heartbreak was unforgettable in Hum Dil De Chuke Sanam; a tale of two lovers connected through music, only to be separated by family tradition and never to be re-united as lovers.
In Bhansali's next ambitious project, Shah Rukh Khan played Devdas, a self-destructive, wealthy law graduate who is forbidden to marry his childhood sweetheart, Paro (Aishwarya Rai). This leads him to seek refuge in endless alcohol bottles and a prostitute, played by Madhuri Dixit. The film ends with the synchronisation of two tragic incidents; Paro's husband locking the door of his mansion to keep her in, while a physically shambled Devdas is seen lying on the floor outside. As Paro runs to approach her childhood love and touches the door, it is shut and locked at the same moment Devdas takes his final breath and passes away.
Saawariya, an adaptation of Fyodor Dostoevsky's tragic short story White Nights, also tells the tale of a doomed romance. Set in an unnamed dream-like land with astounding cinematography, the film was a massive commercial and critical flop. This film too ends in heartbreak, where the male protagonist has to let go of the woman he loves without expressing his affection, as the man she loves finally makes an unexpected return, just as our protagonist is about to confess his undying love for her.
Goliyon ki Rasleela Ram-Leela, based on William Shakespeare's Romeo and Juliet, was perhaps the one instance where the doomed nature of the romance was obvious from the start. Set in the state of Gujarat, the lead pair are brought together and separated due to a family feud, and peace is only achieved once they lay dying in each other's arms. Bhansali cast the same pair, Singh and Deepika Padukone, for another dream project, Bajirao Mastani. Here too, both lovers are separated, this time by the force of religion, and tragically breath their last at the same time, miles apart from each other, as their love is immortalised.
Padmaavat, the most recent venture by the auteur and his biggest, and undoubtedly most controversial, work to date, has become his magnum opus, leaving the audience astounded and in goose bumps, especially in the final scene as we witness a mass self-immolation.
Perhaps his troubled childhood – being a son of financially broke producer with an alcohol problem – is what has taught Bhansali the harsh realities of life and created a deep affection for telling heart-breaking stories, earning him the title of the 'King of tragic romance'.
However, if his father has influenced the darkness of his work, it is his mother who has inspired the strong women we get to witness in his movies. From Dixit's zealously strong character in Devdas, to Mukerji's role in Saawarya, both act as maternal influences in the life of the protagonist. Even when the mother-figure isn't nurturing, she is always strong and can be the source of generating the conflict. Apart from Hum Dil De Chuke Sanam, where the father is behind the separation of the lovers, we see the antagonist in the form of Devdas's mother, Leela's mother, or Peshwa Bajirao's mother.
A repetitive pattern can be appreciated in almost everything Bhansali does, but in mostly depicting women who head the family and have a deep strength in their character, Bhansali pays tribute to his mother 'Leela' – the woman who nurtured his creative mind and created the auteur the world will always remember as Sanjay 'Leela' Bhansali.