For Muslims in India, Eid namaz was offered under the shadow of fear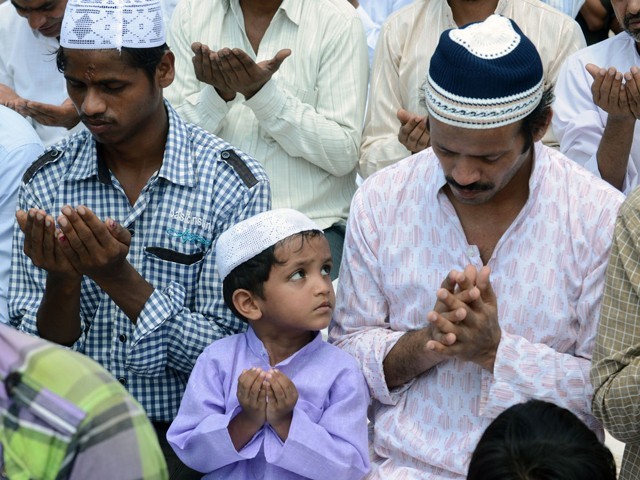 I recently recalled the memory of an argument I had with one of my friends from school six years ago, when I was still in high school. It was around the time Narendra Modi was vigorously campaigning to become the next prime minister of India. He was a hot topic for debate, and every media house was discussing the sharp rise in the popularity of the chief minister of Gujarat, despite the Hindutva identity he carried.
The media termed it the 'Modi wave'.
My friend and I were discussing the series of corruption scandals that unfolded during the tenure of the United Progressive Alliance, as well as the Hindutva becoming a part of mainstream politics. He kept on insisting that Modi is the only option to end corruption in the country, and most importantly, to revive 'Indian culture'. This term, however, has never had an exact definition, and is often manipulated to fit into the propaganda started by the right-wing.
Four years after the Modi-led National Democratic Alliance (NDA) government succeeded the 10-year-old Congress regime, many things have changed, but perhaps the most drastic and nefarious development is that hate has now been established in the mainstream. Over the course of these years, Eid versus Diwali and shamshan (cremation ground) versus kabristan (graveyard) are debates that have become part of conventional politics. Today, a wide and bold line has been drawn between Eid and Diwali.
On the one hand, it would be wrong to say all this began after Modi assumed power. On the other, it is safe to say things have become significantly worse for Muslims during this time period. Eid has now lost its sweetness, as well as the gesture of brotherhood it used to bring.
Danish Ahmad, a post-graduate student from Ranchi, told me,
"The frequent riots in Jharkhand have changed the emotions for Eid. Now, there is a fear of offering namaz (prayer) in public. People in my area are more concerned about safety and security. Communal clashes have brought an enmity between Hindus and Muslims, and have certainly left our lives in terror."
I recall a lesson from my school, where I was taught to celebrate the plurality of India. After all, multiculturalism has always been the identity of this land. Merely a simple Google search will enlist examples where temples and mosques shared the same boundary. Of Muslims designing effigies of gods and goddesses for Hindus and their puja (prayer). Of people in India celebrating Diwali, Eid and Holi together, unhindered by religion.
Though cultural and religious differences have existed in India for a long time, unfortunately, over the course of a few years, offering namaz in public became known as 'land jihad'.
The horrific yet frequent episodes of lynching have terrorised the Muslim community to an extreme. In its report, India Spend mentions a sharp increment in crime against Muslims after the Bharatiya Janata Party (BJP) came into power. The data maintained since 2010 suggests 97% of cow-related violence occurred after 2014, in which 84% deaths were of Muslims.
On May 20th, 45-year-old Siraj Khan was lynched to death in Madhya Pradesh. The state is ruled by the BJP, and is one where several reports of major assaults against Muslims have increasingly made headlines over the years. The Modi government has succeeded in blocking the thinking ability of the so-called "concerned India" from visualising the greater challenges that lie ahead.
"The current dispensation is more entrenched than what was found in the regimes of Hitler's Nazi Germany and Mussolini's Italy, as both regimes had no organisations like the Rashtriya Swayamsevak Sangh (RSS) backing them," says Ovais Sultan Khan, who hails from Amroha, a district of Uttar Pradesh currently ruled by Yogi Adityanath, a saffron priest and the face of the militant Hindutva.
The newly coined but commonly used terms, like love jihad, land jihad and ghar wapsi, all cause anxiety amongst Muslims. Gau-Rakshak, the self-proclaimed cow protectors, and other offshoot organisations of the RSS have become the face of saffron terror in our country, and are leaving no stone unturned to demonise Muslims and their culture. And Eid is not an exception.
I have grown up in a pluralistic society with worthy exposure to the diverse culture of India. I studied in a boarding school, where most of my time was spent at the home of a man who was Hindu. He raised me like his own son, and always took care of me. I will never forget the kindness and generosity with which I would be treated during the month of Ramazan. Though I never got the chance to celebrate Eid at his house, choosing instead to go back home for the holidays, but every year I would return with a box filled with sawaiyan sent by my mother for him.
I often compare my childhood to the times of today, and it is remarkable how many things have taken a turn for the worse. My friend from school and I have not met since then. The sweetness of sawaiyan, whose smell could always be found in the neighbourhood and at friends' houses, has now been confined to the ghettos. Sawaiyan has become untouchable, like Muslims, whose patriotism is now being questioned on trains, buses, at the workplaces and even in the privacy of their own homes.
As I am a Muslim, I am called a Pakistani sympathiser, and even asked to leave India – I call this high school bullying. Now even the auto driver, whom I pay for the service, feels compelled to question to my ancestry and my 'Indianness'.
Despite our differences, Eid has always reduced boundaries between communities and spread love amongst our countrymen. However, in contemporary times, when mosques are vandalised and Muslims are used to harassment in their own colonies, Eid itself has become a minority, and has been reduced to a festival of ghettos. This year, Eid namaz was offered under the shadow of fear, and this is the harsh reality India has to live with. One can only hope that this hate too will age, and these times shall one day pass away, leaving behind the pluralism India once prided itself on.