The disgruntled PTI voter: Imran Khan couldn't change the system, so he joined it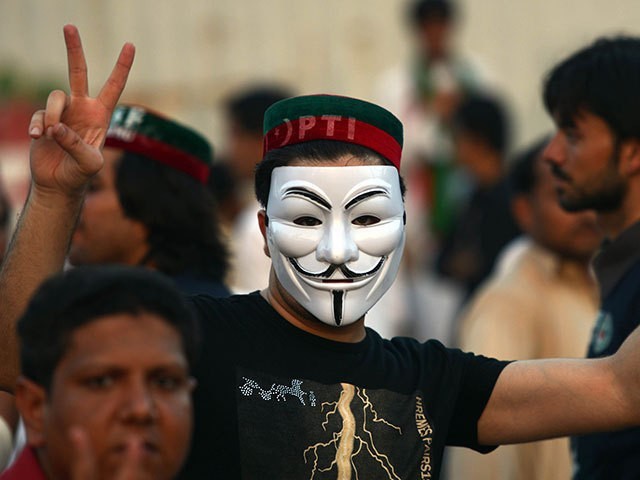 Dave Chapelle, a successful American comedian and democrat, phrased it perfectly when voting for Hillary Clinton in 2016:
"It felt like the right thing to do, but it didn't feel as good, as it should have."
He was referring to how good it felt to vote for Barack Obama, the first African-American president, and how good it ought to have felt to vote for Clinton, the first woman president, but it wasn't, because of the corruption scandals that plagued her candidacy.
I feel this statement resonates with a lot of Pakistan Tehreek-e-Insaf (PTI)'s supporters, Imran Khan, who to a lot of voters, is not the philanthropist they voted for in 2013. He's turned into a politician. And hence, it just doesn't feel as good as it should have to elect him into office.
Fauzia Kasuri, who defected to Pak Sarzameen Party (PSP), was a long-time worker of PTI. She highlighted the issue perfectly when she said that by embracing the very people the PTI meant to root out of the system, it became the very plagued system that it meant to wage war upon.
While it is true that elections are not won without candidates, PTI's audacity to completely dispose of its original candidates has made some voters wary, to say the least.
The allotment of tickets is perhaps always shady business and voters are likely to be displeased in the process. But political dynasties like Pakistan Peoples Party (PPP) and Pakistan Muslim League-Nawaz (PML-N) are not accountable on the same level as PTI is to its supporters, hence their leadership, unlike PTI's, may do as it pleases.
The central executive committees of these parties do not have to worry about voters leaving, but perhaps their candidates resigning. PML-N and PPP can bank on ethnicity and reliable candidates, hence it is difficult, though not impossible, to penetrate into their vote bank.
While it is true that PTI has more electables than it previously had in 2013, it still relies upon support from urban areas and regions in Khyber-Pakhtunkhawa (K-P), where voters have never voted for the same party into office twice. And hence, it has to be very conscious about the image that it projects.
This brings us to PTI's gamble. PTI's dismal performance in the last elections has led it to change its strategy drastically. It no longer struggles to appease its social media followers. It is forgoing the left for the right, giving up on loyal middle-class party members and searching for candidates on the right.
PTI's mishaps
PTI's struggling to get to the finish line. A couple of weeks ago, it seemed that all PTI had to do was maintain momentum till the elections. But it just couldn't do that.
PTI welcomed Farooq Bandial with open arms, only to expel him a few hours later, because of the backlash PTI faced upon his entry from 'social media' on his criminal past. And rightly so. However, this was not the end of it.
Another name on which PTI did a "U-turn" was on Orya Maqbool Jan's choice as caretaker chief minister Punjab owing to his hard-line approach.
Then, Imran did himself no favours by giving a below average HARDtalk interview to BBC and then leaving for Umrah with someone whose name was on the Exit Control List (ECL).
All of these mishaps may not retract votes in K-P but the urban youth may care about Imran's views on feminism and his complicity in taking in incorporating candidates who have never struggled for justice a day in their life.
Although PTI is not completely aloof of the feedback it receives, it is willing and able to take in some very questionable personalities who have never endorsed PTI's motto or agenda. And slowly, Imran just does not seem so different from the others when viewed with an objective lens or even a liberal one.
The mishap waiting to happen
Perhaps it is unjustified to call it a mishap. PML-N may not be favoured by the state, but it has the electorate on its side. Thus, with each passing day, a PTI-PPP collation is becoming a necessity if Imran is to become the premier. And the unsavoury collation with someone whose entire tenure was marked with corruption is not something most PTI voters signed up for. Thus, the mishap waiting to happen is the unsurprising collation that would be forced down insafians' throats.
The dilemma
So in the trade-off between getting into power and being true to its cause, who gets traded off? It seems that PTI is favouring the former, as Imran recently exclaimed that in order for a viable candidate to contest in an election, he ought to have 2,000 workers under his belt. And freshmen candidates, who represent that party's true cause, just do not have that.
Thus, this very dilemma represents PTI's transformation from a philanthropic party to a mainstream one. Perhaps, Imran realised that he needed to become part of the system in order to reform it, at least that's what PTI's voters are perhaps telling themselves.
And that brings us to the disgruntled PTI voter. The reason PTI has not been focusing on them lately is because these urban youth voters are never going to vote for PML-N or PPP, so either they abstain or they vote for PTI regretfully.
And this represents a never ending chain of events. A new party grows, taps into the urban voters, and as the middle class helps it grow, it realises that this loyal class cannot win it seats in the national assembly, hence the party shifts its focus to electables in the process. And this shift creates a vacuum over time which will later on be filled by another party. For instance, a recent poll showed young voters in Karachi shifting their confidence to Jibran Nasir.
Why won't this chain ever end? Because the ruling party, the one that controls the assembly, would never seek to uplift the middle-class since it does not represent its interests. This is not a cynical analysis but a very pragmatic one; would you rather invest in a group that has given you seats to form a government or one that has proven to be too dispersed to deliver constituencies?
It is true PML-N via its laptop scheme, Danish schools, Metro bus and Orange Line has focused considerably on urban voters, however, these serve more as talking points for all of Punjab. A metro bus built in Lahore serves as an aspiration to PML-N voters in other areas. It serves to highlight Shehbaz Sharif in a positive light throughout Pakistan.
Thus, urban voters, specially our youth which is almost a majority, relied on PTI. They still want Imran as the prime minister, but with each passing day, they ask themselves, at what cost? They are contemplating that maybe the system destroyed the man who wanted to rule this country with good faith and strong ideals. And what's left is no different than what was already there.
It is still hopeful, though not happy. And they will most probably still vote for PTI, because there is no one else, thus the disgruntled PTI voter.