Junaid Jamshed taught me the importance of humility, positivity and staying true to oneself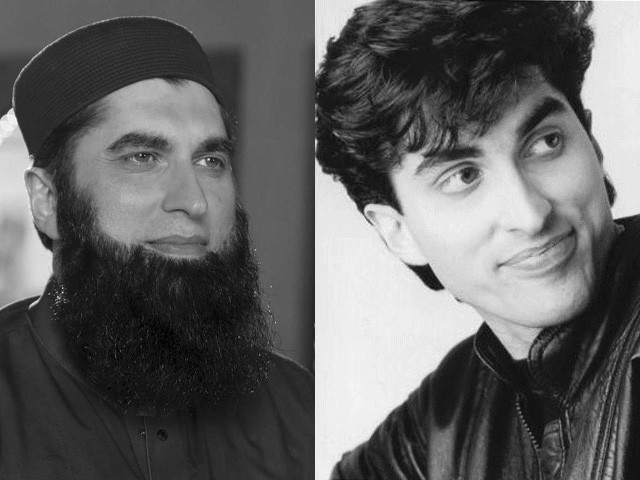 It has been a year since crooner turned preacher, Junaid Jamshed, passed away in an air crash. He had been coming back from a preaching mission (tableeghi jamaat) in Chitral, when he met his unfortunate demise. Jamshed had gained countless fans during his singing days and was credited for bringing Pakistan out of its Ziaul Haq-induced oppression of the 80s. Eventually, he turned to religion at the turn of the century and earned followers by delivering sermons and naats in his silvery voice.
Interestingly, when Jamshed retired at the peak of his career and decided to become more religiously inclined, he remained popular. He channelled his positivity into public speaking and becoming a symbol of balance in religion. In a world where Muslims are synonymous with extremism, Jamshed became a beacon of light, a Muslim that could smile, crack jokes and run a successful clothing line through a chain of high end boutiques.
Jamshed's demise came as a shock. As is with most news today, social media took the lead and started bubbling with Jamshed tributes. Television channels started airing old Vital Signs songs, radio stations dedicated entire shows to him and print media was full of his profiles the next day. Pop stars that had been Jamshed's contemporaries such as Ali Azmat were called into shows to express their grief. His spiritual mentor Maulana Tariq Jameel broke down in front of cameras mourning the tragic loss of his disciple and friend.
I grew up in an army household and my childhood was full of moving in and around Pakistan. Every few years, it was a new place, new people and new environs. I was an introvert by nature and took time warming up to people. The one consistency through all our moves was Jamshed. Our car always had a few Vital Signs and his solo albums, first they were cassettes and later CDs. I tried to attend all Vital Signs' concerts that happened in whichever city we were living in. My first memory of their concert is of Multan, after the 'Vital Signs 2' album came out. When the band sang 'Sanwali Saloni' and called out to the belles of Multan, the crowd went wild.
A few years later, when we were in Quetta, Jamshed came to perform at the Army Staff College. We received an exclusive invite to have brunch with him at my friend's house. He showed up without any management or entourage, dare I say, just like a regular person. He told us that his father had been posted to Staff College, Quetta in the 70s and he used to live on that very street. He invited my friend and me to tag along as he walked around Staff College and visited the house his family used to live in. Our paths crossed again later in life, but never as intimately.
I left the country for higher education and Jamshed left for a higher calling. I was not in Pakistan when he transitioned towards religion. In my heart of hearts, I kept telling myself that these were just random celebrity rumours. How could a liberal singer become a rigid mullah?
Through the years, he gained a following as a preacher and visited North America (where I lived) several times. The last time I saw him was at the Muslim Fest in Mississauga where he was the star attraction. He started off by singing the first few lines of 'Dil Dil Pakistan' and then 'Maula'. Once he had warmed up the crowd and got them singing along with him, only then he recited a few Nasheeds. For the audience, irrespective of their generation, he was still JJ of Vital Signs.
All through the initial 48 hours after the crash, I went through mixed emotions. At the core of it, I felt grief. This grief though was not just about Jamshed's passing. It was also about new dawns and dark clouds. It was about potential unfulfilled. It was about Pakistan itself.
The Vital Signs broke into the scene in 1987 with the anthem 'Dil Dil Pakistan'. The song was extremely hummable, had simple lyrics and a sun-drenched video. It was as if the song had cut through the dark clouds of the Zia regime and given people a reason to be hopeful. The video beckoned to happier times where youth reigned supreme and anything seemed possible.
As successive Vital Signs and Jamshed solo albums released through the 90s, their songs seemed to mirror the times. Vital Signs 1 represented a new dawn and endless possibilities. It reflected the voice of a people that had been set free after a decade of cultural claustrophobia. It had Jamshed in all his glory singing to easy tunes and keyboard-driven music.
Vital Signs 2 had the Vital Signs beginning to move away from standard teeny boppers with the Airforce anthem 'Oonchie' and lovelorn ballad 'Ajnabee'. It was also a time when Pakistan was trying to recapture it's dynamism after a decade spent in suppression. It was Junaid's internal conflict being stirred.
'Aitebar' was edgy and brooding. Songs like 'Yaarian' and 'Bichar ke' had melancholic lyrics indicating a new kind angst, the kind that creeps up on you when hope seems to go contrary to reality. Next came 'Hum Tum', which incidentally became Vital Sign's highest selling album. It combined the lovey dovey teen melodies of Vital Signs 2 and the dark flavour of 'Aitebar'.
By this time, the band itself was in an existential crisis and broke apart soon after. With Vital Signs breaking up, Jamshed was left to his own devices. While many saw him as the glue that held the band together, it was actually the band that held him together. For a generation that grew up on the music of Vital Signs, it was the loss of innocence.
He tried a few solo outings with varying levels of success. His seminal hit 'Uss Rah Par' from the album of the same name was a call to try something different. Pakistan was growing up. The angst of one suppressive regime had been followed by another with a brief patch of hope in the middle. Whatever ill-thought plans the previous governments had tried to implement, were taking root by the late 90s and disillusionment with the system was growing.
Jamshed was also changing. Noise about him keeping a beard and stepping away from music was growing by the day. His transition was gradual and reflected that of Pakistan as it went through a semi-coup and 9/11. What emerged was a deeply spiritual Jamshed and a country that wore religion on its sleeve.  While he was able to break off from one life completely, Pakistan struggled between a life of overt religiosity and that of blatant liberalism. While he was able to find his footing as a man of faith and inspired millions through his Nasheeds and sermons, Pakistan still seems to be conflicted between its religious identity and cultural roots.
Truth be told, I have often wondered about what would have happened if the Vital Signs had stayed together? Would Jamshed have had a greater impact on today's youth? Would his bright optimism and optimistic voice have given successive generations hope about the future and believe in their country? Would they have had the courage to try something new, edgy and innovative? Would his anthems serve to unite a fragmented nation under one flag and feeling? Does this nation in conflict need a religious identity or cultural reaffirmation?
Jamshed, in life or in death, may not hold answers to these questions, but if we look deep within ourselves, I am sure we can find them.
All in all, I learnt from him the importance of humility, positivity and staying true to yourself. He always had a smile on his face and oozed optimism. He truly shaped my ideology about the world that we live in.
Rest in peace, JJ. We miss you immensely!