If it ain't broke, don't fix it: If you think Wasim Akram should replace Najam Sethi, think again!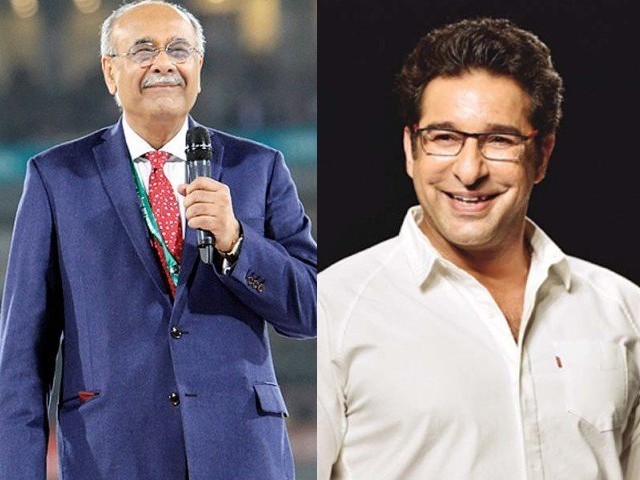 The verdict is out and the nation has spoken – Naya Pakistan is on its way, and the bandwagon of rejected politicians isn't going to stop it. This 'new' Pakistan comes with a lot of new promises as well, but as the saying goes, 'if it ain't broke, don't fix it'. Severe challenges lie ahead for Imran Khan, particularly the economy. Axing Najam Sethi from his job as the Chairman of the Pakistan Cricket Board (PCB), as the rumours suggest, would simply open up another wound that is unwarranted.
Wasim Akram, the rumoured replacement, isn't a weak candidate by any means. He enjoys love from the masses and in the cricket community for his legendary career. In any other part of the world, Akram's services would have been utilised immediately after his retirement, but of course we are different. The most we wanted out of a genius like Akram was to conduct temporary trials at the PCB headquarters, or host a Ramazan transmission with little meaning and a lot of glamour.
Wasim Akram poised to replace Najam Sethi as PCB chief 🏏#ElectionPakistan2018 🗳️#NayaPakistan 🇵🇰 pic.twitter.com/ybTtg8r6E3

— Rizwan Khan (@khan_here_) July 27, 2018
I am not sure if new talent was ever discovered through the futile attempts by the PCB, but we sure did waste our opportunity to make the most out of arguably one of the best bowlers in the history of the game. However, the past is over and Naya Pakistan is the future. Bringing Akram in as the head of the PCB is not a necessity at this stage, considering Sethi is running the PCB more fluently than ever.
PCB chairmanship is a new ball game altogether. Akram is as good as you can get when it comes to understanding the game, but being the PCB chief requires administrative skills. History tells us that cricket players haven't left us with fond memories whenever they got involved in administrative jobs in the PCB. Only time will tell if this is a wise move, but for now, Sethi should be clearing his desk because him being sacked seems imminent.
Wasim Akram was one of the finest fast bowlers in the world. But Najam Sethi is doing s good job @najamsethi https://t.co/O0ksn7OwRD

— Aamna Taseer (@AamnaTaseer) July 27, 2018
Sethi has a tainted past – as evidenced by the ongoing investigation against him – in which he could have dirtied his hands one way or another. After all, he enjoyed a close relationship with the Sharif family which has two of its members behind bars already, with more expected to crash the party at Adiala jail later. However, if we believe in the laws set in our Constitution, then Sethi, like anyone else, is innocent until proven guilty.
Despite my personal dislike of him, I was the first to write about the appreciation he deserves for his performance as the PCB Chairman. It wasn't a favour to him; good work in the best interest for the nation will always have my support.
Didn't IK say in his first public address after the election that there would be no political victimization of opponents?

Why then is there talk of removing Najam Sethi from the PCB — whether you like or dislike him you can't deny the fact that he has done much for Pak cricket

— omar r quraishi (@omar_quraishi) July 27, 2018
Sethi was the first chairman who seemed to understand what his title demands from him. He focused his energy on the bigger picture, rather than interfering in others' work. From giving full autonomy to the selection committee and to Mickey Arthur, to taking on full responsibility for converting the dream of Pakistan Super League (PSL) into a reality, Sethi proved his mettle early on, but he didn't stop at that. After all, bringing cricket home was critical for Pakistan.
I'd be disappointed if Imran removed @najamsethi from the PCB.

Forget the politics. Najam's tenure has been brilliant for Pakistan.

He is the one who has brought cricket home.

— Dennis Kohli (@DennisCricket_) July 26, 2018
International teams had been offering nothing but prayers when it came to playing cricket in Pakistan. But who would know better than Sethi that money talks! Those who didn't feel safe playing cricket in Pakistan later had a sudden change of heart with some easy cash up for grabs. It may sound like a cheap tactic, but Sethi did what works best in today's society. Teams like Zimbabwe, West Indies, Sri Lanka as well as the World XI group toured Pakistan, but Sethi wasn't done yet. Next up on his list was PCB's relationship with the Board of Control for Cricket in India (BCCI).
The BCCI had only one way of dealing with other boards outside the 'Big Three', and it revolved around making promises that can be broken when need be. Sethi cared little about the International Cricket Council's (ICC) favourite child, and went on to file a case against the BCCI. This action needed the highest level of political acumen, and who better than Sethi for the job. Before he gets sacked, let the fact that he forced ICC to move the Asia Cup from India to the UAE sink in.
I have no doubt that Sethi has done remarkably well within the resources available. The man who brought cricket home, is being sent packing himself. It's sad that his downfall would not be due to a lack of performance, but rather his love for dirty political games.
Removing Najam Sethi as chairman PCB – after knowing how he launched PSL and worked for return of international cricket – won't be a wise move.
I sincerely hope that PTI/Imran Khan would let him complete his tenure.

— Faizan Lakhani (@faizanlakhani) July 27, 2018
They say if you play with fire then be willing to get burnt. Sethi ignited the fire when he made it a habit to practice yellow journalism on his TV show called Apas Ki Baat. He left the show once a conflict of interest occurred between his PCB position and doing a political show on TV. However, by the time he left, the damage had been done and enemies had been created. His TV show seemed more of a consultancy session for Nawaz Sharif than anything else.
When PSL first came to Lahore, Sethi couldn't help but show his political loyalty by kissing praises to the Punjab government amidst chants of "Go Nawaz Go". It was an ugly moment to witness, but that moment perhaps best describes Sethi's story. He did everything right, but once a political appointment, always a political appointment.
Sethi does not deserve to be removed, but in all honesty, he went out calling for it. He chose this fight with Imran, and only he will pay the price. However, in this unfortunate political battle between Sethi and Imran, if Sethi ends up getting sacked, it is Pakistan cricket and its fans who are most likely to be the losers.