Dear Imran Khan, if you're going to blame Najam Sethi for Pakistan's defeats, then praise him for their wins also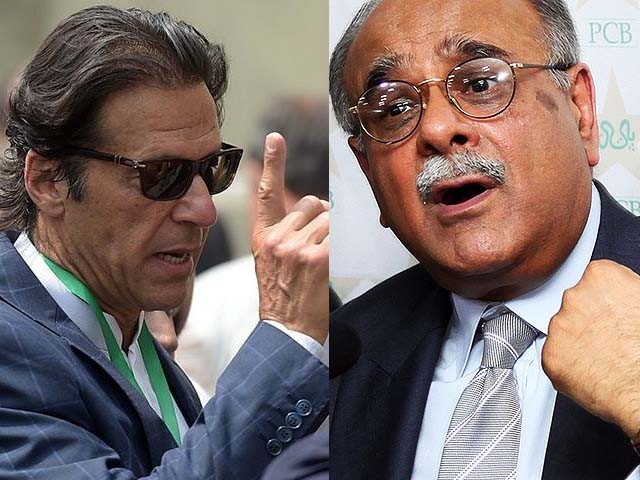 I was a teenager when Imran Khan, one of the most famous cricketers our country has produced, lifted the World Cup in 1992. I remember watching the match with my family and how they yelled with joy. I remember the euphoria I felt when I went outside to the nearby liberty market to witness what were unimaginable levels of fervour and joy. People were dancing and performing bhangra. The streets which had been almost deserted during the match, as everyone was glued to their TV screens, had suddenly become overwhelmingly alive.
Cricket is such a uniting force in Pakistan and for those brief moments, from Karachi to the mountainous area of Gilgit Baltistan, Pakistan had become one. Everyone was cheering and there was an overarching feeling of unity.
That night, I danced in the streets holding Imran's poster with all those who had gone mad. Those scenes have become imprinted in our memory, and whenever we feel low, we try to recall those moments to assure ourselves that we have the potential to do it again.
Twenty-five years later, I am no longer living in Pakistan but in a small town in the US. When Pakistan won, I did not yell or dance. I cried. Somehow the tears came rolling down and could not stop.
Victory this time was sweeter and perhaps only the tears could express what I was feeling.
Victory was sweeter because it had come after a long draught and was achieved by a team which was young and inexperienced. A team which had been the lowest ranked team at the start of the tournament and got badly bruised in the first match. But then, the very same team turned everything around and in such an emphatic manner that it literally blew away both England and India, the joint favourites, in successive matches.
The 1992 turnaround was fairy tale stuff, but this exceeded even that. In 1992, the comeback was splendid but our wins in the semi-final and final were not one-sided. This time, the Pakistan team's turnaround was so tremendous that world class teams like England and India looked like minnows in the semi-final and final respectively. It is perhaps the greatest 'come-from-behind' victory, which will be talked about for years.
Victory is also sweeter because our nation has been desperate for good news. Nothing collectively uplifts Pakistan like a cricket win and as I write these sentences, I know Pakistanis back home are feeling ecstatic and will continue to feel euphoric for days.
Victory is also sweeter because of the jingoistic and hate-filled diatribe which was constantly coming from certain sections (not all, as some were sensible) of Indian electronic and social media. I am not a typical 'patriotic' person by any stretch of the imagination, but even I could not keep myself from feeling anger after watching some of the things that were being telecasted on electronic and social media.
People like Virendar Sehwag, Arnab Goswami and Rishi Kapoor, to name a few, had been downright condescending. The victory has stunned them and silenced them. Compared to them, the Indian Captain Virat Kohli has shown class and good sportsmanship.
The victory has also given a shut up call to many Pakistani 'experts' who had constantly been belittling the cricket team and writing it off. People like Aamir Sohail went further and were undermining the team, despite the fact that it had successfully made to the final.
The victory has finally dented the legend that Pakistan could only win international ODI tournaments under Imran. The fact that Pakistan had not won an international tournament after the 1992 World Cup endeared Imran even more; as many came to attribute the victory solely to Imran's leadership.
Since Pakistan was knocked out in the subsequent World Cups, public fascination with the 1992 tournament and Imran increased further. The phrase "cornered tigers" became permanently ingrained in the national psyche. More than anything else, this legend has given Imran the political capital which he commands today. If Pakistan had won international tournaments after 1992, Imran would not have become this prominent.
For the past 25 years, Imran has constantly milked the 1992 victory to his political advantage. This victory in the International Cricket Council (ICC) championship has allowed Pakistan to step out of the shadow of Imran, and in my opinion, it is a great development.
Finally, the win has been a vindication for the Pakistan Cricket Board (PCB) and more importantly, for Najam Sethi. Whenever Pakistan has performed poorly, cricket fans, particularly those who have a political affiliation with the Pakistan Tehreek-e-Insaf (PTI), have put the entire blame on Sethi. After the first loss, Imran was extremely critical and went as far as suggesting that Sethi should have been included as a player and alleged that cricket was in decline because of Sethi. Of course, Imran did not give any credit for the fact that the Pakistan Test team was able to reach the number one ranking under Sethi, or the fact that despite security risks, Sethi managed to hold the Pakistan Super League (PSL) final in Lahore.
My point of view is this that if you blame him entirely for Pakistan's defeats, then fairness demands that you also give him credit for the wins. Here, Imran and his supporters put the entire blame on Sethi when we lose and do not show the basic decency of giving him even partial credit when Pakistan wins.
After the victory, Imran could not even show basic sportsmanship and congratulate the PCB. If Pakistan had lost, I am positive that Imran would have launched a tirade against him. My request to Imran and the hordes of his impressionable and self-righteous supporters is that if you blame Sethi for the defeats, then please give him credit for the victories as well.
But the worst was that despite the Pakistan win, PTI supporters manhandled Sethi and his wife outside the Oval, which merely shows their pettiness. Even worse, instead of condemning this, PTI actually endorsed this by bragging about it in a tweet. This is the kind of reprehensible attitude the so-called educated party has.
Spotting Najam Sethi after a glorious win, jubilant Pakistanis burst spontaneously into #GoNawazGo outside the Oval#ICCTrophy2017 pic.twitter.com/cAX6uXVE19

— PTI (@PTIofficial) June 18, 2017
Yes, victory has been sweeter but incidences like this have also left a slight bitter aftertaste in the mouth.