Parwaaz Hai Junoon will ensure every Pakistani is an emotional, patriotic mess this Eidul Azha!
Parwaaz Hai Junoon has been making rounds and creating buzz since its first teaser was released to the public. From what is evident through the recently released trailer, the film looks like a fresh breeze of uniqueness for multiple reasons, and seems nothing like what we have been offered so far by the Pakistani film industry. Let's see what makes this trailer fly high!
The preview revolves around the lives of cadets in the Pakistan Air Force, focusing on both their personal lives as well as their strong patriotism towards their country. It banks on friendship, romance, nationalism and sacrifice. There seems to be a love triangle (what we are led to believe by the trailer), some brilliant stunts and action sequences, with an abundance of patriotism on the side.
Hamza Ali Abbasi is one of the most influential social media celebrities in Pakistan, with fans fondly remembering all his films. Whether it's Main Hoon Shahid Afridi, Waar or Jawani Phir Nahi Ani, Abbasi has always done justice to his characters and won the show. In Parwaaz Hai Junoon, he looks fresh and in complete form. He is shown as a lover, a patriot and a trusted friend – there seems to be multiple shades to his character, for a change.
Hania Amir looks cute, but at the same time she has been given some power-packed and solid dialogues. Her facial expressions are on point, be it her flirtation with Abbasi during a wedding, or serious interaction with Ahad Raza Mir during their training. Amir's response to Farhan Ally Agha questioning why she gave up her American citizenship to join the Pakistan Army was also well-penned, and she delivers it with conviction.
Transitioning from the small screen and debuting in the film world with this movie, Mir is the upcoming sensation of the entertainment world. He looks dapper and stylish, and delivers the few punch lines given to him with effortless persuasion. It's a delight to watch his speech at the end of the preview.
Shaz Khan is one of the finest actors in Pakistan; from Moor to Dobara Phir Se, he jumps from one character to the next with gusto. Despite having just two lines in the trailer, he manages to excite his fans due to the ease he brings with his onscreen presence.
The dialogues are the strength of the trailer, and are placed nicely to give a little taste of what to expect from the film. The beauty of the trailer is that it doesn't give out the entire plot, only significant pointers; something not often found in the Pakistani film industry, which has not yet learnt the art of making a good movie teaser.
Judging by the shots, execution and grading, the trailer seems quite impressive, and one can only hope the film manages to create a good impact at the box office. As veteran actor Asif Raza Mir is also part of the cast, Parwaaz Hai Junoon will also be the first film to feature a father-son duo on the silver screen.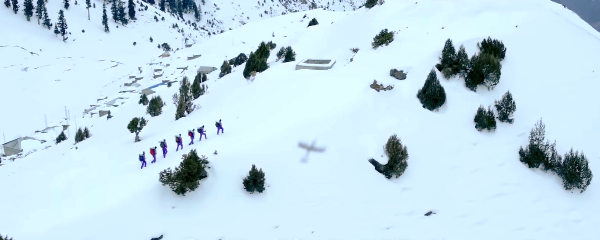 It won't be wrong to say that this Eidul Azha, three different and highly entertaining films – Jawani Phir Nahi Ani 2, Load Wedding and Parwaaz Hai Junoon – will be hitting the cinema screens. All three have different genres and plots, which is a positive sign for the Pakistani film industry.
Those who have been waiting for a subject-oriented, emotionally-charged, patriotic Pakistani film which features the young guns of our film industry, should definitely give Parwaaz Hai Junoon a try.
All photos: Screenshots