Jawani (toh) Phir Nahi Ani – But you won't get your time or money back either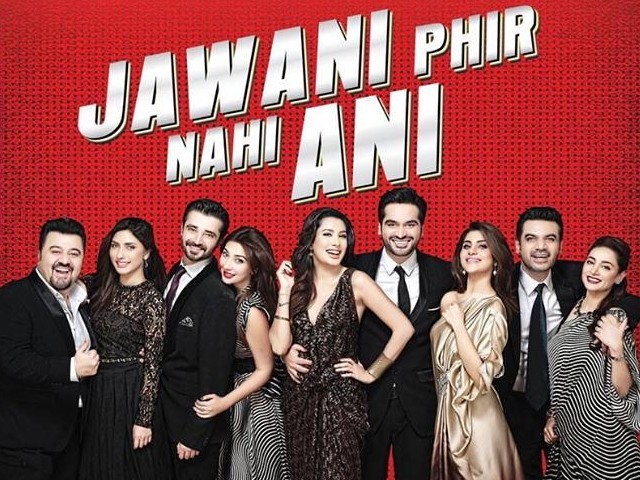 Jawani Phir Nahi Ani (JPNA), without a doubt, has been one of the most anticipated movies of the year. The reasons include its well-known star studded cast which includes Hamza Ali Abbasi, known for his controversial statements regarding the movie, Mehwish Hayat, who's seen in a completely different light since the release of her item song, and Vasay Chaudhry, who is known for his inspirational tales. The movie also highlights heavy brand endorsements.
The movie revolves around three childhood friends, Saif (Hamza Ali Abbasi), Sheikh (Vasay Chaudhry) and Pervez (Ahmed Ali Butt), who are married and settled in their lives but are afraid of their wives. Their friend Sherry (Humayun Saeed), a divorce lawyer, returns to Pakistan from the US to meet them, only to discover that their lives are literally miserable because of their wives. Hence, he decides to take his friends to a boys' trip to Bangkok to add some spice and excitement into their lives.
While in Bangkok, however, things get out of hands when Marina (Mehwish Hayat), daughter of Bichchhi Don (Ismail Tara) falls in love with Sherry and insists on marrying him. Sherry, on the other hand, has no such intentions and wants to leave Bangkok immediately with his friends. Furthermore, on the 11th hour, their secret is out when the trio of wives show up in Bangkok and raid the hotel they're staying at. Sherry puts the blame on his friends by telling their wives that the trip was their idea and not his. This results in their wives asking them for a divorce as they had lost all trust in their husbands.
After a few months, the three friends come across the news that Sherry is getting married to Zoya (Sohai Ali Abro), billionaire Mehboob Khan's (Javed Sheikh) daughter in Lahore. And this is where the movie gears up. It's a comedy, yet full of errors and situational humour, which is an outcome of mindless confusions.
Performance wise, Humayun Saeed, Ismail Tara and Javed Sheikh stole the show. Sherry's character is full of surprises and shocks, Saeed proved that he is an experienced actor and can carry the load on his shoulders. Javed Sheikh is the ace superstar of Pakistan; this is his fourth release this year, and he has been phenomenal in each of them. Tara is one of the finest comedians of Pakistani cinema. He is brilliant in every scene and has proved to be a spontaneous actor.
Out of Vasay Chaudhry, Ahmed Butt and Hamza Abbasi, Chaudhry has funny one-liners and his comical expressions are similar to the renowned late Indian actor Mehmood. Butt is still earnest but performed very well. On the other hand, Abbasi wasn't extraordinary at all; his representation was average. After Main Hoon Shahid Afridi and Waar, the viewers expect him to showcase some talent, rather than just look cool on screen.
Sohai Ali Abro and Mehwish Hayat's performances were praiseworthy. However, I felt Bushra Ansari was too loud; she continues to reflect her previous characters such as Saima Chaudhry and Bijli. We now await her to reveal some versatility in her performance.
The songs can be enjoyed in parties and weddings as they are certainly upbeat, but they fail to become memorable once you leave the theater. Those looking for catchy lyrics and hummable melodies will be disappointed. Fair n lovely ka jalwa is simply weird; I felt that it lacked tune. Aaj phir khul jaye botal is peppy but badly choreographed. Moreover, Aisa jhor hai features the inspirational tune from 1979's Bollywood blockbuster Nauker's song Pallu Latke re maro.
The script is mediocre in terms of dialogue. There are a few one-liners which are unique but the rest are predictable and clichéd. Bits and pieces of the movie remind me of various Indian movies, such as Masti, No Entry, Life Partner and Housefull, but it's not an exact imitation of either of them.
The movie is more of a senseless comic flick far from reality. Hence it's advisable to leave your mind outside the cinema hall.
Perhaps the movie will do well solely because it's an Eid release and has no fierce competition. The producers Salman Iqbal, Humayan Saeed and Jerjees Seja may enjoy hefty revenues. And Nadeem Baig as the director may continue to attract stylised senseless comedies in the near future.
I would rate this movie 2.5 out of five.