Dear India, you can #BanPakArtists all you want – we will soar regardless! Love, #PakDontCare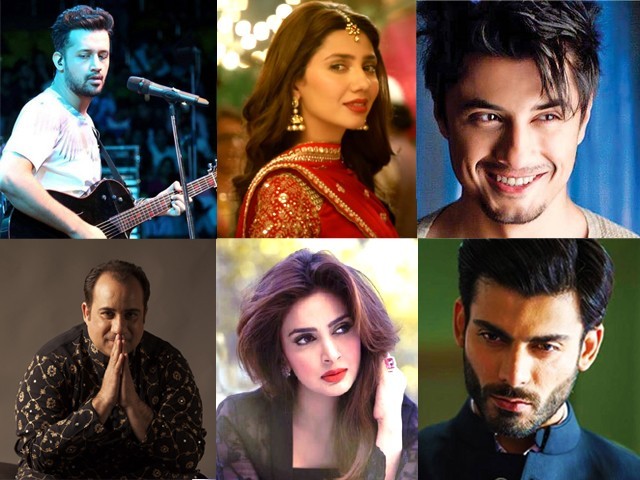 On February 22, 2018, the Federation Western India Cine Employees (FWICE) unanimously agreed to ban Pakistani artists and technicians from working in films and TV serials made by Indian producers in any language. This decision was of course made in light of growing tensions and the deteriorating relations between the two countries as of late. 
Every country is entitled to take action based on their political reasoning, and justify it through patriotism. If India wants to do so as well, so be it; it has the right to do so. However, once again we see that art too has been unfairly politicised.
In the past, gems of the Pakistani industry have shone brightest through their performances across the border, winning the hearts of the masses. Be it Ali Zafar vibrantly bringing life to characters with his exceptional acting; Atif Aslam and Rahat Fateh Ali Khan, who have entranced everyone with the magical intonations of their voice; or Fawad Khan, whose effortless charm wooed Indians and Pakistanis alike and made him a heartthrob across the border as well. And these are just the men! How can we forget our leading ladies who have so phenomenally left their mark in Bollywood? Mahira Khan, our industry's queen who was rightly paired with Bollywood's King Khan, and Sajal Aly, whose intensity and versatile expressions shook audiences as she starred opposite the late Sridevi. Then of course there is Saba Qamar, who became the first Pakistani nominated for the Filmfare Award for Best Actress for her immaculate performance in Hindi Medium.
However, despite the stars of the Pakistani industry simply doing what they do best and exceeding all expectations across the border, the reality needs to be accepted. Our talent is no longer welcome across the border, and is being made a victim of sheer prejudice.
#BanPakArtists and #PSL2018
Bth trends are trending in India 😃😃 India please decide what you actually want 😂😂😂#PSL2018 pic.twitter.com/XufIOHS0mZ

— Syeda Sharmeen Rizvi (@SharmeenRizvi) February 22, 2018
If Banning Pak Artist Will Bring Back Nirav Modi & The Money He Looted Then Please #BanPakArtists

If Banning Pak Artists Will Help India's GDP Then Please #BanPakArtists

If Banning Pak Artists Will Help Put Food On Everyone's Plate Then Please #BanPakArtists

— Roshan Rai (@RoshanKrRai) February 22, 2018
India's ban on Pakistani talent is a wake-up call for Pakistani channels to set aside Indian media content and focus on their own national media content and on promoting new talent, both of which the country is overflowing with. Our film industry is at its full bloom currently, along with our dramas flourishing by the day. Both of these can most definitely be aired and suffice for the masses to view instead of Indian content. In fact, the Pakistani industry's golden era of our yesteryears is so remarkable that to date they remain national favourites! It would be a breath of fresh air and a revival of lost cultural values if our classic films and dramas were to be aired on our channels yet again.
Thus, it is absolutely incomprehensible why the "achievements" of our Pakistani celebrities are believed to be elevated if they work for Bollywood. Yes, performing internationally is a matter of pride for artists in any country, but it is important to note that Pakistan's multi-talented performers do not need any validation from across the border – their work speaks for itself.
I got in touch with a couple of the members of our industry, and here's what they have to say about this ban:
Armeena Khan:
"Every country has good and bad people. This decision seems to be driven by extremists, yet again coercing decent people into religious or nationalistic policies that perpetuate division and hatred. Art and artists do the opposite. We transcend borders, and through our craft bring people together and promote love. This is dangerous for the extremists because it undoes all their work. The ban itself is purely symbolic and these difficult conditions for the Pakistani artists in India have actually served to bolster Pakistan's entertainment industry over the past. We should not reciprocate, as it's about as symbolic as banning Argentinian artists from working here. Finally, in the grand scheme of things, does it actually make a difference to us? I'll leave that to you."
Imran Raza Kazmi:
"Art has no boundaries. I have been incorporating Indian talent in my films, from editors to singers; they are mostly from across the border. In fact, my film editor from India is actually like a brother to me. Our relationships across the border and vice-versa cannot really be made to end. In an era of globalisation an exchange of talent should be encouraged rather than the opposite. I believe that the Indian government has taken a very strict action regarding the matter and they should definitely think over it. This will only give heed to more hatred rather than improve ties between the two nations."
Moreover, other celebrities have also commented on the ban:
Despite the never-ending tension between India and Pakistan, Bollywood's movies and stars have been whole-heartedly accepted by Pakistanis regardless of political conflict. However, in the present situation, India has announced that it will "stand by their security forces and their families", as their "nation comes first", per the press release by FWICE. As Pakistani artists pose such an elevated threat to India's national security, they have subsequently been banned.
If art and artists are now a means of national security, then Pakistan should take India's lead and put its own nation first. Although the Central Board of Film Censors (CBFC) in Pakistan has banned Bollywood's most recent release, Pari, promptly after India's ban, however, the reasons provided by the CBFC do not suggest a deterioration of ties to be behind this decision. Nevertheless, considering the current events, Pakistan should definitely initiate the step to ban Indian content on our TV screens and their films in our theatres. Atif can already be seen taking a stand against India banning Pakistani artists by refusing to promote his upcoming Bollywood song Sehmi Hai Dhadkan.
At the same time, our actors are working in local projects, as Ali will be next seen in Teefa in Trouble, Fawad in Maula Jatt 2, while other stars like Saba have seen incredible success with productions like Baaghi.
Make no mistake, being banned in India does not mean no work for Pakistani artists. 
Pakistan should ban all indian movies, drama on Pakistani channels and cinema as well again. #BanPakArtists #perma @Marriyum_A @MaryamNSharif

— @Mj (@mehvishchaudhr2) March 2, 2018
This is not a matter of debating whether art is obliged to be confined by borders, because realistically India has proven otherwise. However, Pakistan banning Indian content and artists would be a move prioritising Pakistan, while also showing that Pakistan is not dependent on Indian media either, the way it once used to be. As far as the art of acting, phenomenal scripts and entertainment is concerned, no one can ever take that away from Pakistan. Whether a country bans us or not, we will soar regardless, because #PakDontCare!