Modi says 'Hindus cannot be terrorists' – so what does that make Godse then?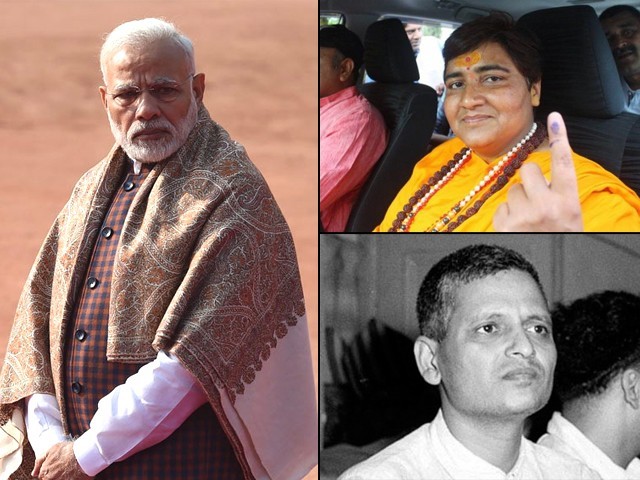 'Hindus can never be terrorists,' and 'Hindus are not beef eaters'. India's ruling party, the Bharatiya Janata Party (BJP) , and its patron Rashtriya Swayamsevak Sangh (RSS), are very vehement when it comes to defending these two statements. They can even incite a lynch mob to prove their point.
But why do they say that a Hindu can never be a terrorist?
The BJP's idea of India is a majoritarian state where the Hindu way of life takes precedence over all other faiths. In their worldview, it is important to clearly demarcate the Hindus from Muslims. It is sine qua non to establish that India has always been a Hindu nation while Muslims are not integral to it, and instead are outsiders and invaders. It is this mindset that lies behind the altering of history text books and behind the presentation of the many myths that inform the Hindu religion as a stark reality.
In the last five years, Prime Minister Narendra Modi has been working tirelessly to restructure India into a majoritarian state. The attacks on Muslims, the mainstreaming of Hindu fringe groups as the unanimous voice of Hindus, appointing people with polarising credentials to important ministries, and marginalising Muslims in public spaces – this is all part of India's narrative now.
The Citizenship Amendment Bill that the BJP government is promoting aims to give citizenship only to the non-Muslim minorities of South Asia, thereby deliberately making Muslims feel like outcasts.
One of the BJP's poll campaigns is to rid India of terrorism, but the party deliberately conflates terrorism with Islam and other faiths other than Hinduism. They propagate the idea that in India, majority of the terror activities have been carried out by Muslims, while Hindus have never been behind any act of terrorism.
However, this is simply not true.
The term 'Saffron terror' became widely associated with Hindu extremism after 2007, after a series of blasts targeting Muslims and Muslim-dominated areas were linked to a deep-seated conspiracy by some Hindu extremist forces.
The blasts in Malegaon, another at a Sufi shrine in Ajmer Sharif, at the Mecca Masjid in Hyderabad, and at the Samjhauta Express, all between 2007 and 2008, shook the entire nation. This was the first time that the explicit target of terrorism were Muslims, especially the blast in Samjhauta Express which killed 70 people, mostly Pakistanis.
The investigation carried out by the Anti-Terrorism Squad (ATS) under the leadership of a senior police officer in Maharashtra, Hemant Karkare, led to some unusual outcomes. Unlike previous acts of terrorism, this time the probe led to the arrest of some extremist Hindus. The group of Hindus arrested were found to be involved in all four aforementioned cases of terrorism.
This sensational discovery revealed for the first time that Saffron terror masterminds are active in India and have some deadly plans in place. The two main accused in the case – Sadhvi Pragya Thakur and Swami Aseemanand – spent several years in jail for charges of terrorism, but the former has been out on bail since 2017 while the latter has been acquitted of all charges due to the court citing a lack of evidence.
However, their release is premeditated. The state, which is supposed to cooperate with the prosecution, turned completely hostile to the case, and instead of helping corroborate the evidence, it tried to sideline the case completely, thereby ending years of effort that went into collecting evidence against them.
A public prosecutor of the Malegaon blast case, who was appointed by the government, withdrew her name from the case, citing interference from the National Investigation Agency (NIA) and an attempt by the agency to dilute the case against the main accused.
Within months of her release from jail, Thakur was made a BJP Lok Sabha candidate from the Bhopal constituency in the central Indian state of Madhya Pradesh.
Just to refresh, Thakur faces charges of terrorism that claimed the lives of seven people in Malegaon. She and her cohorts are also linked to other attacks that took place between 2007 and 2008, and she will now represent the BJP in the parliament if she wins the seat.
The ecosystem that nurtured her is best reflected in Thakur's views on Nathuram Godse, the man who killed Mahatma Gandhi, the father of the Indian nation. It was Godse's gun which silenced the voice of peace in the subcontinent. This was the first terror attack carried out on Indian soil within 14 months of its independence, and it was carried out by a Hindu.
And yet, when Thakur recently called Godse a 'patriot' and said he will always be a true patriot, the BJP failed to take action against her and stands by her candidature. On the contrary, a BJP leader has filed a criminal complaint against actor Kamal Haasan due to him calling Godse the first Hindu terrorist of modern India.
We are living in an India where calling Godse a terrorist, the man who killed the father of the nation, invites a police case and condemnation from the ruling party but calling Gandhi the "father of Pakistan" gets silent support from the BJP.
There is a pattern in this politics.
Any Hindu involved in terrorising and killing Muslims or those whom the BJP/RSS do not consider part of Indian history will never be considered a terrorist. Defence Minister Nirmala Sitharaman rebutted Hasan's charge and called Godse an 'assassin,' not a terrorist. It was then that even Prime Minister Modi defended fielding Thakur on the BJP ticket because a Hindu cannot be a terrorist, and the "Hindu terror" tag is an attack on India's majority community.
Many Islamic terrorist groups call their foot soldiers jihadists, not terrorists, and in the same vein, the Hindu organisation in India would call people like Thakur nationalists, not terrorists.
Does the nation of India agree with what Modi thinks and postulates? Not really. The kind of reaction that came up from across India after Thakur was presented as a candidate for the ruling party illustrates the fact that Modi's line of thinking is at odds with India's thought process.
The dichotomy is that the BJP says that terror cannot be linked with any religion, but at the same time does the same with terrorism and Islam. Then, while failing to declare Thakur and Aseemanand as terrorists, it raises questions over Karkare's credentials, who was simply doing his job and exposed Saffron terror.
The majority community of India needs to start thinking as Indians. We don't need to be part of the majoritarian project that this nation has become part of over the last five years. At this point in our history, we don't have much of an option. We have to oppose this and raise our voice against this in whatever way possible. Silence would be criminal.
Let's face it: modern India is facing multiple challenges, but the biggest yet is radical majoritarianism or 'Saffron terror'. Thakur is an extremist accused of terrorism, BJP is a government sympathetic to Saffron terror, and Godse is not a patriot but a terrorist.