The year the world mourned dead journalists, and with them our freedom of speech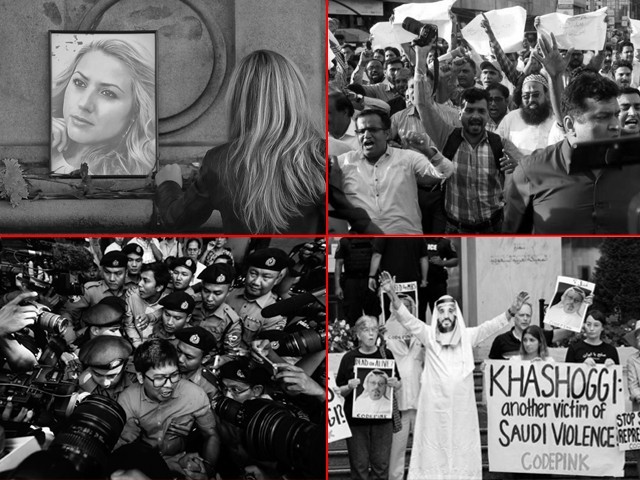 According to the Committee to Protect Journalists (CPJ), a New York-based organisation defending the freedom of the press, 53 journalists have been killed in 2018. Let that sink in – 53 journalists. Syria, Afghanistan, Mexico, Yemen, Israel and USA are the top sites for these deaths. The figure went up from 47 in 2017 to 53 this year.
Needless to say, it has been a tough year for the media and its workers across the globe. But what struck me is the high numbers of murders; other reasons for the deaths being dangerous assignments and threats from external forces.
Our own media has been under scrutiny and debate for much of the last few months. It is common knowledge that news organisations can't manage to scrape by with what they earn from their consumers, hence, they are bound to rely on the government and commercial organisations for advertisements to keep them afloat. There are buzzing rumours that the current government intends on cutting its advertising budget, and even whispers about them not paying unpaid bills from the year prior. A senior business editor who has worked in the field for almost a decade believes that for media organisations and their profit-oriented business model, the downsizing of thousands of reporters and editors was a pre-emptive decision.
With hue and cry that their inflow might be in danger, media houses were quick to sack scores of people, and just through talks of a possible cut in the advertisement budget, the government managed to retain its monopoly over news organisations. Information Minister Fawad Chaudhry said the government isn't interested in bailing media organisations out, clearly mentioning that the income and survival of those who become casualties in the context does not matter.
So much for freedom of media and press, eh?
Scores of reporters have been sacked in multiple local organisations leading to a large number of protests across the country in major cities such as Karachi, Lahore, Islamabad and Peshawar. This downsizing hit home when one of my own colleagues was asked to leave as part of the lay-off process. This is unacceptable – the federal government is very much aware of the media's dependence on them for its survival, yet they employ such tactics and veil it under the facade of efficient utilisation of taxes.
However, it is also the fault of media organisations and their inability to transform their business model with the times to keep themselves afloat, the business editor added.
With protests erupting in some states and bodies piling up in others, many of us are forced to dwell upon how journalists have been treated this year.
This topic is incomplete without the mention of Jamal Khashoggi, a writer for The Washington Post, one of the most esteemed media organisations in the US, who was brutally murdered at the hands of the powerful Saudis. An outspoken critic of the Saudi government was dismembered and killed in the most inhumane way possible, and the powers of the world (read: US President Donald Trump) chose to prioritise diplomatic relations over justice. The reason why Khashoggi made headlines over the others was because it involved three major countries: Turkey, Saudi Arabia and the US. Yet none of them could do the needful to bring the perpetrators of this crime to justice.
Are the lives of those who risk everything to inform the public worth so little?
Have journalists become so replaceable?
As a journalist myself, I am concerned. Scratch that; I am terrified. I remember a time when my father said I should not touch upon controversial topics, and that I should not write about things that could get me "in trouble". This rhetoric is more nuanced than meets the eye. Growing concerns over the safety of media personnel and journalists may lead to a decrease in people entering the field. After all, reporters not only enter war zones, but face threats to their lives on a daily basis, making survival one of the most basic requirements of the profession.
A professor of journalism at Hochschule für Medien, Kommunikation und Wirtschaft (HMKW), Berlin said that while some media organisations aim to be transparent, truthful and objective, the basic requirements in most media organisations remain the fight to stay corruption-free and safe. Needless to say, those who enter Yemen, Syria, Afghanistan and other red zones across the world are much like soldiers at war. From the safety of our home and our comfort, we watch atrocities on TV or on social media platforms and we ache for those who suffer. We must also ache for those who lose their lives in the line of duty – the duty to inform.
"Typically journalists are not murdered in the United States," Courtney Radsch, the advocacy director for the CPJ, told The New York Times. "Typically they are not murdered in western Europe. Yet we have seen it this year in both – which were previously considered bastions of press freedom – that journalists are being murdered and that there is a parallel of anti-press rhetoric happening."

"There is an increase in attacks on journalists and journalism as an institution that is important to democracy and to the foundation of human rights, and we see that this is being undermined around the world," Dr Radsch continued.
It gets worse.
Viktoria Marinova, a Bulgarian TV host was raped and murdered in October. Her body was found bruised and beaten and this raised multiple red flags, as she was the host of an anti-corruption TV show. Meanwhile, Wa Lone and Kyaw Soe Oo, two Reuters journalists were imprisoned this year in Myanmar for investigating the massacre of the Rohingyas. To hold people accountable has now become a crime; a crime committed only by those who boldly speak up, those who are not afraid to be silenced. A crime they are then punished for.
Two @Reuters journalists have been imprisoned in Myanmar for one year. Follow updates on the case: https://t.co/YVE10KNdzL pic.twitter.com/LCwhkJo5o8

— Reuters Top News (@Reuters) December 14, 2018
The debate around news organisations and journalists grew far worse with Trump's anti-media sentiment. He called them the "enemy of the people" and went so far as to revoke a journalist's press pass into the White House a month ago. Jim Acosta of the CNN, however, won the battle as his pass was reinstated. But this begs the question of why journalists should have to suffer so much? Why should they be silenced in the first place? Who is trying to silence them? And when will the masses realise who the real enemy is?
With all these questions and no answers, we are nearing the end of one of the bloodiest years for the media.
To 2018: we learnt a lot from you – you showed us a lot. You showed us who holds how much power and precisely what they are capable of.
To 2019: I beg and pray and hope that you will be different. You have to be different.
Time Magazine also named Khashoggi, among other journalists who have faced atrocities, as their "Person of the Year". This is the first time the magazine has chosen a deceased person for this category, setting a massive precedent in lieu of its previous persons of the year.
The Guardians—Jamal Khashoggi, the Capital Gazette, Maria Ressa, Wa Lone and Kyaw Soe Oo—are TIME's Person of the Year 2018 #TIMEPOY https://t.co/HvoEaW5oUi pic.twitter.com/9Mr0wBTmvj

— TIME (@TIME) December 11, 2018
This is exactly the kind of change I am advocating: journalists who are silenced by violence need to finally have their voice heard. If they were deprived when they were alive, at the very least they need a platform after their death. More journalists need to be protected from those against them, and if some external forces do end up reaching and silencing them, they still need to be given a place in the world by carrying their cause forward.
Not to be forgotten. Never to be forgotten.