South Korea is my home away from home, but not during Ramazan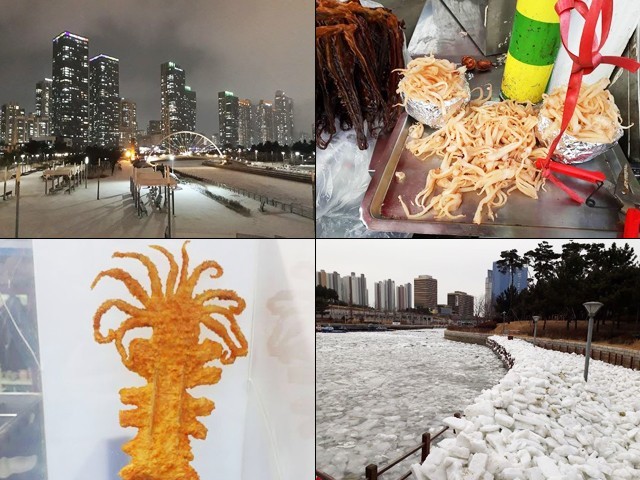 Pascal Mercier once said,
"We leave something of ourselves behind when we leave a place; we stay there, even though we go away. And there are things in us that we can find again only by going back there."
Thus, it goes without saying that people who move to foreign countries, where they perhaps enjoy a better system, modern technology, a peaceful environment and numerous social benefits, will also undoubtedly miss the true colours of their homeland. No matter how wide your social circle is, or how awesome the foreign land you have moved to is, when it comes to celebrating special occasions, nostalgia makes you long for your family and the spirit that can only be found in a country you call home.
My husband and I moved to South Korea from Oman in January 2018. In South Korea, Muslims make up a tiny minority of only 0.2% of the population, while over half the country consists of atheists; with the rest being composed largely of Christians and Buddhists.
The Songdo International Business District, where I live, is a new smart city. It has excellent infrastructure, and is unquestionably a wonderful place to live, but when it comes to celebrating the holy month of Ramazan, I cannot deny I miss Pakistan a lot. After all, here I cannot celebrate Ramazan in its true spirit, the way we do back home.
Thus, my husband and I enjoyed our time in South Korea all through the year, until we got to Ramazan, and truly felt out of our depth for the first time. When Ramazan arrived, we felt unfulfilled, nostalgic, isolated and like fish out of water.
Despite how hard I try, it is frustrating because I cannot create the atmosphere of Ramazan here. It almost feels as if a special guest (Ramazan) has come to my home for a very short stay, and despite all my plans and preparations, I am unable to serve this dear guest. Without mosques, or breaking our fast with our family, and even halal food, the true essence of Ramazan cannot be felt here.
To me, the most important fragment of Ramazan is the presence of a mosque. If not for the congregation or the atmosphere that makes you feel closer to God, then just for the azan (call for prayer) alone. Unfortunately, there is no mosque near where I live in Songdo, and especially during sehri, you can feel pin drop silence at a time when the azan should be reminding you to stop eating. Sometimes I try to use an azan app, but it honestly cannot replace the real azan coming from a mosque. Thus, without a mosque, we feel low-spirited and nostalgic at sehri.
Even when it comes to food for sehri, I always have very limited choices. There are just two to three halal food restaurants in Songdo, and they are all too far. We can't just go out and buy readymade sehri items like nihari, parathas, halwa puri or other Pakistani food items from nearby markets.
In Pakistan, sehri would be a big deal and a collective activity, where it felt like everything under the sun was available to eat, and sometimes we'd even go out or have sehri with our neighbours, relatives or friends. Now, even if I cook something special for sehri alone in my kitchen, the possibility of sharing it with anyone else no longer exists. Back home, everyone would come alive during sehri; from people who didn't sleep till sehri and played cricket to pass the time, to people who didn't sleep after as they prayed and remembered God. Here, I try my level best to walk from one room to another quietly, so as to not create any noise or bother my non-Muslim neighbours in any way.
Iftar time in Songdo is also like a typical evening; there is nothing special about it. I can't hear any iftar sirens or the azan. Neither do the markets display any special Ramazan features.
Unlike Seoul, Iteawon and Ansan, in Songdo there is no Muslim community. My non-Muslim friends try their level best to create an atmosphere of Ramazan, by hosting iftar parties and sometimes even fasting along with me in solidarity. While I do appreciate their sincere efforts, I still feel something is missing. That "something" is celebrating iftar with my family and in-laws.
After offering Taraweeh payers at home, sometimes we crave a Pakistani style dinner, but we don't have many choices, since halal food shops are too limited, and almost all shops here close at 10pm.
Even though the Koreans surrounding us show utmost respect for our culture and our religion, we can't help but feel like the warmth of Ramazan comes from being at home, in Pakistan. It's in the little things, such as following regular timings at work, or not having the room to make any arrangements for Friday prayers during our lunch breaks. Our colleagues and friends here believe Ramazan is only about not eating or drinking from dawn to dusk. Whereas at home, we would never need to explain to anybody what Ramazan is actually about.
We have already entered into the second ashra of Ramazan, and while the nostalgia has been real thus far, we know it's going to get a lot worse as Eid nears. I know this year I will not get to experience a chaand raat; I can't buy matching bangles, apply mehndi, and probably won't be giving away any Eidi either. As a result, we are simply not as excited about Eid as we usually feel in Pakistan.
Being an expat, there is no doubt I am enjoying my stay in South Korea. It is a perfect place for expats, but when it comes to Ramazan or Eid, the isolation can get to you. Times like these you are reminded that it's not easy to leave one's homeland.
When you step out of your country's airport, you leave many things behind. Once you are abroad, no matter how modern the technology is, you can't find any way to create the true essence or spirit of your special religious or cultural celebrations. After all, nothing can truly replace family and your homeland. As Sue Monk Kidd aptly puts it,
"You can go other places, all right – you can live on the other side of the world, but you can't ever leave home."