With these easy and yummy sehri recipes, Ramazan will go by like a breeze
It's the month of fasting, so Ramazan Kareem to all! I hope your fasts are going well so far, even though the weather has not been kind as yet sadly. This time around I would like to share two stories with this blog in light of this holy month, and spread some positive messages.
A couple of weeks ago I attended a workshop in the Manpower Institute (I did not know this existed previously). During the commencement speech, the Director General of the Institute, Ms Khalida Gulnar said a few impactful words which still resonate with me. She said that in order to be good communicators, one needs to be a good listener as well. If we practice listening, our tolerance level will increase.
In this day and age children have become more possessive, husbands and wives fight more often than not, and as sad as it is to say a sister does not trust her brother enough to leave her kids with him. It is because somewhere along the way we forgot to communicate with one another and are engaged in our phones, laptops and tablets.
This is also the primary reason why Muslims are suffering today. Another reason for this is that Muslims have somewhat distanced themselves from the teachings of the Quran, according to Gulnar. It is a sad reality, but a reality nevertheless. The powder keg that is the Middle East today bears witness to this.
Humanity has indeed reached another low. Hypocrisy is at its peak. As Nelson Mandela said,
"There can be no greater gift than that of giving one's time and energy to help others without expecting anything in return."
One should invest their time in doing practical things and fixing the broken link of communication. Sit with your parents and siblings every day and make it a point to ask about their day. Trust me; when everyone abandons you, these people will always be there at the end of the day. Value them.
The second lesson learnt is more recent. I'll keep the backdrop brief. Last week, I discovered someone spreading rumours – whether the person was a victim of a misunderstanding, or party to misdemeanour, I do not know. Nevertheless, once I found out and confronted the person they refused to talk about it, which led me to antagonise another person for being an accomplice.
I later apologised because the thing is, unless one actually witnesses something happening they should not take another person's word for it. Be on the alert, sure, but do not believe anything unless your eyes have seen it for themselves. I did not know the truth, but at least I shouldn't have pounced on the person I thought was guilty. So a public apology to the second person.
After all, Ramazan is the month of blessing and one should try and correct themselves and learn patience from this holy month. In light of this I am not only sharing positive messages, but also sharing some delicious recipes. This time I have decided to do sehri recipes that are easy, filling and delicious.
I like to mix things up when eating food. The same kind of dishes get redundant after a while, plus if food is not enjoyed it's like eating air (albeit filling air), because the cravings still remain.
Who doesn't love a good potato dish? I decided to make the popular and easy Aloo Bhujiya. Pair it up with a desi ghee roti, paratha or even a piece of toast, and it's definitely a sehri must-have.
The perfect sehri for me would be the childhood running: anda paratha, dahi and chaye. But in this day and age when everything causes some kind of health issue, it's not advisable to have this every day. But then again, seeing as the fast is long and the sun sweltering hot, energy is needed throughout the day.
This Healthy Smoothie is ideal for just that. Peanut butter releases energy throughout the day and Chia seeds (tukh malanga) have a profound cooling impact. In fact it is advisable to store a small jug of soaked chia seeds and use it throughout the week. Add it to the iftar drinks and generally practice this in the summers; it really helps throughout the day.
Aloo Bhujiya
Ingredients
Potatoes: 3, boiled
Oil: ¼ cup
Garlic: 1 tsp, chopped
Ginger: 1 tsp, chopped
Salt: 1 tsp
Red Chilli Powder: 1 tsp
Turmeric: ½ tsp
Onion Seeds: 1 tsp
Zeera (cumin): ½ tsp
Onion: 1, diced
Tomatoes: 2
Green Chillies: 4
Method:
1. Cut potatoes in small squares and boil, then keep aside.
2. Heat oil; fry onions, add ginger and garlic, zeera and onion seeds.
3. Once the onion has browned a little, add in the tomatoes, green chilies and spices and cook till oil separates.
4. Then add the potatoes and 1 cup water, cover and cook, and then slightly mash potatoes. Serve garnished with coriander.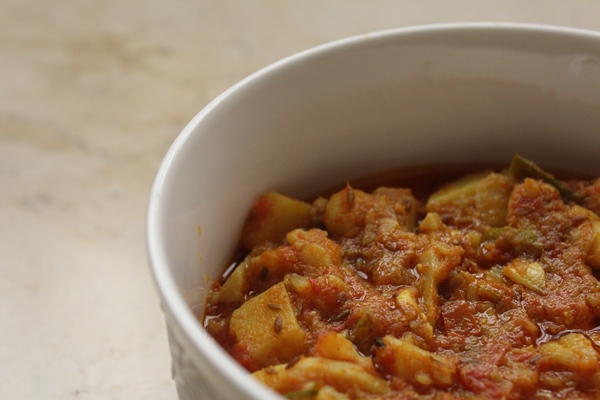 Healthy Smoothie
Ingredients
Milk: ½ cup
Yoghurt: ½ cup
Banana: 1
Peanut butter: 2 tbsp
Chia Seeds: 1 tbsp, soaked for three hours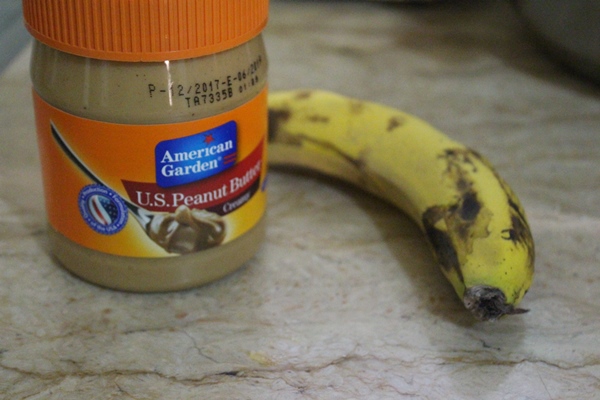 Method
1. Blend milk, yogurt, banana, peanut butter and chia seeds.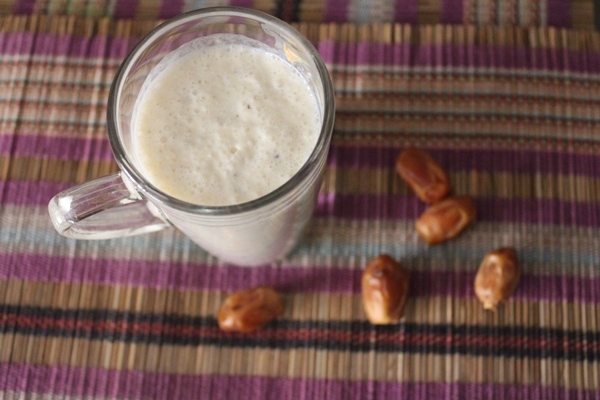 Enjoy!
All photos: Arhama Siddiqa