"Mr Clean" caught with his hands dirty?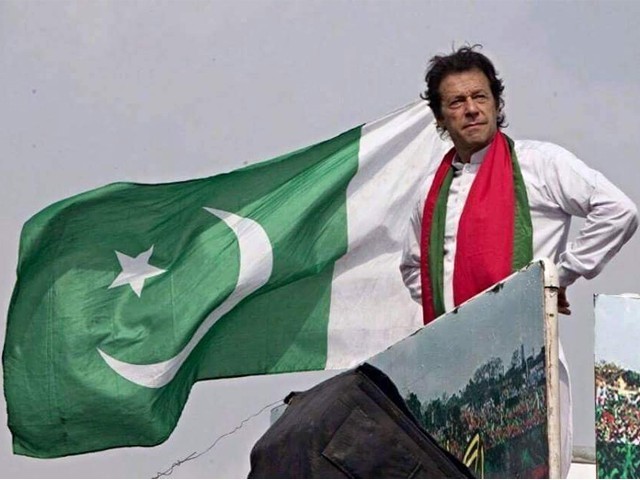 It came as a surprise to many of us when Pakistan Tehreek-e-Insaf (PTI) filed an application in the Election Commission of Pakistan (ECP), requesting to scrutinise the party's foreign funding in secrecy. The ECP is hearing a case against the PTI regarding violations of the law while receiving funds.
Imran Khan always speaks a lot against white collar crimes and claims to possess the highest level of honesty; after all, he was proven to be sadiq and ameen (honest and truthful) by the court. His followers blindly follow him, as he is deemed to be the most ethical and just political leader in their eyes. Unfortunately for them, things aren't always the way they are perceived to be. Akbar S Babar, once a close aide of Imran, has accused him of not only mishandling the party funds but also taking funds from abroad, which are not declared to the ECP.
According to Babar, the funds were not utilised properly by the PTI leadership, including Imran, and further alleges that PTI was given funds by the Indian and Jewish lobby.
It is being alleged by Babar that foreigners, including American Barry C Schneps and US born Indian Indur Dosanjh, had been funding PTI for lobbying in their favour and interests. Babar has also revealed that an audit in 2011 revealed illegal funding in the party, but its report was not made public. He repeatedly claims that the PTI chairman has always refused the audit of the funding sources of the party.
There is an allegation made by Pakistan Muslim League-Nawaz (PML-N) MNA Hanif Abbasi as well, who alleges that Imran's party funds are coming from Israel.
According to Pakistan's Constitution,
The Pakistan Election Laws (Volume 1) states in this context: "The contribution made by members or supporters of any party shall be duly recorded by the political parties. Any contribution made, directly or indirectly, by any foreign government, multi-national or domestically incorporated public or private company, firm, trade or professional association shall be prohibited and the parties may accept contributions and donations only from individuals. Any contribution or donation which is prohibited under this Order shall be confiscated to the State in the manner as may be prescribed."
Section 13, pertaining to information about the sources of a party's funds, states:
"Every political party shall, in such manner and in such form as may be prescribed or specified by the Chief Election Commissioner, submit to the Election Commission, within 60 days from the close of each financial year, a consolidated statement of accounts of the party audited by a Chartered Accountant containing – (a) annual income and expenses; (b) sources of its funds; and (c) Assets and Liabilities etc."
In politics, no one is let out easily, and since Imran has been busy in the character assassination of his opponents, this foreign funding case can prove to be catastrophic for him. Revealing those sources can definitely damage him in the current election campaign, as his opponents will highlight the issue and accuse him of taking funds from Jews. The voters in rural Punjab and in Khyber Pakhtunkhwa (K-P) will definitely not like this, and Imran is aware of this fact, which is why he has filed the application to not make the report public.
He may be riding the horse of luck with all the invisible forces backing him, but he faces the potential threat of losing his vote bank in case the report is leaked. This leaves the ECP in a state of confusion; if for some reason it decides to not to make the report public, Imran's opponents will accuse the ECP of bias, and to some degree, the perception will be created that the institutions have a soft corner for him. Imran has also filed a petition in the Islamabad High Court (IHC) challenging the jurisdiction of the scrutiny body of election commission to question the source of party funding.
Strangely, Imran has always been vocal against hiding sources of income and he has always stated that it means illegal wealth or money is being earned. Going by Imran's own theory, hiding PTI's funding sources is equivalent to hiding suspicious money transactions. It is also strange to see that being a critic of slow proceedings and delaying tactics itself, the PTI has used every possible means to delay the case and slow the proceedings in the election commission tribunal, since the case was filed in 2014. PTI has also not been able to provide a money trail for its funding sources. Instead, over the last four years, it has only applied delaying tactics to buy time.
Nawaz Sharif was disqualified by the Supreme Court (SC) because he was not able to satisfy the court regarding his money trail, which is why Imran should expect the law to be applied to him the same way. If he is clean and there is no corruption or any forbidden source of funding, then why is he not ready to disclose the source publicly?
Moreover, if a political party likely to form the next government cannot provide details of its own funding sources and uses delaying tactics to further linger over the matter, then how can one expect transparency from the party in the future, when it will be at the helm of the affairs in the country?
The other concerning point is the unwillingness of PTI to address the issue within the party and correct its structure. It is very easy to criticise opponents and accuse them of corruption and other allegations, but it is very difficult to fix one's own house; in this case, the PTI's party structure and its vague funding sources.
If these charges were levelled on the Pakistan Peoples Party (PPP) or the PML-N, they would have by now been declared traitors and a security risk to the country by Imran and his party. However, this time, it is Imran and his party under scrutiny, which is why there is complete silence on the matter from PTI. Even the vibrant social media is mum about this case.
It is not a simple case of enmity between the founding member Babar and PTI Chairman Imran; in fact, it is a very serious and strong case against a popular party for taking donations from abroad and not abiding by the country's law. By no means can Imran or his party be accused of taking help intentionally from the Jewish or Indian lobby, but Imran needs to come up with some answers and he needs to make a good internal party structure that can stop discrepancies in the financial accounts of PTI. He also needs to develop a mechanism that can identify the donors in real time so in the future he cannot be accused of taking money from foreign lobbies.
Imran needs to give the money trail of the source for PTI's funding, and should come clean. After all, he is the only self-proclaimed "Mr Clean" in the political horizon of the country. Refusing to submit a money trail and using delaying tactics will tarnish this self-created image, even within the ranks of PTI supporters. His party prides itself on "saaf chali, shafaf chali" (runs on transparency); maybe it is time to prove this is actually true.