The Pakistani male conundrum: If you date a girl, don't marry her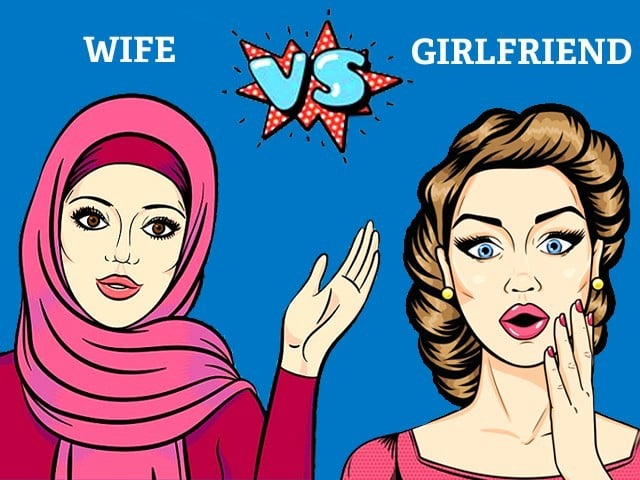 "Yaar ab aisi larki se shaadi thori karsaktay hain!"

(One cannot possibly marry such a girl!)

"Yaar wo Sunni hai or mein Shia; meray ghar walay kabhi nahi manein gay."

(She is a Sunni and I am a Shia; my family will never agree.)

"Aisi larkian toh sirf time pass hoti hain; shaadi thori kartay hain in say."

(Such girls are there for fun, to pass the time only; you are not supposed to marry them.)

"Ammi abbu nahi manein gay. Wo hamari zaat ki nahi hai."

(My mom and dad won't agree. She doesn't belong to our caste.)
These comments, unsurprisingly, came from some of my very close male friends and relatives, when I inquired about their plans to marry their girlfriends. After all, Pakistani men are notorious for their double standards in almost all aspects of life, and one such double standard reflects in their substantially different criteria when it comes to choosing a girlfriend and choosing a wife. Though the role of the wife is essentially an extension of the role of a girlfriend, and both these roles are traditionally meant to be played by females, however, in most cases two entirely different women are selected by our men.
Conventionally, the men of our society desire to have a gorgeous, witty, liberal, open-minded and independent woman as their girlfriend, with whom they can hang out freely and boast amongst their buddies of being the beau of such a "hot" girl. When it comes to choosing a girlfriend, caste, creed or religion of the girl does not matter, as long as she is attractive. Though they'll claim to be tolerant and pretend that differences do not matter to them at all, they will also lead the girl on with promises and hopes of marriage so that she sticks around; even though they know that there is no such possibility of getting hitched.
On the contrary, when it comes to selecting their life partner, the same "liberal" men take a 180-degree turn and alter their selection criteria. They look for girls who are beautiful but also innocent, family-oriented, religious, and dependent – girls who can one day become the mother of their children. The same men who earlier remained unconcerned about the religion, class, caste or creed of their girlfriends, will all of a sudden feel that such factors are extremely significant and cannot be compromised upon when it comes to choosing a wife.
This 'girlfriend versus wife' criterion is considered normal in our society, with the sad reality being that we find advocates of this brutal system in our own families. Boys are not stopped from dating the girls they want, but are very openly advised and even threatened by their own mothers to not even think of marrying their girlfriends, especially if the girl belongs to another class, caste or sect. This is an actual dilemma in our society. Instead of stopping their sons from dating girls with whom there are no prospects for a future, mothers only try to ensure that their sons do not go to the extent of considering getting hitched to their temporary sweethearts. Mothers will constantly bring up the bahu (daughter-in-law) criteria of their family, and will talk about their armaan (hope) to bring in a bahu of their own choice; an emotional plea to which all the "mama's boys" in Pakistan eventually relent to.
The direct consequence of this chauvinistic system is that the girls of our society are segregated into two segments – the 'girlfriend' material and the 'shaadi' material. The former is only suitable for dating and having fun, while the latter is what men move on to when they want to settle down and start a family.
Frustrated by the fact that they will one day have to marry a girl of their parent's choice, one most likely to have been suggested by some rishta aunty or another, boys use their pre-marriage years to pass their time and have some fun with girls deemed the 'girlfriend' type. Perhaps the most dismal aspect of this scenario is that not only are these girlfriends unaware of the intentions of their partners, they are also not treated respectably, and are often cheated upon and dumped as soon as the guy is ready to settle down with his mother's manpasand bahu (daughter-in-law of choice).
This is a shame for the elderly women in our families who, despite being women themselves, not only justify this system but also play a significant role in promoting it. This is why boys cheat and lie to their parents to date girls, and if somehow the parents come to know, they throw a tantrum without realising that their own upbringing is to blame for their children going behind their backs. This plague has inculcated hypocrisy and frustration in the youngsters of the current generation, and if left untreated, it will eventually pass on to the next generation as well.
It is my humble request to mothers to please develop in their sons the capacity to respect each and every woman, and not just distribute respect based on a discriminatory criterion. Boys should be taught to be loyal in their relationships, and should be given enough space to make the decision of selecting their life partner on their own. Mothers need to develop the tolerance to accept their son's desired partner, even if she does not abide by the traditional norms of a bahu. I am certain that if mothers gather the courage to inculcate virtues of loyalty and respect for women as a whole, without any discrimination, in their sons, ultimately their daughters will be saved from falling prey to being classified as just the 'girlfriend type' by any hypocritical man.
Only if this sexist system is rectified and stereotypes are broken will our society get disinfected from the double standards that torment us and compel us to judge and classify women into types, where some women are meant for marriage and procreation, while others are just deemed good enough to pass the time with while a man waits for the one that is "marriage material".