Secret Superstar seems like a simple movie with big dreams, but can it surpass Dangal's success?
Aamir Khan has been a stalwart performer in Bollywood who graces the big screen with memorable performances every time he pursues a lead role. His performances in Dangal, PK, Dhoom 3 and 3 Idiots have established him as an actor who can blend in any role and create magic.
His next outing as Shakti Kumar in the upcoming movie, Secret Superstar, puts him alongside a newcomer, Zaira Wasim, who plays the role of Insiya. Both were last seen together in Dangal (2016), which became the highest-grossing movie in Bollywood.
Insiya is an aspiring singer who aims at shaking the industry with her vocals, however, her father dislikes her passion and one day damages the strings of her guitar.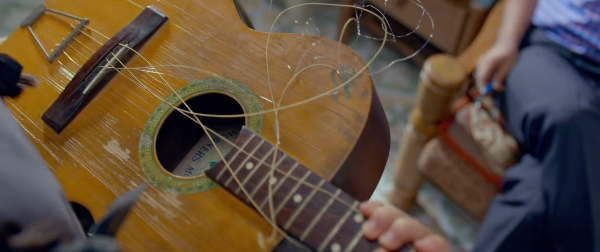 On the other hand, Insiya's mother supports her dream of becoming the best singer in the world. The question then is, will Insiya ever be able to change her father's heart? The movie will reveal this answer and much more.
Being a rookie in the world of singing, Insiya creates ways of sending her songs to the world through the Internet.  During her journey to stardom, she meets Kumar (Khan) a music director who spots Insiya's talents.
During one conversation, Kumar tells an interesting thing to Insiya,
"Beta! Tum jaisay talented bacchay hotay hain na, soda main in bubbles ki tarah hotay hain. Woh aisay hi uppar atay hain, apnay aap. Unhen koi nahin roksakta!"

(My child, talented kids like you are like bubbles in this soda. They rise up on their own. No one can stop them!)
Watching the trailer of Secret Superstar reveals that there is much suspense in the movie as Insiya is living her dream of becoming a singer while keeping her father and the rest of the world oblivious of her actions. The trailer also reveals that Khan, once again, has sported a new look for the movie and looks as cool as ever. One wonders how will his on-screen chemistry be with Wasim. It is expected that both will shine, as Wasim did a decent debut performance in Dangal.
Produced by Khan, Kiran Rao, Akash Chawla, Sujay Kutty, B Shrinivas Rao, and written and directed by Advait Chandan, the movie also stars Meher Vij, Raj Arjun, Aryan Ashik, Kabir Sheikh, Farrukh Jaffer and Tirth Sharma. Produced by Aamir Khan Productions, Secret Superstar may as well set the trend of such movie productions where a child or a teenager is dreaming it big while facing all odds. If this is the case, Bollywood will be entering into a new beginning and shifting its focus from movies based on romance, comedy and action.
Moreover, Secret Superstar seems like a simple movie with a big idea and perhaps, with Khan's performance, the movie can become one of the highest-grossing movies in Bollywood.
As far as the soundtrack is concerned, Meghna Mishra and Kushal Choksi have sung all songs in the movie with music composed by Amit Trivedi and lyrics by Kausar Munir. Main Kaun Hoon is one song you will hear repeatedly in the trailer and perhaps we will listen to it during emotional moments of the movie.
The movie is set to release this month.