Serena Williams will always be an icon and a champion, but her outburst had nothing to do with sexism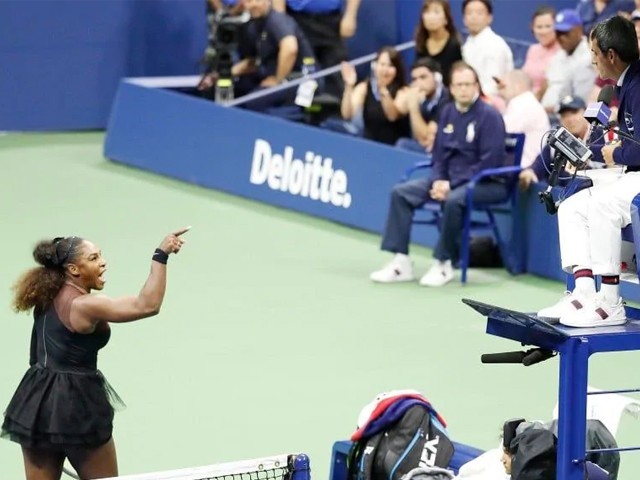 Will you forget it? I think not. After all, the US Open 2018 is not one to forget anytime soon. The tournament was thrilling from the start, with remarkable displays of tennis, alongside upsets and firsts. However, what will remain etched in our collective memories is the women's singles final; a certain Serena Williams, Naomi Osaka, and the chair umpire.
The 20-year-old Osaka – who had never won a grand slam before – was playing with her idol. Williams, on the other hand, is no ordinary idol. The 23-time grand slam champion is an enigma. Not only is she a champion of tennis, she is a champion of hearts – an inspiration for men and women alike. Williams has dominated women's tennis for two decades, and her journey is as impressive as her game. She's become a role model, a trend-setter with a big personality; she has successfully become America's darling.
Thus, if you had to predict a winner before Saturday's final, you would have picked Williams in a second. It was the story we all wanted to witness unfold: a 36-year-old mother of one makes a grand comeback after almost losing her life. Not only that, had Williams won, she would have made history by equalling Margaret Court's 24 grand slam titles.
America was rooting for her. The world was rooting for her. However, as the match commenced, the young, athletic Japanese outshone Williams. Point after point, she brilliantly returned everything shot her way, winning games with her serve and big forehand until she claimed the first set. It was beautiful to watch the novice take on the champion.
In the fifth game of the second set, however, things took a dramatic turn. Chair umpire Carlos Ramos issued Williams a code violation after he witnessed coaching. Williams denied the incident, however, her coach admitted otherwise.
Williams then demanded an apology from the umpire, insisting she did not take coaching. Her fit of rage did not end there. She was issued a point penalty for racket abuse, and finally a game penalty for calling the referee a liar and a thief.
What transpired after that was not pretty. Williams continued arguing with officials, accusing Ramos of sexism and claiming to fight for women's rights. The episode has led to much conjecture and debate. Opinions remain divided and the final almost forgotten, which, by the way, Osaka won.
Is there enough evidence to suggest Ramos was sexist? Unfortunately, there isn't. Yes, a game penalty seems harsh, but Ramos was within his jurisdiction in making that call.
The gold-badge umpire is known for being a stickler for the rules. In his three-decade-long career, the Portuguese has had contretemps with the likes of Roger Federer, Rafael Nadal, Andy Murray, as well as Novak Djokovic, who won the US Open this year. Murray was once issued a warning by Ramos for mumbling "stupid umpiring", whereas Nadal has been issued warnings for slow play as well as coaching. Players have always bemoaned his no-nonsense application of rules; however, he continues to command their respect.
Saturday's episode had nothing to do with race or sexism. It was an unsightly outburst from a powerful tennis icon. It is as Ramos stated,
"It's an unhappy situation but a la carte refereeing doesn't exist."
Ramos is absolutely right in saying that. After all, umpires cannot and should not bend to pressure. Had Williams held her nerves like 20-year-old Osaka did, perhaps this furore could have been avoided altogether.
Ultimately, Williams will always be an icon and a champion, but despite her insistence, last Saturday was not about sexism. It was an unfair outburst, a disregard for the opponent, a disregard for the referee, and will be remembered as a champion's fall from grace.