'The Grinch' is proof that Hollywood has officially run out of original ideas
Hollywood's fondness for revisiting familiar ground to make quick money keeps leading to rehashing of old, well-known tales, which explains why we're about to get another adaptation of Dr Seuss' book, How the Grinch Stole Christmas!. The classic story of the holiday-hating curmudgeon was turned into an animated television special, with Boris Karloff voicing the titular character in 1966, and then adapted into a live-action movie starring Jim Carrey in 2000.
Now, Illumination Entertainment has created a big screen animated adventure inspired by the Christmas tale. Directed by Yarrow Cheney and Scott Mosier, The Grinch finds Benedict Cumberbatch voicing its anti-hero protagonist; the infamous grump who, disgruntled by the loud, merry celebrations of his neighbours in Whoville, decides to steal Christmas.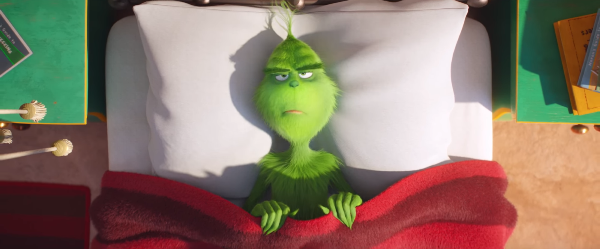 The trailer doesn't shed much light on the overall arc of the tale, and focuses mainly on a handful of mostly ordinary gags. An in-joke about the very unhappy Grinch being woken up by his alarm clock playing Pharrell Williams' Happy (the popular tune from the soundtrack of Despicable Me 2) is more groan-inducing than amusing.
We don't see anything particularly inspired or original in this short two-minute preview, and it all feels a bit 'meh'. Plus, there isn't enough dialogue in the trailer to judge how well Cumberbatch, quite renowned for his voice acting, will fit in the titular role.
The animation itself, however, looks good. The character designs are impressive, and the protagonist's loyal dog, Max, in particular, looks absolutely adorable.
Ultimately, the question this project, and many others like it, raises is, do we really need another adaptation of something we have already seen before? Wouldn't it be more impressive and entertaining if studios try to create something original, instead of going back and re-doing the same old ideas?
So far, this attempt to revisit the Grinch's story seems unnecessary and a tad underwhelming. However, Cumberbatch's presence alone creates hope the movie itself will prove to at least be amusing and entertaining for adults and children alike.
The Grinch releases on November 9, 2018.
All photos: Screenshots