'The Shape of Water' is meant to sweep you off your feet, make you cry and applaud, but that never happened
Few filmmakers are as good at exploring the magical and the whimsical as Guillermo del Toro. At 53, the Mexican visionary has established himself as one of the most distinctive artists in Hollywood whose obsession with monsters, spirits and ghosts can pretty much be seen in all of his films.
What makes his films unique though is the maturity with which he treats and explores these fantastical elements and how often times they serve as a canvas for del Toro to explore weighty themes like loneliness, acceptance, love and outsiders finding their purpose in the world.
Del Toro's latest film The Shape of Water is very much a continuation of his recurring themes. It is also, of course, a canvas for him to explore the fantastical which in this case happens to be the story of lonely mute woman falling in love with an amphibian-like man in 1962 Baltimore.
Set in the early days of the Cold War, the film follows Eliza (Sally Hawkins), the lonely but perky young mute woman in question. She spends her days eating lime pie in the company of her next door neighbour Giles (Richard Jenkins), an artist and a closeted gay man, and spends her nights working as a janitor at a top secret government facility.
Her life, however, takes a drastic turn when she discovers the lab's most classified secret – a mysterious, amphibian-like, scaled creature from the Amazon that lives in a water tank. However, as she develops a unique bond with the creature – listed in the credits as 'Amphibian Man' – she soon discovers that its fate and survival lies in the hands of a hostile government agent, Colonel Strickland (Michael Shannon), and that she must do anything and everything within her power to protect it.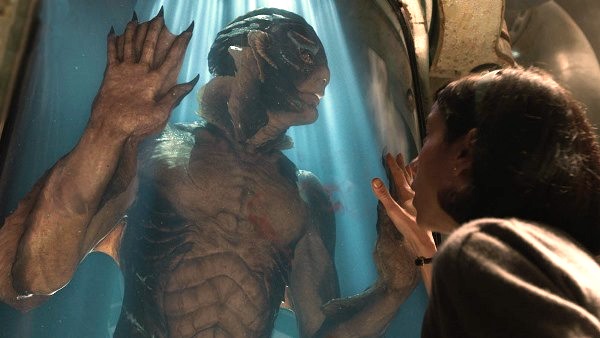 What stands-out most about The Shape of Water almost immediately is perhaps how gorgeously-crafted it is. Every little detail is intricately crafted and everything from the cinematography to the music and the production design immerses you into this world del Toro has created. The performances are terrific across the board, led by an impressive, wordless one by Hawkins and followed up by good work from Jenkins, Michael Stuhlbarg and Shannon. But as much as I admired this film (and I admired it immensely), I found it increasingly difficult to be emotionally-invested in it or buy into the central conceit. In short, I felt nothing.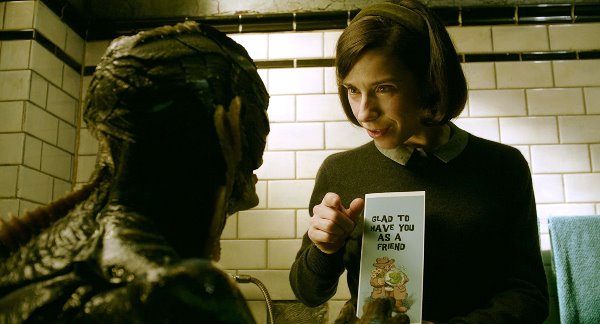 That for me is the biggest failing of this film. It simply doesn't have that sense of feeling that it constantly tries to drudge up in the viewer with its soaring original score. It's meant to sweep you off your feet, make you cry and clap when it ends but that never actually happens.
I think when exploring a story like this that is essentially a fairytale romance set to the backdrop of the Cold War, you really have to make the viewer believe in the characters and their journey and care enough about them to buy into the plot. The problem here is that del Toro is more interested in doing other things. There's a sub-plot about a Russian spy, snippets of commentary on race-politics and gender-politics, a sub-plot about Shannon's character's home-life that I guess reinforces the fact that he's the bad guy – all of which does not bring much to the story.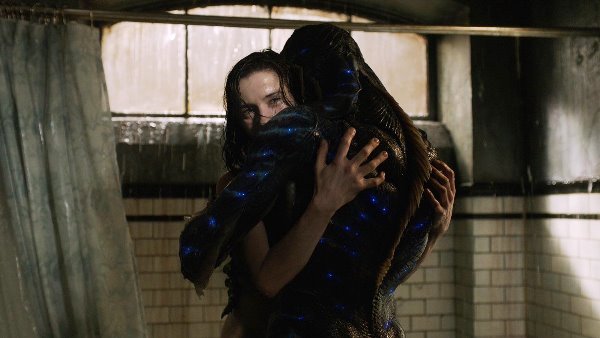 When it comes to the characters, del Toro inhabits his film with archetypes but doesn't really do anything to make them stand out as anything more than that. Jenkins is the sensitive, closeted gay neighbour; Octavia Spencer is the sassy work-friend; Shannon is the no-nonsense, jingoistic and evil government agent; Hawkins is the lonely and pure-hearted mute woman who will fall for the even lonelier and disenfranchised Amphibian Man. The problem with all this is that the characters end up lacking depth which means their every motivation and action plays out like a cliché, right down to the film's ending.
The film's central romance between Eliza and the Amphibian Man also lacks proper development and only works if you buy into the film completely as a fairytale. But because the film tries to exist as both that and a Cold War thriller, it never really works because the balance isn't there. And personally, I needed more to root for these two characters and believe they would end up together other than the fact that they are lonely, misunderstood and disenfranchised.
Ultimately, del Toro's The Shape of Water is a film filled with many beautiful ideas. It's unquestionably a work of great artistry but its emotional depth is remarkably shallow. And by the end, it's tough to feel much of anything for this story.
All photos: IMDb