Justin Trudeau celebrating Ramazan in Canada is praiseworthy, but PIA celebrating Christmas in Pakistan is appalling?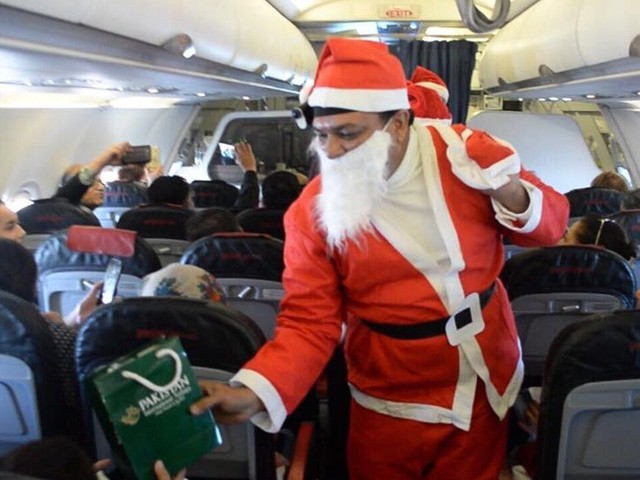 Everyone is aware of the fact that Christmas is a festival celebrating the birth of Jesus Christ. It is not only a day of celebration for Christians around the world but over time, it's celebration has become a global festival, being regarded as a symbol of joy and togetherness, not just religion. It is a day where families and friends get together and give each other gifts, quite similar to Eid, where Muslims get together and give each other Eidis and celebrate over food.
However, celebrating Christmas in Pakistan has become a debate over the past decade. Many Pakistanis take offence when a Muslim wishes someone "Merry Christmas", as they believe it to be against their religion. Every year, as the day of Christmas approaches, we are bombarded with Whatsapp messages that forbid us from wishing or celebrating this festive occasion, some even going to the extent of deeming the act as haram.
— Mohammad Sajid (@Saj_Qureshi) December 25, 2017
As I received my primary education from a religious school, I was always told that celebrating any non-Muslim cultural event or festival wasn't right, and that I should shy away from it. However, as an individual I always wondered, what was so wrong about celebrating with others?
Even though I have never been interested in celebrating events like Halloween, Black Friday or Christmas, I also don't see any harm in it for those who do want to celebrate them. If I ever did want to celebrate, I would do so without hesitation, because I believe that any kind of celebration that brings you and the people around you happiness, cannot be wrong. Moreover, if someone else celebrating does not harm you personally, then it should not affect you to begin with.
Like every year, this year too, Christmas preparations were happening all around the world to mark the occasion. Vividly decorated sparkling Christmas trees, the iconic Santa Claus costumes, lights, balls and garlands were seen in several shops and malls across our very own city as well.
A day before Christmas Eve, the staff of our national carrier, Pakistan International Airlines (PIA), surprised their passengers by celebrating Christmas on board. They not only sang Christmas carols and wore Santa hats, but also gave away gifts and chocolates to the children onboard. They even had one of their employees dress up as Santa Claus to further spread the merriment. It was undoubtedly a great gesture to spread happiness and create togetherness amongst passengers, irrespective of their faiths.
In the spirit of sharing joy our Senior Flight Purser, Peter Inayat dressed up as Santa and with the help of the cabin crew gave out gifts & goodies. And we got the best present of all,a bunch of happy passengers🎅🏾Happy Christmas 🎄 to everyone celebrating!! #PIA #ChristmasEve pic.twitter.com/1HFMQE0ROc

— PIA (@Official_PIA) December 24, 2017
Unsurprisingly however, people created an issue over this too. I don't understand why Pakistanis always have to spread negativity, especially about things that don't affect us in any way, but are only spreading joy amongst others. Whenever festivals celebrated by our minorities are around the corner, we start debates on the acceptability of celebrating these festivals, and whether or not Muslims can participate. Even those who aren't religious start preaching about how it is forbidden to celebrate such festivals. While the rest of the world was appreciative of PIA's efforts, it was sad to read some horrendous comments and accusations against PIA by its very own people.


Shame on PIA… you are a Muslim Flag Carrier…. !
Have you ever gave gifts on Eid????????????

— 1stranger (@1strangerpk) December 25, 2017
The hypocrisy of this society becomes evident when, in the aftermath of attacks on minorities, they immediately chant slogans of unity and "we are all in this together", much like after the church attack that happened recently in Quetta. While in those moments we are quick to "overlook" any differences between us, when it comes down to moments of happiness and celebration, this togetherness always seems to fall short. Then it is no longer 'us'; it is 'us versus them'. The only thing this achieves is developing feelings of hostility, both in us and our minorities.
On the other hand, whenever we see a non-Muslim celebrating a Muslim festival, we are quick to appreciate it and thank them for doing so. We love it when anyone acknowledges our religion and its importance, such as when Canadian Prime Minister Justin Trudeau celebrated Ramazan and Eid in Canada, and Muslims in Pakistan rejoiced. They were happy to see the message of freedom and togetherness that Canada was spreading, especially in light of growing Islamophobia across the world. However, when we try to do the same for our minorities, who are already under attack on our soil, our 'religiosity' is immediately under scrutiny for doing so.
It was a pleasure to celebrate Iftar and break the first Ramadan fast with Muslim members of our caucus last night.https://t.co/NUdM8jQwO2

— Justin Trudeau (@JustinTrudeau) June 7, 2016
How do we expect our minorities to have a sense of belongingness to their country when its people are so quick to alienate them? Wishing them on their festivals will only bring them closer to us and this country; it will not drive us away from our beliefs.
PIA has always been an easy target for everyone when it comes to their services and customer support. Even when the airline was going down the drain, I had always hoped for progress, and now when we do see a minimal change, it calls for appreciation. PIA deserves applause for staying strong and stepping up in a country where people jump at a chance to prove their 'holier than thou' attitude. Pakistan is already going through a difficult time, where we have only a few things left to cherish. Rather than being negative, it would be great to spread some positivity for a change and appreciate the minutest efforts made by anyone to promote the message of peace and unity.
This small step taken by PIA made my day. Knowing that almost 2.6 million Pakistanis are Christians, the smallest effort to be inclusive counts, and it was refreshing to see at least one state organisation stepping up to celebrate Christmas in its true spirit. There were a few on the flight who were seen not enjoying the display, but there were many who applauded and enjoyed it. I can only wish I was there to spread some joy as well.
Hats off to the crew members of PIA for doing something out of the ordinary to spread Christmas cheers, not only amongst Christians but amongst everyone. One can only hope that more people of the country learn a thing or two from their spirit.