The Maulana and his army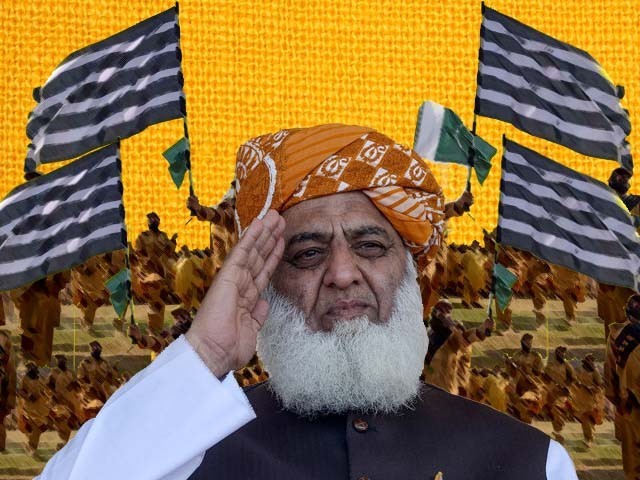 If Jamiat Ulema-e-Islam-Fazl (JUI-F) chief Maulana Fazlur Rehman goes ahead with the plan he has announced, hordes of khaki-clad men wielding sticks will descend upon the federal capital. No matter how many times Rehman insists that these men will remain peaceful, the striped sticks they will be brandishing are by no means for playing dandiya (a folk dance performed with sticks) with the law enforcement personnel deployed to deal with them. Rehman recently flexed his muscles in Peshawar, staging a gathering of this militia called Ansarul Islam and then letting them loose on the streets of the city, giving the government and the powers that be a taste of what's to come.
Complete with their own khaki uniforms and ranks – each unit has a salar (commander) – this force, which the JUI-F maintains comprises of volunteers, conducted a military drill and presented a 'guard of honour' to Rehman. They also reportedly took an oath to protect the party leadership with their lives. Whether or not the images of this gathering have managed to unnerve the power circles in Islamabad and Rawalpindi, they are surely worrying for many ordinary citizens concerned about the future of the country. Some would argue that other political parties and certain communities have their own security units comprising of volunteers as well. However, what sets the Ansarul Islam apart is the mindset that drives these men – a conservative, fundamentalist ideology indoctrinated since childhood at the JUI-F's chain of madrassas across the country.
Rehman has claimed that the volunteers will be carrying out their duties in a peaceful manner, stating,
"Our party workers and seminary students have always respected the constitution."
However, the role of the Ansarul Islam over the years, according to the JUI-F, has been to ensure the security of the party leaders and members during rallies and political gatherings. Given that, reportedly, 80,000 Ansarul Islam volunteers will be present during the Islamabad rally, it is easy to see why security concerns in the city are high, despite Rehman's claims. This situation is further compounded by the fact that law enforcement agencies in Islamabad are also preparing for what seems like an inevitable encounter with the JUI-F and Ansarul Islam. The widely circulated images of the Ansarul Islam show that Rehman is eager to put on a display, which is also evidenced by the fact that the JUI-F chose to give its party workers social media training in an attempt to ensure that they could utilise online forums to disseminate their message as well.
Members of the Ansarul Islam can easily be incited to violence and made to serve certain vested interests by concocting global conspiracies against Islam, stoking sentiments against certain religious minorities or using the pretext of blasphemy. The use of this "religion card" was also witnessed in 2017 when the Tehreek-e-Labbaik, a little known entity that started off as a movement using the issue of blasphemy as its agenda, staged a massive sit-in at Islamabad's Faizabad Interchange. In fact, Pakistan's history is littered with instances where religion has been used to further personal motives. For those who have caught a glimpse of the JUI-F's Ansarul Islam, it too has existed for a long time. It's just that the powers that be have been content with turning a blind eye towards the mushrooming of unregulated madrassas, what's being taught there, who has been pumping funds to them and the finished product they churn out – up until now at least.
One might find the policies of the Pakistan Tehreek-e-Insaf (PTI) government to be deeply flawed or even believe that it has rigged its way into power, but there's no justification for backing elements that are bent on pushing the country back to medieval times and thrive on radicalism. If anything, Rehman might call off his men after striking a deal to prevent the much-needed madrassa reforms from taking place. In any case, the previous sit-in by the Tehreek-e-Labbaik and the men currently waiting to advance on the federal capital are now reminders that there is still some distance to go before a tolerant, inclusive Pakistan becomes a reality.