Who will emerge victorious in the Arsenal-Manchester United clash?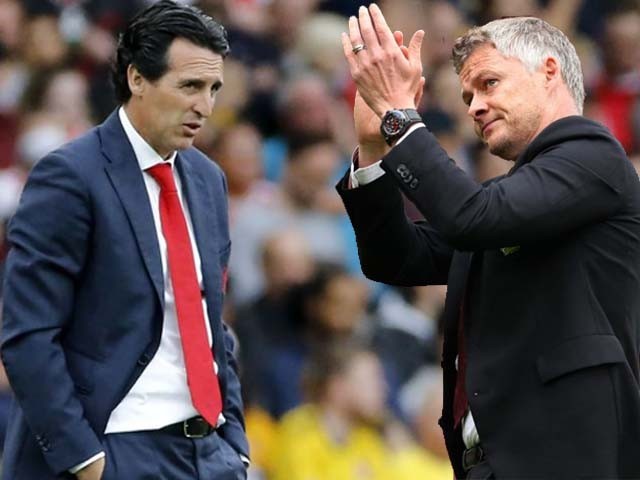 Arsenal and Manchester United have always shared a memorable, long-enduring rivalry, one which acquired a new spit of fire during the tenures of Arsene Wenger and Sir Alex Ferguson.  But that era has long since departed, and both Arsenal and Manchester United currently find themselves in a bit of a fix. The likes of Manchester City and Liverpool have raised the bar of the English Premier League (EPL), a bar which seems insurmountable for Arsenal and Manchester United.
Both clubs currently sit outside the top four in the EPL table and, if either club truly harbours ambitions of booking a spot in the top four then they must view tonight's match as a crucial stepping stone on the road towards achieving that goal. But both Unai Emery and Ole Gunnar Solskjaer have failed to deliver what  they were brought in to do. Neither manager has been able to impress thus far or capture any silverware of significance, which is why both Solskjaer and Emery will be under the spotlight when Arsenal and Manchester United clash tonight.
While United may boast a home advantage for this encounter, their recent form does not inspire much confidence. Although the Gunners have not fared all that well themselves so far this season, their close fought win against Aston Villa must have done wonders for the team's self-disbelief. A victory at Old Trafford would propel Arsenal into the top four, something which Emery desperately needs amidst calls for his removal.
On the other hand, Solskjaer also desperately needs a win in order to ensure that Manchester United at least try and regain some footing in the league table. The stakes for the Norwegian are high since critics have already started hounding him following the slim victory against Rochdale FC midweek. Given that both clubs are looking for some much needed momentum, this match could serve as a crucial tipping point. Let's take a look at some of the factors which may well dictate the outcome of the match.
The Aubameyang factor
The impact that Pierre-Emerick Aubameyang has had on the Arsenal attack can not be understated. The youngster almost single-handedly ensured that Arsenal emerged with a win from their game against Aston Villa, and it's that attacking spirit which Emery would want all his other players to exude as well. The Gabonese international is already looking at a great career in England, having already prompted comparisons to the prolific Thierry Henry, which will make his performance tonight all the more vital. The former Dortmund man is just two goals shy of becoming the joint top scorer this season, and David De Gea will have to be at his best if Manchester United wish to keep Aubameyang at bay.
The mercurial Mesut Ozil
Mesut Ozil's career in London has received mixed reviews. Some have labelled him a failure while others have stressed that the German has served as the backbone of the Gunners ever since he joined the club. Nevertheless, there is no denying that he is a player who can drastically change the complexion of a game simply because, on his day, he can traverse any defense with his clinical passes and ferocious volleys. Manchester United will surely have to be wary of Ozil's potential, and Harry Maguire and his men will have to look sharp at the back to stave off this looming threat.
Th end of Emery?
Perhaps what Arsenal fans will be most worried about would be potential unrest within the team. Emery's career at Arsenal is already under scrutiny since despite being at the helm for over a year, the Spaniard is finding it a bit hard to adjust to things in London. Reports indicate that Emery heavily relies on his coaches to get his message across to the players since many players at Arsenal struggle to understand his English. All these factors, mixed with Arsenal's inability to attract top names in this season's transfer window, make for an interesting prelude to the match. Plus, with Arsenal's Europe League match Standard Liege just around the corner, Emery would be more than aware there is no room for error, especially since Arsenal fans are already breathing down his neck.
New players on the block
The arrival of Maguire has undoubtedly strengthened United's defence, something which the club was in desperate need of. Although the Englishman is still settling at Old Trafford, his work ethic and presence at the back is a welcome addition to the squad. But despite his work at the club, he still has a long way to go before he can match the standard set by the likes of Rio Ferdinand and Nemanja Vidic. Maguire will certainly has his work cut out for him when he comes face to face with Aubameyang at Old Trafford.
Similarly, Daniel James has also made a surprise start at United, already becoming the highest goal scorer for the club so far with three goals this season. James has the extraordinary ability to score goals at the big occasions, and Solskjaer would certainly hope that rings true in the encounter against Arsenal. Although the Welsh youngster is lacking in experience, Arsenal must be wary of the threat he can pose.
The return of Pogba
Paul Pogba has had a lacklustre season thus far. A dearth of goals, coupled with an injury has meant that the Frenchman has had very little impact on his club's performance. But now that Pogba is back from his injury, Manchester United fans need him to fire on all cylinders against the Gunners and although he has not had an impact on this season so far, his presence will be vital for United. Ultimately, the match could boil down to who out of Aubameyang and Pogba rises to the occasion.
In light of all these factors, I predict either a 1-1 draw or a 2-1 victory for United. The Red Devils look like a more balanced side at the moment, but you wouldn't put it past Arsenal to pull off a night robbery at the Old Trafford.
All photos: AFP