How Ben Stokes became an Ashes legend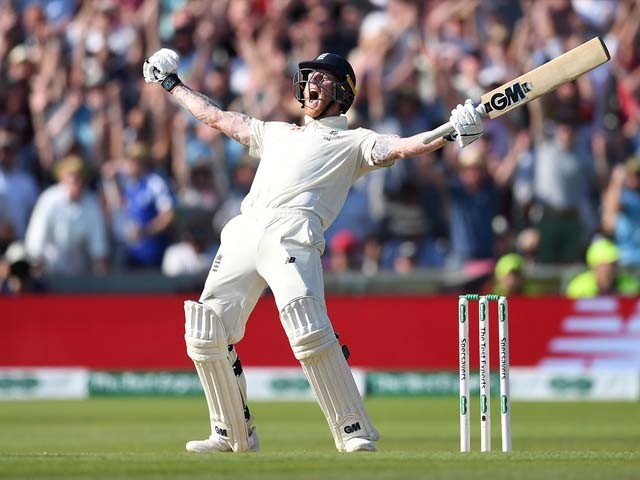 A thrilling end, drama and suspense is something we generally associate with Pakistan cricket. However, it is England who have provided us with that lately with two of the best games in cricketing history within the span of a few months. And, funnily enough, the main architect of both these matches was Ben Stokes.
When England were handed the task of chasing down 359 runs in the third Ashes Test, most thought it was impossible, especially since England were bowled out for a paltry 67 in their first innings. Moreover, the pitch seemed unbelievably difficult to bat on because it continued to offer movement to the bowlers throughout the match. This, along with the fact that the Ashes were on the line, prompted analysts to believe it would be a walk in the park for the Australian team. But the English batsmen had other ideas.
After an abysmal batting performance in the first innings by both England and Australia, no one could have predicted that nail-biting climax. Once Australia clawed their way to 246 runs in the second innings, the match seemed done and dusted.
I've seen some remarkable cricket moments in my life but that is the best I've seen in over 50 years. @benstokes38 saved the Ashes and gave a magical inspirational innings. Even better than his World Cup performance.
Well done @ECB_cricket

— Geoffrey Boycott (@GeoffreyBoycott) August 25, 2019
Best video of all time? 😍 #Ashes pic.twitter.com/as6civH4GN

— Stuart Broad (@StuartBroad8) August 25, 2019
But before we drool over Stokes' heroics, and rightly so, we must acknowledge just how well Joe Root played. The richly deserved plaudits that Stokes is receiving for his magnificent century are making some viewers forget that it was Root who started the English resistance. When England found themselves two wickets down after having scored just 15 runs, Root steadied the ship and played a true captain's knock in extremely testing conditions. He showed the resolve and heart that one associates with a world-class player. Joe Denly also offered some much needed support for his captain at a time when his team desperately needed him to rise to the occasion. But, ultimately, there was to be only one shining star in that innings.
However, Stokes got off to a slow and cautious start, amassing just three runs from 70 balls. This makes it all the more astonishing that he finished his innings with a strike rate of 61, and it shows just how well he accelerated the England innings when his team required him to. In all my years of watching cricket, I have never seen a batsman shift gears so effortlessly.
Generally when a batsman enters into survival mode during a tricky part of the match, as Stokes did early on in his innings, it is extremely tough for that batsman to break out of such a defensive mindset. As a result, players often end up failing to play even the poor deliveries simply because they have retreated too far into their shells. But Stokes showed none of that. His transition from defence to offence was simply astounding.
Highest strike-rate in a Test innings having taken 150+ balls to reach 50:
64.30 CA Roach 209 off 325, reached 50 off 166
WI v Eng Georgetown 1930

61.64 BA Stokes 135* off 219, reached 50 off 152
Eng v Aus Leeds 2019

— Andrew Samson (@AWSStats) August 25, 2019
Just a reminder to all young cricketers … @benstokes38 was 3 off 70 balls before his heroics yesterday … You are allowed to #Digin & occupy the crease in this era … Anyway #OnOn … Time for a Hol 👍👍#Ashes

— Michael Vaughan (@MichaelVaughan) August 26, 2019
So glad I saw these last few hours of this test. One of the all time greatest.

— Ahmer Naqvi (@karachikhatmal) August 25, 2019
Not only that, the most impressive part of his innings was the way he calculated the run chase. He didn't succumb to the pressure of the scoreboard and try to slog his way to the finish line, instead opting to dispatch the bad deliveries to the boundaries whilst also picking up quick singles – an art which a few Pakistani batsmen are in desperate need of learning. Stokes' performance at the centre was the perfect example of how to bat with the tail of the batting line-up while also keeping the scoreboard ticking.
While all the carnage was taking place at one end, at the other end, Jack Leach played probably the best one-run innings of all time. Having previously scored 92 runs during this cricketing summer, he said he would trade his 92 for just that one run, highlighting the value of this innings. Leach showed immense resolve, especially after being castled early in his first innings and having the pressure of being the last wicket on his shoulders.
The drama of this Test was truly unmatched. People often exaggerate certain situations, but this for me was the best Test match of all time, as well as the best Test innings of all time. A lot of people have argued that Kusal Perera's heroics in South Africa earlier this year were better, and while I do agree that Perera's knock was special, you have to remember that Stokes is an all-rounder. He bowled close to 35 overs in this Test match, making his effort that much more special.
If you're in media, weighing up whether this mind-blowing Ben Stokes innings was the greatest ever and you don't even mention Kusal Perera's 153* in Durban that literally happened six months ago, you are profoundly ignorant.

There's just no way around that.

— Andrew Fidel Fernando (@afidelf) August 26, 2019
Additionally, the added pressure of the Ashes was on his shoulders because had England lost this Test, the Ashes would return to Australia. This, coupled with the drama of the missed run-out, and a poor umpiring decision makes it the best Test of all time for me.
After Stokes cost England the T20 championship back in 2016, many had written him off as a player who chokes at the final hurdle and one who cannot perform under pressure. He has rubbished those claims in the past few months with his World Cup final heroics, as well as this innings.
As cricket fans, we are lucky to have watched such a game, and it makes me even more excited for the two upcoming Test matches which will conclude this magnificently fought edition of the Ashes.
All photos: Getty