Murder Mystery: an unexceptional, unmemorable summer movie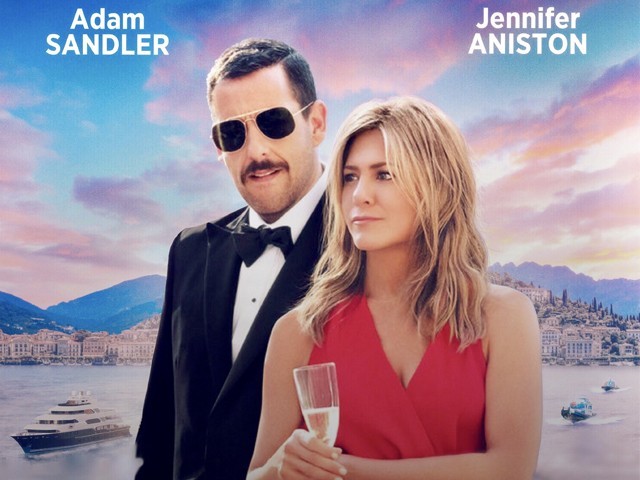 After starring together in Just Go With It, Adam Sandler and Jennifer Aniston have reunited for another comedy outing. But instead of taking the big screen route, this time around they have chosen to bring their adventure to the smallest of small screens. Available on a smartphone, or laptop if you so prefer, near you is the duo's latest offering, Murder Mystery, the tale of a getaway gone awry.
Created in the image of the many mystery movies which have come before it, only with a more comedic slant, this Netflix film focuses on a couple that goes to Europe on a vacation and ends up getting embroiled in a murder investigation.
Police officer Nick Spitz (Sandler) and his wife, hairdresser Audrey (Aniston), have been married for 15 years, but they have yet to go on the honeymoon that the would-be detective promised his mystery novel-obsessed wife when they wed. When Audrey confronts him, a strapped-for-cash Nick pretends he was planning the trip as a surprise, and then puts together a low budget bus tour of Europe.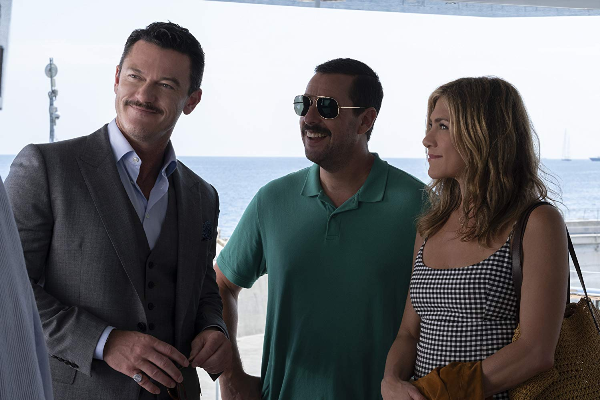 But on the flight to Spain, Audrey ends up befriending a rich Englishman, Charles (Luke Evans), who invites the pair to a party on his family's yacht celebrating his elderly uncle Malcolm's (Terence Stamp) wedding to Charles' former fianceé Suzi (Shiori Kutsuna). With close family members and friends – including Malcolm's disappointing son (David Walliams), a famous actress (Gemma Arterton), a Spanish Formula One driver (Luis Gerardo Méndez), and a one-eyed Namibian colonel (John Kani) – in attendance, Malcolm berates the gathering and announces that he is cutting them all out of his inheritance and leaving his massive fortune to his new wife.
It doesn't come as a shock then that the old man is soon murdered. Anyone who was present in the room could be the killer, but stereotypical French inspector Laurent Delacroix (Dany Boon) sees the Spitzs as the prime suspects. It is then up to the American couple to figure out who actually committed the murder and clear their own names.
Like a comedic take on Murder on the Orient Express, a reference at the end affirms this connection, Murder Mystery ambles along amicably enough while occasionally making fun of its genre. But the proceedings aren't quite as exciting as one would have hoped. The film spins a very typical mystery, and doesn't really manage to establish its stakes or create a sense of excitement. The film is clearly a satirical take on the stories penned by Agatha Christie such as And Then There Were None, but the film falters because it fails to do anything particularly creative with what could have been quite an interesting premise.
While it may be competently – if unexceptionally – made, the project basically struggles with being inventive. There is nothing particularly distinctive about Kyle Newacheck's direction while James Vanderbilt's script doesn't deliver anything beyond a few chuckles and is rarely laugh-out-loud funny.
Neither a hilariously silly romp nor a sharp parody, the film relies mostly on the camaraderie of its leads to keep viewers invested. To their credit, the actors are well-suited for their roles and make sure that the movie remains watchable even when the plot isn't exactly riveting. Aniston, in particular, is as charming as ever, although the film does leave you wishing the vehicle had made better use of the actress' considerable comedic talents.
Built on a well-worn genre that is perfect for parody, Murder Mystery had the potential to really dig in and come up with something amusing and interesting. Instead, it waddles down a typical mystery path and offers nothing new. This is, ultimately, an unexceptional, unmemorable summer movie, but thanks to the talents of its cast, it is still a pleasant enough way to while away a lazy summer evening.
All photos: Netflix