#TherapistDiaries: Anxiety, depression and suicide – the realities of forced marriages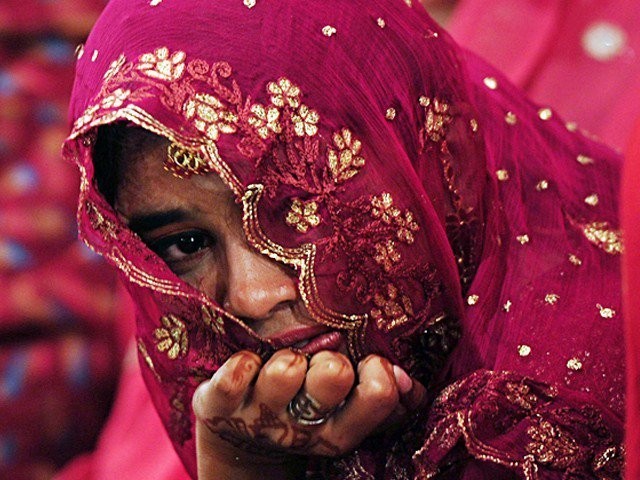 She was barely 19 at the time. She sat on a silver throne decorated with floral arrangements with a posture similar to that of a sacrificial being. My emotions in this moment were as artificial as the floral arrangements. I looked over at the 50-year-old man sitting beside her, and could no longer pretend to be happy. Because that's when it registered – she was getting married to this man.
All of a sudden, my conversations with this girl, with whom I had played games throughout my childhood, came rushing to my mind. I also recalled what she had told me just a few months ago. All she ever wanted to do was to clear her English supplementary examination, so that she could get accepted into a decent college.
Just like her cousins, she too dreamt of enjoying the 'fun' college life she had heard so much about. She longed for a life where she could socialise with friends as much as her heart desired, dress up for cultural evenings at college, attend Eid Milan parties, and visit Meena Bazaar regularly with the girl friends she would obviously befriend in college.
So many aspirations, yet here she was, sitting with this 50-year-old man, as if she weren't a girl or even a human being for that matter. As if she were nothing more than a commodity.
This certainly wasn't an unusual sight for the people in that room, but for my school-going self, it was shocking and dreadful in equal measure. Thinking about her powerlessness in this situation, I couldn't help but panic.
I couldn't even imagine ever feeling this powerless. In fact, I was so afraid of being in such a situation myself that I had started dropping clear hints to my family, indicating that I will marry by my own choice and preference. And I never stopped dropping these hints, so that my family members wouldn't even think about ever putting me in such a situation. Although I am a clinical psychologist by profession, my womanhood is what primarily defines me. I am a woman and a product of this society before I am anything else.
I have had my fair share of apprehension with regard to forced marriages and I believe mostly everyone who is trapped in this culture faces these concerns.
It is extremely difficult in our culture to get married to a person of your own choice. Once you're deemed to be of 'marriageable age', you have to literally struggle to make sure you aren't married off to a stranger. Under all this pressure to get married, many people hurriedly end up making the wrong decisions, the consequences of which they have to bear throughout their lives. Forcing or even pressurising someone to marry once they have passed a certain age or in turn, not letting someone marry the person of their choice, classifies as a forced marriage. The severity and intensity of how this is conducted varies throughout the different geographical regions within our country.
Forced marriages manifest themselves in many different forms – ranging from customs such as Wani (child marriages) and Ghagh/Zhagh (where a man literally forces a woman to accept his marriage proposal by using force or threats) in the rural areas of the country to the seemingly harmless emotional blackmailing by parents in urban societies.
It is important to remember that there is a clear distinction between 'arranged marriages' and 'forced marriages'. Often in our society, parents or elders confuse the two, ruining many lives with the unfair decisions that they end up taking.
The psychological impact of such decisions is severe. It is not uncommon for therapists to cater to men and women stuck in these forced marriages.
One of my patients was forced by their family to marry against their will. My patient wanted to marry someone of their own choice but the parents thought this would bring 'dishonour' to the family. As a result, the patient was beaten black and blue by the entire family for months in order to punish them and break their resistance. They were ultimately forced to marry someone else. This happened while the patient was going through a severe attack of pneumonia because the parents saw them as too weak to resist during this time, and took whatever opportunity came their way.
Although their in-laws and spouse turned out to be decent people, even two years of marriage couldn't heal the scars of the past and they soon began to exhibit symptoms of depression, accompanied by rage and aggression.
I'm still working on this patient's aggression towards their family but even after many months, there has been very little improvement.
I still remember something that this patient's parent said after getting them married:
"Dekha, jeet tou aakhir mey hamari hui!"

(See, we won after all!)
As a psychologist, I want to tell all such families, that it is not a matter of 'honour' or winning when it comes to children you think you are responsible for. A number of people come into therapy with scars of these forced marriages manifested as depression, anxiety, and even suicidal thoughts or attempts.
Even from an existential point of view, how can you deprive a living person of their future? How can you take away someone's future by giving them a life of unhappiness?
You may try to use religious arguments to pacify your guilt, but no amount of justification can reverse the harm you have done to their future. No amount of clarification can alter the damage you have done to the only life a person is given in this world.