Blue moon rising: 7 reasons why Manchester City will beat Manchester United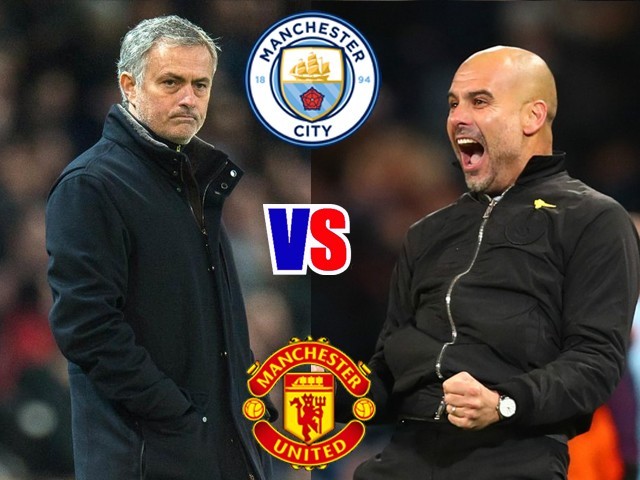 Benjani Mwaruwari's debut goal at the 50th Munich air disaster anniversary derby game, Cristiano Ronaldo's bizarre handball that led to a red card, Joe Hart's memorable dash across the pitch to save Wayne Rooney's 50-yarder, Michael Owen's late winner, Rooney's career-defining bicycle winner, City handing out a 6-1 thrashing, the "why always me" reveal courtesy of the enigmatic Mario Balotelli, Robin Van Persie's stoppage time steal, Rio Ferdinand being hit by a coin, Marcus Rashford's big moment, Marouane Fellaini's head-butt, and Paul Pogba delaying City's title party, are just some of the many memories I have on the thrilling Manchester derby fixture.
It is a fixture like no other. In recent seasons, the rivalry has particularly shone and much of that is down to the astonishing transformation of Manchester City. In each of the five previous seasons, they have finished above ailing noisy neighbours United and cometh Sunday, they will show just how.
Here are seven reasons why I am rooting for City to defeat United:
1. The attack
Here's an interesting fact doing the rounds on the Internet: ever since United last scored five goals in a game (West Bromwich 5-5 Manchester United in 2013), City have done it an extraordinary 21 times. They have already scored a whopping 33 league goals, the highest so far this season. In particular, they look more dangerous at the Etihad where they have found the net a staggering 24 times already, which includes 17 against the unfortunate trio of Huddersfield, Burnley and Southampton. They even managed to put six past Shahktar Donetsk in the midweek Champions League fixture.
Teams to score 5+ goals in a league game since Man Utd last did in May 2013

Manchester City 21 times
Liverpool 12
Tottenham 9
Arsenal 8
MK Dons 8
Peterborough 8
Bournemouth 7
Chelsea 7
Brentford 6
Derby 6
Hull 6
Bristol City 5
Cambridge 5
Norwich 5
Watford 5
Accrington 4

— Duncan Alexander (@oilysailor) November 4, 2018
Eleven different players have contributed to their grand league goals total and while there are great players in every position in this City side, there is one player who contributes more than most, which brings us directly to our next point.
2. Sergio "Aguerooooooooooooooo"
The prolific striker, nicknamed Kun, has gone from strength to strength this season. He scored his 150th Premier League goal in last week's demolition of Southampton, a feat which enables him to join the illustrious 150-plus club which also contains legends such as Thierry Henry, Frank Lampard and Rooney. He has scored around 58 % of his goals at the Etihad making it a ground he loves playing at. Having scored an impressive eight times in the 11 past appearances against United, the question is not whether Kun will score this Sunday but rather how many will he get.
3. The defence
Much of the attention has been diverted towards the attack due to the sheer numbers. However, it must be noted that City also has the best defensive record this season having conceded only four goals, which is the lowest and a stark contrast to the 18 goals United have already conceded. This follow ups from last season where City again conceded the least amount of goals.
When former Argentinian veteran Roberto Ayala suggested that Pep Guardiola's setup damaged the art of defending, alarm bells rang. Ayala has been proven wrong and it seems that in John Stones and Aymeric Laporte, Guardiola has finally found a world class partnership which will take City to greater heights.
4. An unlikely lucky charm
When City forked out an incredible £57 million for French defender  Laporte, eyebrows were raised to where he would fit in a team which already had Vincent Kompany, Stones and Nicolás Otamendi within their ranks. Laporte, to his credit, has been invincible. He has made 19 appearances for City and not once has he tasted defeat, 17 wins and two draws. He is already the player with the longest unbeaten streak in Premier League history and he will be looking to continue that against United, assuming he starts. The omens look good for City.
Man City are unbeaten in all 19 #PL matches when @Laporte has played (W17 D2 L0) – he has played more games without losing than any other player in the history of the competition#MCISOU pic.twitter.com/olmFQTeS1p

— Premier League (@premierleague) November 4, 2018
5. Unpredictable United
United's struggles have been well-documented this season. They seemed to have turned the corner around after inflicting a first defeat this season on Juventus. Having said that, they are still labouring on a few counts. Their £75 million star forward Romelu Lukaku has come under fire for his struggles in front of goals (no goals in his previous nine club appearances) while their defence, which has conceded 18 times in the Premier League, has not been spared either. They have staggeringly only managed to keep one clean sheet this season, despite having arguably the best goalkeeper in the world.
Having alarmingly conceded first in six of their previous eight games, United seem to have developed a knack for starting badly. They cannot afford to do this on Sunday or else City will run riot.
6. Recent history is on their side
Ever since their first meeting in 1891, City and United have played each other 176 times, with United leading the head-to-head with 73 wins. Despite this, it's a different story after the transformation of City. It is worth noting that before the crucial Abu Dhabi takeover, City were bought by former Thai Prime Minister Thaksin Shinawatra, just a year earlier who did manage to, by some extent, improve City's standing.
The head-to-head record in the League post City takeovers stands as City 10-9 United which includes landmark wins to City with score lines of 6-1 and 4-1. Having lost in the corresponding fixture last season, City will be looking to make a statement this time round.
7. Guardiola to beat Jose Mourinho… again
United boss Mourinho will be quick to remind you that he enjoys winning records against rivals Sir Alex Ferguson, Arsene Wenger and Rafael Benitez. It is against Guardiola, however, where a similar feat cannot be boasted about. Guardiola leads in their 21 game head-to-head battle with a monumental 10 wins, Mourinho having triumphed five times. Guardiola knows how to get the better of his counterpart and he will be determined to mastermind another win over his under-fire rival.
On paper, this seems to be the biggest mismatch of a Manchester derby ever. City are resounding favourites to increase their mammoth nine-point gap over United. They should steamroll their great rivals, making a huge statement for the rest of the footballing fraternity. But then again, funnier things have happened in football so there is always room for miracles.
Welcome to Manchester!