With its emotionally-charged story of inclusion and #ChooseKind, 'Wonder' is what the world of today needs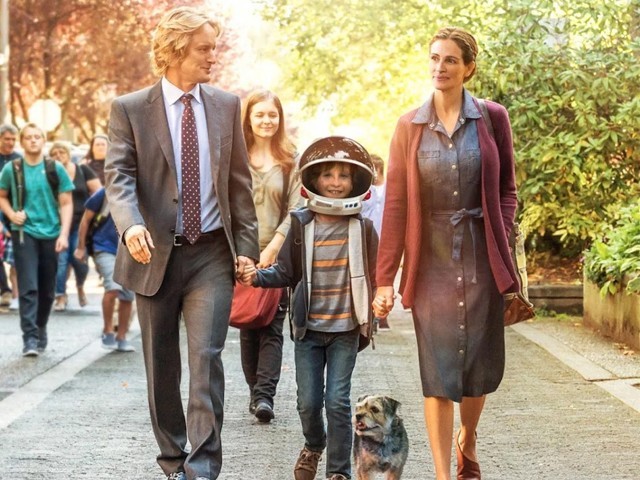 Stephen Chbosky, celebrated novelist cum director, is the man behind the bestselling coming-of-age novel The Perks of Being a Wallflower (1999), and the musical romantic fantasy Beauty and the Beast (2017). This time, his latest venture is the seemingly predictable yet heart-warming story about a bright little boy, Auggie Pullman (Jacob Tremblay).
Based on RJ Palacio's novel of the same name, Wonder is about a boy born with Treacher Collins syndrome, a rare genetic disorder characterised by facial deformity. The story is an overemotional anecdote of a family struggling to give their son a normal life, and focuses on the significance of social inclusion of children who are suffering from rare disorders.
The movie has successfully highlighted the social obstacles such children go through, and focuses on removing each of them to give them a life as normal as possible. Breaking down stereotypes and encouraging children that they are good enough to participate in daily activities is essential to make them feel uplifted and included.
Ten-year-old Auggie, living with his rare medical facial deformity, has undergone 27 corrective plastic surgeries, due to which he has been home-schooled by his mother, Isabel (Julia Roberts). To avoid awkwardness and jokes at his expense, Auggie keeps his face covered with a helmet.
As he reaches fifth grade, his parents decide to send him to school. His father, Nate (Owen Wilson), has the opinion that they, as Auggie's parents, can't shield their son throughout his life – he must face the public and spend time with children his age so he can turn into a confident boy. Throughout the roller coaster journey that is Auggie's life, his mother remains the main force behind his determination and motivation. As he starts school, she prays,
"Dear God, please make them be nice to him."
At the school, Auggie's appearance gives other children ample opportunities to mock and bully him. However, through his experiences, he learns the positive and negative sides of friendship, and also gains confidence to understand his special condition.
Mr Tushman (Mandy Patinkin), the school principal, always stands up for Auggie's basic right to be a student at his school, just like everybody else. He advises students,
"Auggie can't change the way he looks. Maybe we can change the way we see."
Tremblay is already famous for his ground-breaking performance in Room (2015), but manages to steal the show once again. His latest acting venture yet again highlights how talented he is as a performer, despite being so young. With the help of modern makeup and special effects, Tremblay's character looks the part in a convincing but not exaggerated manner.
The film centres on Tremblay, which is why Wilson and Roberts do not have a broad margin to show off their acting chops. On the contrary, if you are a diehard fan of Roberts and Wilson, then this film will not deter you from enjoying their acting, as Chbosky wisely and consciously decided to constrain the screen time for both veterans in favour of giving the limelight to only Tremblay.
Chbosky has remained true to the essence of the novel, and has splendidly decoded a moral message from the beginning of the film down to its very last minute. The plot is very emotionally-charged, with the skilfully written screenplay by Jack Thorne and Steve Conrad intertwining the story around Auggie and his relationships, be that with his parents and sister, his dog, or with the children he meets at school.
All in all, the novel adaptation results in quite a decent film about humanity and society's perception towards children who are different. Wonder is ultimately a film about a special child's loneliness and yearning to go to school, play with friends and lead a normal life.
Chbosky smartly presents the theme of compassion and humanity, with the movie being promoted with the #ChooseKind, and showing how a bullied and shy boy bravely endures, and comes out as a hero at the end of the day. Safe to say, this is Auggie's movie, as Isabel reminds us all,
"You are a wonder, Auggie. You are a wonder."