Manchester City is the team to beat this Premier League season, as they just might take home the title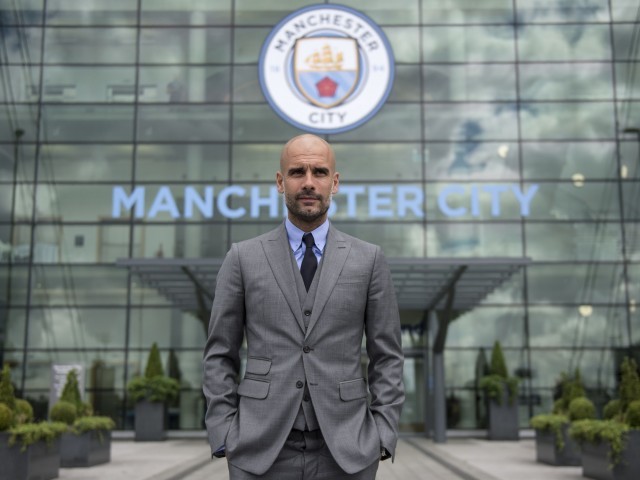 Manchester City was touted to win the Premier League before the beginning of the 2017-18 season due to a strong squad at their disposal, and as we enter November, they have done their reputation no harm whatsoever.
Pep Guardiola's tactic philosophy revolves around productive passing and possession, and this season he has the team to achieve just that.
City has completed 500 more passes than any other Premier League team and they are joint-top in Europe's top five leagues in terms of average possession, which sits at 63.8%.
What's great to see in this side is the aggressive mind-set with which the players approach the game that in turn aids the flow with which they play. In their game against Everton, the only match where they dropped points in the Premier League, the Sky Blues were still creating more chances despite being a man down.
Pep's tactic relies heavily on having a solid defensive midfielder – the importance of Sergio Busquets during his days at Barcelona is hidden from none – which is why Busquets interested him. Here at City, Fernandinho is the one who is playing that role. Although he might not be as good as Busquets, he still possesses enough quality to play in that position in a satisfactory manner.
With Kevin De Bruyne and David Silva pulling strings in the middle of the park, City plays a brand of football which is entertaining and aesthetically pleasing. The 'free eight' roles for both De Bruyne and Silva have worked to great effect with no lack of creativity in the middle of the park and in the final third. City can unlock any defence with De Bruyne's perfectly weighted and precise passing, which is a treat to watch, and Silva's ability to find spaces in tight areas.
Manchester City has an abundance of riches in an attacking role, with Gabriel Jesus, Sergio Aguero, Leroy Sané and Raheem Sterling in stellar form. While it was initially thought that Jesus and Aguero can't feature in the same side, that particular notion has been wiped out with Pep tweaking his formation to include both players, also taking advantage of the fact that the duo complement each other really well on the field.
Both Sané and Sterling have also been quite impressive stacking up goals and assists literally at will. Sterling's progression this season has been a revelation, while young Sané, who bursts forward at lightening quick pace, has also made most of the chances he gets.
A goalkeeper is as important as the outfield players in Pep's tactics. He generally prefers shot-stoppers who are good at short passing rather than just thumping the ball down the middle of the park. With Ederson Santana de Moraes in between the sticks, the Citizens have a keeper who can contribute in building attacks, not being reluctant in getting off his line to make clearances while also being good with the ball at his feet.
Although they go forward with an attacking mindset, they still maintain shape at the back, which is a major improvement as compared to last season, where they were defensively vulnerable. John Stones and Nicolás Otamendi have formed a solid centre-back pairing, supplemented by Kyle Walker and Benjamin Mendy or Fabian Delph as high quality fullbacks. The defensive line snuffed out any attack by Chelsea, in their toughest match so far, and only allowed two shots on target.
When City paid around £47.5 million for central defender Stones, the signing was questioned by many. This season, however, Stones has repaid the trust of the manager by proving to be a vital cog in the wheel. Pep's style demands accurate passing from the back and the defender has been extremely efficient in that regard. He can take three to four players out of the equation with one pass, consequently building up attacks for City.
Stones has an able partner in the centre of defence in Otamendi, who has looked like a far better player this season. A glimpse of his confidence was on display during City's match against Stoke. While everyone was busy praising De Bruyne for his pass to Sané for the second goal, it was Otamendi who won the ball and his subsequent back-heeled pass to Delph which initially started the move.
City looks phenomenal on the field without many fundamental weaknesses. Despite their defence doing exceedingly well so far, their back-line is yet to go through a stern test in the Premier League. Other teams can exploit City's left-back position where they won't have the services of Mendy, who will miss the entire season due to an unfortunate injury. Although Delph has done well in that role during his absence, but it remains to be seen how he progresses over the course of the season.
Talking about injuries, one thing that can hamper Manchester City's flow is if they get restrained due to sudden injuries. While they do have a strong squad, however, if some of their key players are side-lined over the course of the season, they could end up in a tight spot.
It will be interesting to see how their defenders perform when their opponents try to take them on, rather than sitting back. Additionally, it will be futile for teams opting to go against City with a defensive approach because considering the quality they have going forward, they will almost certainly find a way to score.
I'm excited about City's matches against the Spurs and the derby against Manchester United because Pochettino and Jose Mourinho are perhaps the only mangers in the league who can counter Pep's game plan. Both have the ability to set up their side in a way which works on the lines of pressing cohesively without losing their defensive shape.
City got off to a similar start last season but the eye test has been significantly better as compared to their previous campaign. It would be delusional to expect them to fade away, like they did in the 2016-17 season, because Pep's philosophy is now firmly embedded in this side.
While I'm always cautious about making predictions when it comes to football, but I would be very surprised if Manchester City doesn't win the Premier League title this season. There is so much to admire about the way they play, which often takes my breath away. We are not even through one third of the season but there is already a feeling of inevitability that this team almost surely will be amidst a puddle of confetti, by the time the season ends.