How Saudi women will soon be the driving force of Saudi Arabia's economy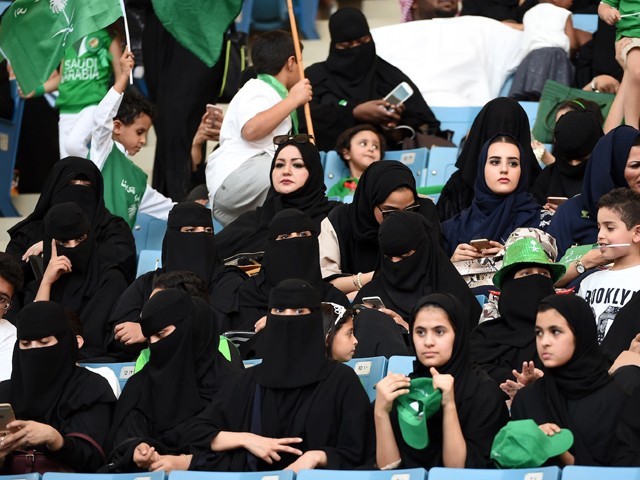 After decades of inactivity, obscurity and an identity crisis, Saudi women are suddenly caught in a frenzy of excitement and events that promise something for them to look forward to. When a royal decree was passed, lifting the ban on women driving in the country, it was followed not only by jubilation, but seemed to have opened a wide range of opportunities for the female population in Saudi Arabia.
From receiving offers to be female cab drivers, to job vacancies in women-only outlets, to grabbing key posts in the bureaucracy, Saudi women are now starting to make their presence felt in a country that has, for the better part of its history, bound them in tradition and kept them absent from nearly all sectors. The change is not only a move forward from a human rights point of view; it also seems to be vital in boosting their economy.
Vision 2030
Saudi Arabia has an oil-dependent economy – the largest in the Arab world. It has the world's second largest proven oil reserves and is the largest exporter of petroleum. It also has the fifth largest proven natural gas reserves. However, low oil prices, coupled with the country's commitment to cutting crude output per last November's Organisation of the Petroleum Exporting Countries (OPEC) deal, are weighing in on investment and household consumption.
The focus of Saudi Arabia's de facto ruler and Crown Prince, Muhammad bin Salman's reform program, Vision 2030, is to create more jobs for young Saudis, promote tourism and ease dependence on oil revenues. The economic overhaul also means bringing more Saudi women into the workforce, with an eye towards creating more two-income households and weaning Saudis off of reliance on government perks.
The plan calls for increasing female participation from 22% to 30%. At 32.8%, the unemployment rate for women is not only much higher than that for men but is also the highest in the world, although their official employment rate is only around 12%.
Breaking the tradition
To be able to bring its women in the country's workforce, Saudi Arabia needs to take a break from tradition. Being the custodian of the holiest cities of Islam, the Arab nation has had strict societal rules conforming to a rigid and extreme branch of the religion. Traditionally, Saudi women, and even foreign women visiting the country, are required to cover their body completely with an abaya, and in most cities, they are also expected to cover their faces.
Women cannot travel unaccompanied by a male guardian, and they cannot hold any commercial transaction or make any decision of importance without his approval. The ban on women driving was in line with these restrictions, and with no extensive public transport system in place, female employees would have found commuting to workplace a major issue. Moreover, with the society not allowing free mixing of both genders, women traveling in public transport may have led to increased chances of harassment, reversing the flow of women towards employment opportunities.
Interestingly, the decision to allow women to drive has put on stake the jobs of chauffeurs and drivers – mostly foreigners – and a major source of sending remittances to their country. There are almost 1.4 million family drivers in Saudi Arabia, constituting 60% of foreign domestic workers. With women finally able to drive, it is estimated that approximately 60% of drivers risk losing their jobs. The remittances from drivers alone reach almost $4 billion, and according to some experts, could be as high as even $10 billion!
Saudi women drive forward
Nevertheless, Saudi women are on the go. In a period of roughly a month after the ban was lifted, the following key positions in Saudi Arabia had been awarded to females:
– US-raised Princess Reema bint Bandar became the first female president of the Saudi Federation for Community Sports, which manages sports-related activities for both men and women.
– Fatima Baeshan was appointed official spokeswoman in the Saudi Embassy in Washington.
– The mayor of Saudi Arabia's eastern province, Fahd Bin Mohammed Al-Jubair, appointed Iman Bint Abdullah Al-Ghamdi as assistant mayor of Al-Khobar municipality. Al-Ghamdi has special responsibility for information technology and is the first woman to hold such a position in the kingdom.
Plenty of opportunities seem to have emerged for other women as well:
– The country's aviation training body has announced a one-year course for Saudi women to qualify and progress in the air traffic control profession.
– Only Saudi women are now entitled to be employed in female clothing and accessory stores across the Kingdom, as part of the government's efforts to increase its female workforce.
– Arrangements are being made by the General Traffic Department to deploy female officials to attend to Saudi women drivers involved in road accidents.
– Sensing a lucrative opportunity, ride-hailing company Careem says it plans to hire up to 100,000 female chauffeurs to lure new clients in the gender-segregated kingdom. The firm plans to add a new "Captinah" button to the app by next June which would allow customers to choose female chauffeurs. This option will only be available to only women and families.
With a female population of around 14.6 million, experts see a market for driving schools for women, which will also require the hiring of additional female staff and trainers.
The impact on economy?
This will boost disposable income of households, particularly for women if they were covering the cost of transport themselves. Even if the money was used for purchasing or maintaining vehicles, it would nevertheless increase "household consumption" in the country.
There could be a short, one-off boost to Saudi car sales in the coming months, as women can buy vehicles before a scheduled imposition of value-added tax in January 2018. In many cases, however, women would not need to buy cars as they could use the vehicles relinquished by departed chauffeurs.
Soon after the announcement of lifting of ban, the share prices of companies selling auto insurance arose, while those of a major car servicing company gained 1.6% and those of a car rental and leasing company jumped 4%. Further increase in volume is also expected.
However, an estimated 10% increase in Saudi driving activity, due to women, would add 60,000 barrels per day to domestic gasoline demand. Although it is the world's biggest crude oil exporter, Saudi Arabia is a net gasoline importer.
A major economic change will likely be gradual, given the weak underlying growth environment, and its monetisation would also be more accurately calculated once all decisions and resultant changes take effect. However, the social impact and positive sentiment over the transformation plan is substantial.
This may lead to a stronger role of women in Saudi society, who may finally be able to put the gear in forward mode and accelerate the pace of progress, not only in their lives, but also in the country's economy.