#TeamFaryal: 5 reasons why Amir Khan is the epitome of 'bad guys'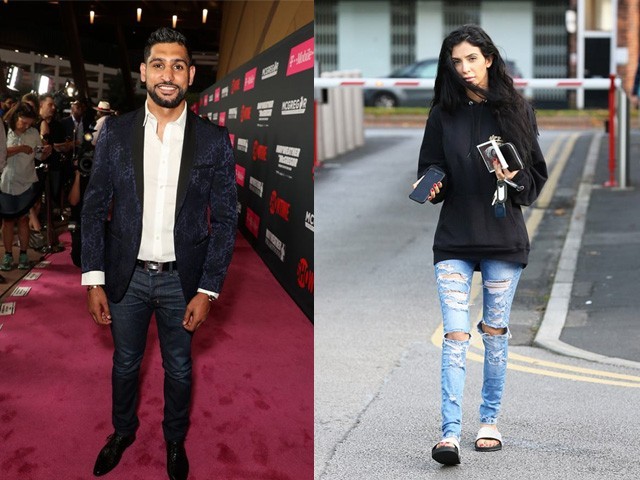 Amir Khan and Faryal Makhdoom have certainly been Pakistan's most interesting couple since they got together. Whether it is through their Snapchat feed or their Instagram posts, we have all witnessed the couple's memories together.
Somehow it feels like their history of social media spats is almost as long as the history of their relationship. While many celebrities keep their personal lives far away from social media, Amir and Faryal are constantly seen addressing personal matters or doing their dirty laundry in the public eye.
Some call it a PR tactic, others call it stupidity. At the end of the day, their drama makes excellent celebrity gossip, and everyone loves gossip when it isn't about them.
Lately, however, following their relationship drama has revealed ugly truths about Amir that leave only one obvious conclusion – he doesn't seem like a great guy. Wondering why? Well, have a look at the evidence:
 1. Their marriage was plagued by his cheating rumours
There was no shortage of cheating rumours during their relationship, but interestingly, these rumours were always about Amir. The allegations of infidelity against him kept piling up, including a sex scandal after a video of him was uploaded to a pornographic website. Faryal herself accused Amir of cheating:
 2. People may call Faryal an attention seeker, but it is Amir who aired their dirty laundry in public
A few months ago, the couple broke the internet by spilling all their dirty secrets during a Twitter feud.
Amir is the one who started the Twitter rant, with a tweet declaring that the couple have decided to part ways. After reading his tweet, we thought (and hoped) that that is probably the end of it, but we couldn't have been more wrong.
So me and the wife Faryal have agreed to split. I'm currently in Dubai. Wish her all the best.

— Amir Khan (@amirkingkhan) August 4, 2017
However, Amir did not stop tweeting. In the tweets that followed, he accused Faryal of cheating on him, going as far as posting a Snapchat conversation screenshot claiming that his wife had an extra-marital affair with another boxer, Anthony Joshua.
Faryal moved on quick. Always mentioned to me how much she wanted to be with another guy, from all people another boxer 🙄 @anthonyfjoshua pic.twitter.com/1GBAQnvzMC

— Amir Khan (@amirkingkhan) August 4, 2017
Mans like Joshua can have my left overs!

— Amir Khan (@amirkingkhan) August 4, 2017
First, the screenshot that Amir posted gave away nothing; we don't understand what he thought it was going to accomplish. Perhaps he was aware that his male privilege would automatically make Faryal seem like a home-wrecker in the eyes of the public. After a while, he posted another tweet, apologising for his misunderstanding of Faryal and Anthony. This incident, however, made it clear exactly how immature Amir is; to point fingers at his wife and accuse another man publically without confirming the news first.
After all this time, after all the scandals and the leaked sex tapes, Faryal stood by her husband; her personal choice and we respect that. But Amir has no right to call his wife a cheating gold digger when that man has no honest bone in his body. All those alleged sex scandals weren't alleged after all, because Faryal finally broke her silence on Twitter, though she later deleted them, showing a sense of decency which Amir clearly lacks.

All of this just makes him seem petty as well as a cheater. We don't know whether Faryal cheated or not, but we do know that coming from him, this moral awakening seems a tad hypocritical.
Faryal definitely comes out looking like the more mature one, which, looking at Amir, doesn't seem hard to do.
3. Posted videos of himself with other women… days after confirming the split
Amir announced the end of his marriage, and not even a week later was seen partying with an unknown woman. He's free to do as he wants, of course, but it makes his accusations towards his wife feel like the pot calling the kettle black.
When called out for it, his response was to blame Faryal for "drawing him into it".
4. He ignored her public apology, and tweeted some more
After all the drama, it was revealed that Faryal was pregnant with the couple's second child, after which she attempted reconciliation and apologised for her behaviour.
Amir, however, took to Twitter to end things. He didn't even delete his tweets, unlike Faryal who deleted hers. Harsh.
We have to think about our daughter Lamaisah who I will always be there for. I wish Faryal all the very best for the future

— Amir Khan (@amirkingkhan) September 21, 2017
Unfortunately it didn't work out between Me and Faryal and we are still going ahead with the divorce. We are in good talking terms.

— Amir Khan (@amirkingkhan) September 21, 2017
5. 'My wife has turned into Kylie Jenner'
This is just the icing on top of everything else Amir has done to make him seem like the bad guy.
He was allegedly talking to a teacher named Sophie and sending her sleazy texts and calling her late at night. She claims that Amir told her that he left his wife because she had become obsessed with plastic surgery. He allegedly said that no man would want a one-night stand with her now.
To say such horrible things about a woman, and that too his own wife, is absolutely disgraceful. They will soon have two children together, who will one day grow up to see their father saying horrible things about their own mother.
It is absolutely disgusting that not only has he tried to slander her reputation, but also publicly ignored and humiliated her, and has also apparently admitted that the real reason was as shallow as we now realise Amir actually is.
The media has, more often than not, taken Amir's side, making his actions seem justified. We're not saying she's perfect, but the slut-shaming, the hypocritical behaviour, all of it definitely makes Amir the worse one out of the two. If he's really as bad as he seems, we're honestly glad Faryal doesn't have to put up with him anymore.
More power to you, girl!