Why is Pakistan assumed to be the only saviour of the entire Islamic world?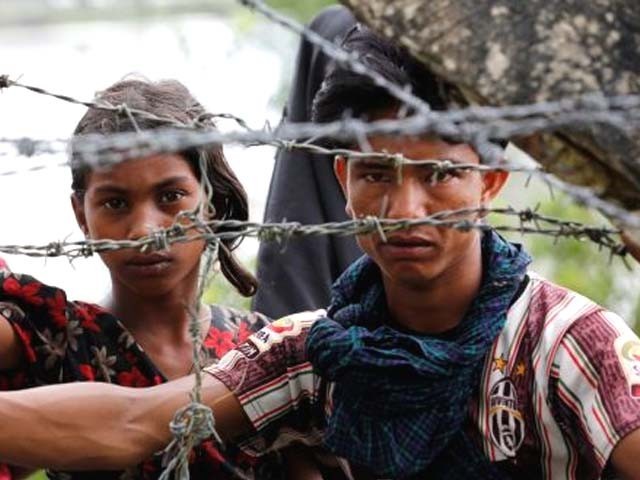 Many individuals have been crying hoarse over how the Pakistan Army should be sent to Myanmar to help out the Rohingya Muslims that are being brutally massacred. I would like to ask the said individuals to reconsider their stance.
Yes, we are truly upset and shocked at what is happening in Myanmar, but we already have enough going on in our own country and we have to protect our people first. Our soldiers are constantly on their feet on the Line of Control (LoC) as well as the Durrand Line, especially given the recent skirmishes.
Moreover, our soldiers are valiantly fighting against militants in North Waziristan, via anti-militancy programs such as Raddul Fassad, and our soldiers have been deployed to assist the construction of China-Pakistan Economic Corridor (CPEC) projects, owing to the security threat the Chinese face. Furthermore, our soldiers are curbing militancy in Karachi, which has been facing increasing crimes and militancy.
Additionally, the Army was even called in to deal with rain-related issues, given provincial government's ineptness in dealing with natural disasters. The situation was so terrible that Karachi's Mayor Wasim Akhtar outrightly said that the situation was out of control of the authorities under him.
Currently, more than 2,000 soldiers are deployed in Punjab for the anti-militancy campaign, while 600,000 soldiers are stationed at the LoC. Moreover, 15,000 soldiers have been deployed in CPEC-related projects.
What more can they be expected to do? Is this not enough already?
If individuals advocating for our forces to be deployed in Myanmar think we are not doing enough, they should do their research.
Are they unaware that Pakistan is the only Islamic nation in the world that has helped the most refugees and given them shelter? In comparison, no other Islamic nation has helped as much as Pakistan has. Rather than bashing our country to do more, how about we take pride in what it has already done?
Statistically, since the 80s, more than 0.3 million Burmese Muslims have immigrated to Pakistan and are complacent in their surroundings. We are, and have been, assisting the persecuted Rohingya Muslims since two decades.
Additionally, Pakistan has been putting pressure on other countries to do more to help the Rohingya Muslims. In a press conference, Foreign Minister Khawaja Muhammad Asif said the Rohingyas' plight is "a challenge to the conscience".
If individuals are rooting for us to do more, how can we do more? Pray, tell.
Furthermore, it is not only the Rohingya Muslims whom Pakistan has provided shelter for, as we have provided shelter for Afghan refugees as well. The number of Afghan refugees amounts to 600,000. We have always welcomed our Muslim brothers and sisters with open arms and never turned them away, because that is what one brother does for another, despite frayed relations.
Yes, the on-going Rohingya massacre is a genuine concern, there is no doubt about that. But I would like to reiterate that Pakistan is the only country in the region that is doing the most.
Where are our neighbouring countries and why have they not taken in refugees or provided aid? Especially India and Bangladesh, who are immediate neighbours with Myanmar. Narendra Modi's silence on this matter is deafening. His actions stain the concept of humanity. Be it a Muslim, Sikh, Hindu or Christian, at the end of the day, we are humans and we should reach out to each other.
Even if we wanted our forces to be deployed on the ground in Myanmar or if we sent them for aerial action, it would be out of the question. This is because India would never allow Pakistan to use its airspace in order to save Muslims. That would be against Modi's ethics and what his party stands for.
What about the United Arab Emirates (UAE) and Saudi Arabia, who are presumed the upholders of religion? These nations who have state-of-the-art defence systems and vast amounts of money reserves seem to be silent as well. This could be due to the fact that Rohingya Muslims are of no economic importance to them and the persecuted group mean nothing to them in terms of monetary benefits. Saudi Arabia, who established the Islamic military alliance, apparently under the name of Islam, surprisingly does not think it important enough to save their Muslim brethren, be it the Rohingya Muslims, the Palestinians, the Syrians or the Iraqis. Here, I would like to ask Saudi Arabia if this alliance was formed to protect the interests of only the rich and royal families, because it surely seems so. Is it not their rightful religious duty to help their Muslim brothers and sisters who are being beheaded and burnt to death?
Other than Pakistan, Turkey and Iran's efforts are applause-worthy since they are doing their best to rescue and help the Rohingya Muslims. Turkey was the first country to get permission for supplying aid to the Rohingya Muslims and the Turkish government even announced its plans to distribute aid to the Rohingya refugees in Bangladeshi camps. Furthermore, Iran called for a united effort to put an end to the Rohingya massacre and it has also decided to send aid to the persecuted group.
But then again, how much can three countries do? Strength in numbers is what matters now.
Why is Pakistan the only assumed saviour of the entire Islamic world? Yes, the Rohingya Muslims need help and they need it now. But our Army cannot do more.