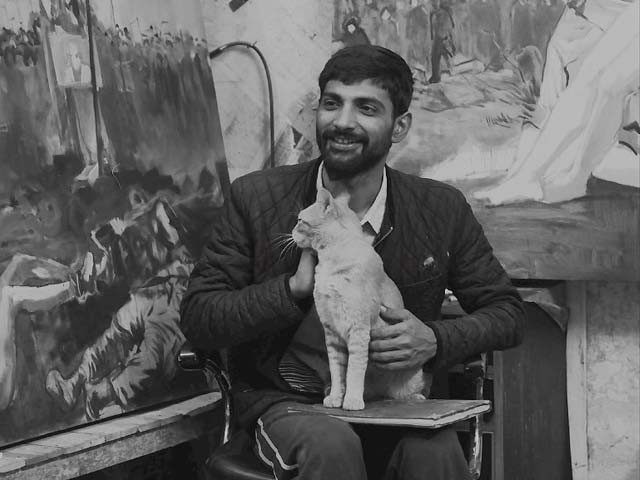 When Zahid Mayo was studying at one of the most notable art colleges in the country, the National College of Arts (NCA) Lahore, he was a square peg in a round hole. Mayo had dreamed of studying there since he was a teenager and finally managed to gain admission in 2008. But, having come from a small village near Gujranwala, he felt alienated in his new surroundings. His fellow students with their impeccable English and urban ways made him feel like he will always be an outsider. But then again, Mayo was not one to take such things sitting down, and ...
Read Full Post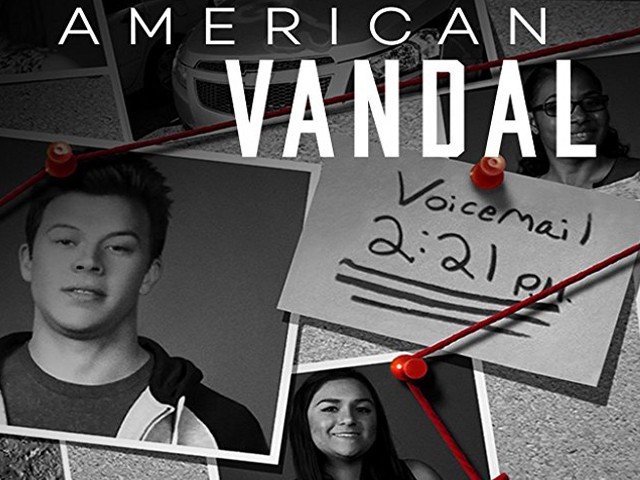 We have all been guilty of indulging in sober conversations, where somehow grave arguments give way to dirty jokes. They might not be appropriate but we nevertheless find them funny. Now imagine a TV show, working with a genre as solemnly serious as true crime and then lacing it with a premise that satirically documents the investigation of a phallus-themed vandalism act. On the face of it, this might seem like a recipe for an extremely absurd concoction of two diametrically opposing cinematic themes, but handled correctly, you get to experience a completely fresh take on a TV show category ...
Read Full Post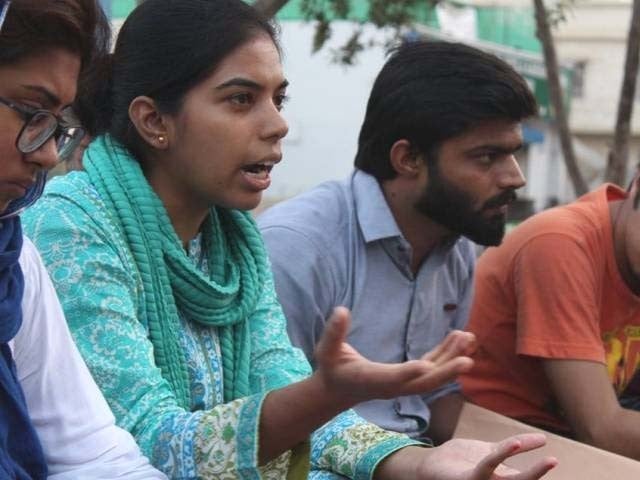 We, the educated citizens of Pakistan, are concerned about the administrators of various universities and their obsession with the private social lives of their students, especially with regard to their inter-gender interactions. We are hereby compelled to issue the following notice, to address this disturbing phenomenon. To all university deans, chancellors, proctors, wardens, and administration officials, We thank you for upholding our long-valued tradition of lovingly blurring the line between an educator and a parent. In the light of the socio-political advances made over the past few decades, this paternalistic tradition has not only been rendered moot, but has become outright obnoxious. Parts of your campuses ...
Read Full Post
There have been reports making rounds on social media that the federal capital, on the instructions of Interior Minister Chaudhary Nisar, had banned Valentine's Day in Islamabad. What followed was a mix of condemnation and congratulations from the two different sides of the coin; each one adamant that theirs was the right one. As a result, this reaction was followed by the Islamabad Deputy Commissioner denying that such an order had even taken place. Valentine's Day will go ahead with full furor like it does every year; each restaurant, gift, flower and chocolate shop milking and capitalising it to the nth ...
Read Full Post
I hadn't seen Hercules in a while, and I wondered how djinns celebrated Halloween, perhaps by pretending to be human. I, myself, had celebrated Halloween by putting on a Rehman Malik wig and a pair of Asif Zardari grinning dentures. I found him on a stool, and he was made up to look human. Atop his pint-sized body, on his normally clean shaven face now without a veil, were the most outsized moustaches I had ever seen; bushy, black and shiny, upturned and pointy at the ends. Before I could say anything, Hercules struck a 'Ta-da' pose on the carpet in front of me. "But… ...
Read Full Post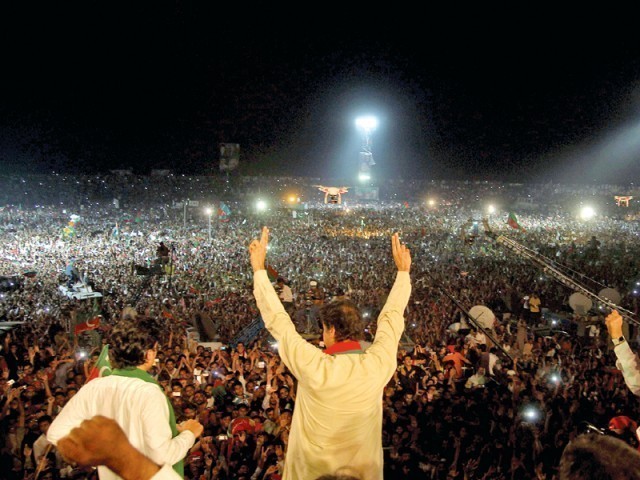 Imran Khan's Multan rally, in which seven people died and more than a 100 were left wounded, has Pakistan Tehreek-e-Insaf hopping mad, as expected. Not only has the party suffered a blow of embarrassment in front of their workers, the incident has also provided the media with enough ammo to criticise the party for their faulty arrangements and planning. The government, apologetic as expected, has immediately put together another one of its bootless, good-for-nothing committees to conduct a more or less useless 'probe' into the matter. However, if one just views the situation objectively, despite the culpable reasons such as ...
Read Full Post
Smash it and thrash it, and who knows, you could be the next famous person with your face plastered on every television screen in Pakistan. The Model Town incident in Lahore not only brought with it a lot of bloodshed but also helped surface a notorious character, Gullu Butt. Since then, the man has been the talk of the town, taking over social media with memes, tweets, posts and shares depicting his infamous act of smashing and thrashing cars. Photo: Google Play Lately, game developers, Weird Science, joined the bandwagon and came up with a game app called 'Gullu'. It ...
Read Full Post
In a bizarre demonstration of overbearing nationalism, a university in Uttar Pradesh suspended 67 Kashmiri students for cheering for the Pakistani cricket team. This may be a clinical sign that the sore-loser syndrome has reached its terminal stage. I don't watch cricket. All I really know about the sport is that Pakistan won the match because Shakil Afridi, incidentally the same guy who found Osama, scored a last-minute goal (also called a 'touchdown'). I do know, though, that every India-Pakistan cricket match sends the neighbouring nations into a state of frenzy, which is quite natural. It doesn't matter. As long as their skirmishes and battles are confined ...
Read Full Post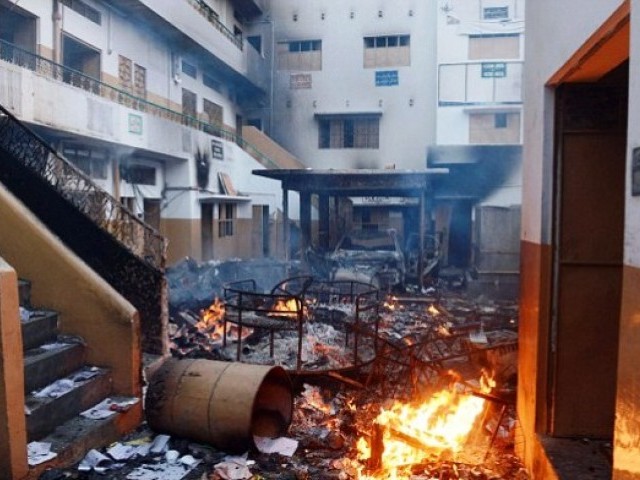 On October 31, a young girl Maryam, clad in a shalwar kameez and headscarf, looked down from the roof of her house located across the Farooqi Girls High School in Lahore, as protesters vandalised the school where she studied in grade three. "We won't be going to school for sometime Ami says," she said to me, as the mob set fire to the school, where just a day earlier she had attended classes. Located in a densely-populated area near Kareem Park, the school had been providing education to girls up to grade 10, with most of its former students now ...
Read Full Post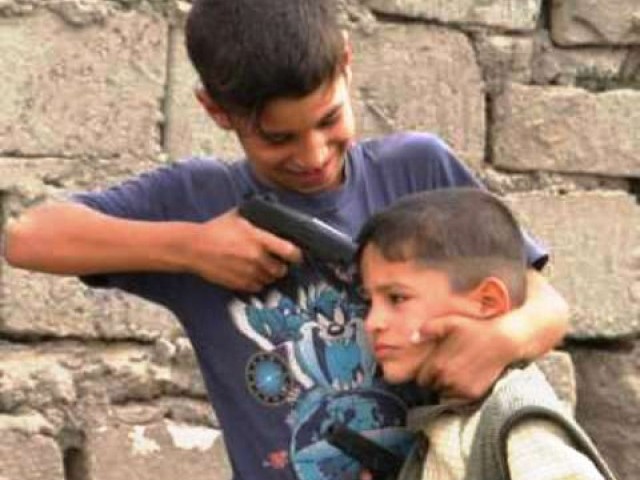 I opened The Express Tribune's online edition this morning and read a news report saying that an eighth grader shot himself. Out of habit, I then opened the online news version of Deutsche Welle, a German national radio channel and found a report on how an increasing number of juveniles in India were being implicated in cases as serious as murder. With instances where there have been juvenile terrorists, and in a time when children decorate the first rows of protests and young ones attack cars and burn tyres, there is little hope for these kids to grow into sane human ...
Read Full Post