The sky was a pool of black ink, dusted with stars at midnight. Arsh looked out from the window — she saw many little streets sprawled out below. She had only known these streets from inside the walls of her room. She had never walked on them. She had never been under the open sky. She looked at these streets longingly. To her, these streets and everything else of the outside world was a distant dream. Arsh was thinking about him. He came again tonight. Her caramel skin flushed bright pink as he folded her into his arms. Her heart ...
Read Full Post
South Asian culture, particularly India and Pakistan, romanticises the notion of suffering in unrequited love. This emotionally-draining, one-sided road is deemed as a higher form of love and is attributed to purity. No wonder harassment is so common in our culture. "Sacha ishq wohi hai jo kabhi mil na paey." (True love is that which can never meet.) The aforementioned sentence is sort of a slogan for these one-sided lovers. Since Sufism is one of the most dominant philosophies followed in Indo-Pak culture, the masochism involved in unrequited love – ishq-e-majazi – is held as a necessary stage towards attaining a divine form of ...
Read Full Post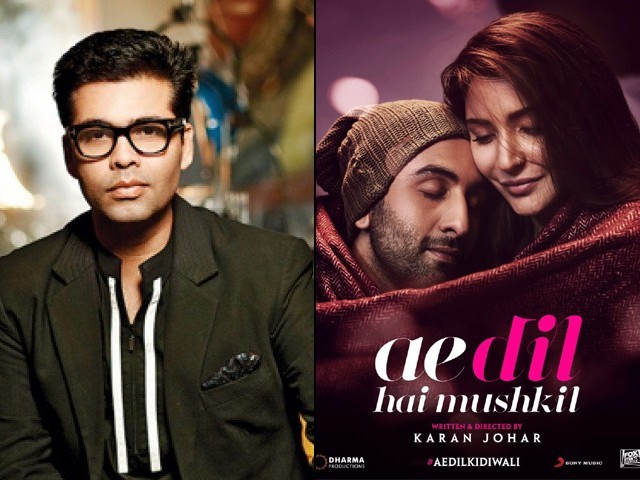 Karan Johar is the king of love triangles; perhaps even 'love squares' at times. After all, most of the movies he has directed, including Kuch Kuch Hota Hai and Student of the Year, have the same elements at play and this formula seems to work for Johar. However, it seems too much to expect his movies to also make sense, as very rarely do they possess an actual plot that doesn't include a Rahul falling in love with an Anjali. Ae Dil Hai Mushkil, his most recent directorial success, became known for many things but unfortunately, its story wasn't one ...
Read Full Post
We finally caught a glimpse of Karan Johar's ambitious project, Ae Dil Hai Mushkil, starring Ranbir Kapoor, Anushaka Sharma, Aishwarya Rai Bachan and our very own Fawad Khan. What I gathered from the snippet is that the movie is fresh, dark, passionate and has a melodious soundtrack. This is Karan Johar's first directorial venture after Student of the Year (2012). But Ae Dil Hai Mushkil is expected to be comparatively bigger, better and more appealing. Ranbir Kapoor, Anushaka Sharma and our very own Fawad Khan.Photo: Instagram Karan Johar and Fawad KhanPhoto: Instagram I am extremely excited about the following things. 1. Music Karan Johar is famous for the euphonious music ...
Read Full Post
When the sun faded and darkness fell, The only light I found was within my heart, Illuminating the gloomy paths at night, As I searched for you like a hopeless manic, Like an aimless traveler on a forgotten road, Like a lost sailor on a familiar shore, I searched for you like a rose in a desert, I searched for you like air under water, I found you hidden behind your veil, And there was enough light to last a life time, Emptiness of the deserts turned to fields of green, Unforgiving winds surrendered to a gentle breeze, Months of solitude turned into days of joy, Years of desolation into a promise of love, I ...
Read Full Post