You cannot make everyone happy. And nowhere does this apply more fittingly than to every offering of Pakistan's musical opus: Coke Studio. The show, a success story like no other, has put Pakistan on the global culture map, but continues to divide opinions roaringly, more so of late. If the show plays it safe with covers, it's unoriginal; if it delves into too much innovation, it becomes another Nescafe Basement. Navigating through the public complaints doesn't always seem smooth for this show that has single-handedly rejuvenated Pakistan's musical scene. With the line-up for the latest season having just been released, the furore is already upon us. For ...
Read Full Post
Forget sawaiyan and prepare yourself to feast on three sumptuous cinematic delights this Eid instead. We have got the Salman Khan starrer Tubelight vying for our attention against two local offerings. While Yasir Nawaz's Mehrunnisa V Lub You might sound like a safe bet, owing to its over the top Bollywood vibe, it is Hassan Waqar Rana's Yalghaar which has gotten yours truly all psyched. Seasoned stalwarts like Shaan Shahid, Humayun Saeed, Ayub Khoso and Adnan Siddiqui are all part of the incredible roster along with Bilal Ashraf, Umair Jaswal, Gohar Rasheed, Ayesha Omar and Sana Bucha amongst many others. The huge ensemble cast reads like a dissertation on the who's who of the Pakistani entertainment industry. Photo: IMDb [caption ...
Read Full Post
I would put down Coke Studio's episode five as a bag of mixed surprises. I must confess that it did take some time for the compositions to sink in, but gradually, I have developed a liking for most of the tracks now. I call this an 'overdose syndrome.' With such an overdose of great music, one finds themselves in a dilemma. Perhaps, if I had listened to some of these compositions independently, I would have developed an instant liking towards them. But with excellent precedents such as Afreen Afreen and Man Kunto Maula, one is cautious in choosing a new favourite. However, the more you listen ...
Read Full Post
She was sitting outside when the sound first reached her ears. Her gnarly hands gripped the chair firmly. Staggering, she got up and walked towards the sound. The melody grew louder, different voices rising and falling. Melancholy gripped her. As a few minutes passed, the song reached its peak moments. And then the sound died abruptly. Puzzled, she hurried into the room. Her husband stood in the middle of the room, gripping the remote firmly. He glared at the television set with contempt. But Naghmana Bibi was not discouraged by his anger. She saw what others could not see. They saw his proud head, ...
Read Full Post
You know when Jon Snow (although he knows nothing!), stands at the edge of the great wall looking down at the steely snow filled north, he is actually glaring at the camera. Duh! But he is not standing inside a studio. It is Iceland. It is a brutal -35˚C out there. Why go to such extreme lengths, you ask? It is all about authenticity. The Pakistani fictional production of the 'Mor Mahal' is a great creative effort by the brilliant Sarmad Sultan Khoosat as a director, but several things stand out to question its authenticity. The set designs are exquisite with ...
Read Full Post
The music industry in Pakistan has had its golden age, when people used to listen to local music, invest in cassettes and CDs and were wholeheartedly devoted to the local musical talent. With the advent of technology and the internet, the music industry has suffered a hit. Now, people download pirated music off the internet. This has led to the deterioration of the industry and is highly discouraging for the Pakistani music artists. Now most artists rely on concerts, endorsements and pay checks from advertisements, instead of album sales, to keep their guitars strung. There have been attempts to revive the music industry which ...
Read Full Post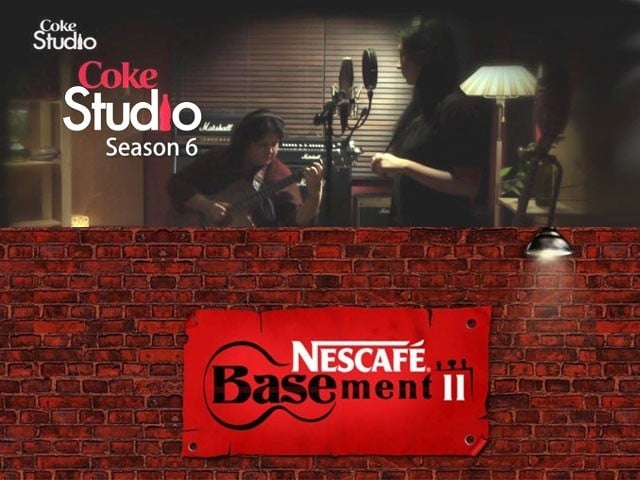 Finally, the most awaited season of Coke Studio is on air. However, like last year, it seems like Coke Studio has not been able to ignite the same interest in people like it did in the first two seasons. Having said that, with just one episode on air, it is probably too early to determine the success of this season. What is different this time however, is that Coke Studio seems to have competition – and that too, young and fresh competition – in the form of Nescafe Basement. This show has been produced by Zulfiqar Jabbar Khan, better known as Zulfi, who used to be a part of Entity Paradigm (EP) and is currently in the band Call. ...
Read Full Post