His recitation was eerily reminiscent of how his father, Ghulam Farid Sabri performed his signature qawwali tracks. It was the exact same way his uncle, Maqbool Ahmed Sabri also performed. This style of qawwali can probably be traced to how his ancestors had performed, right back to the time of Mian Tansen, a favourite musician of the Mughal court. Perhaps because theirs was a proverbial  'qawwal gharana' (a family of qawwals), was why in my mind,  Sabri's Karachi household eternally vibrated to the combined music from harmoniums, tablas, dholaks and sarangis used to produce a qawwali. All of us know that qawwali is no ...
Read Full Post
You cannot make everyone happy. And nowhere does this apply more fittingly than to every offering of Pakistan's musical opus: Coke Studio. The show, a success story like no other, has put Pakistan on the global culture map, but continues to divide opinions roaringly, more so of late. If the show plays it safe with covers, it's unoriginal; if it delves into too much innovation, it becomes another Nescafe Basement. Navigating through the public complaints doesn't always seem smooth for this show that has single-handedly rejuvenated Pakistan's musical scene. With the line-up for the latest season having just been released, the furore is already upon us. For ...
Read Full Post
When 'unidentified gunmen' riddled Amjad Sabri's car with bullets, the brutal killers probably didn't even stop for a second to think that they are about to silence one of the greatest voices in the subcontinent.  To lose him, and that too at the young age of 39, is difficult to digest; especially if you are one of the fortunate souls who had been a part of the mesmerised audience that hung onto every note during one of his powerhouse performances. He may have come from a legacy of great Qawwals, but Amjad was the Sabri that my generation most identified with. ...
Read Full Post
The music industry in Pakistan has had its golden age, when people used to listen to local music, invest in cassettes and CDs and were wholeheartedly devoted to the local musical talent. With the advent of technology and the internet, the music industry has suffered a hit. Now, people download pirated music off the internet. This has led to the deterioration of the industry and is highly discouraging for the Pakistani music artists. Now most artists rely on concerts, endorsements and pay checks from advertisements, instead of album sales, to keep their guitars strung. There have been attempts to revive the music industry which ...
Read Full Post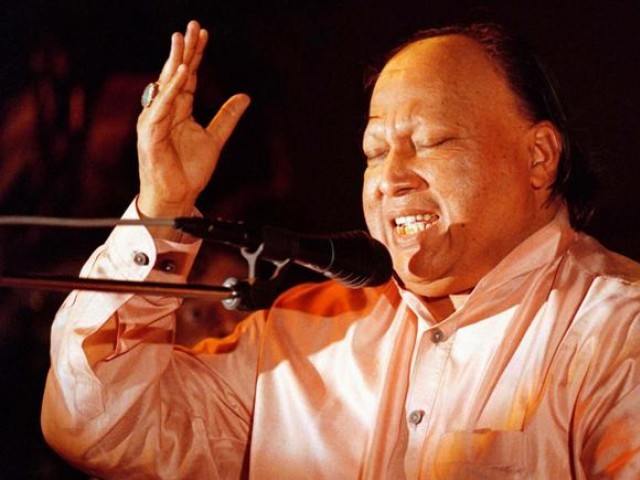 There are some voices which are dependent on words in order to get heard and appreciated, and then there are those, self-sufficing ones, upon which words cease to exist – the unsurpassed ones. Words perish and what remains is the triad of voice, revelation and a standstill universe. Such is the case with Ustad Nusrat Fateh Ali Khan. His voice has transcended the realm of words. "I am a peddler, wandering and roaming from one village to another, in the lanes of cities, in the countries of the world, offering the message of peace, wishing to continue to do so all ...
Read Full Post