Regardless of how much the heart yearns for something miraculous to happen, the human mind has this uncanny ability to quash those hopes and let you see the reality of the situation. That same thing happened in the Wimbledon final between world number one Novak Djokovic and the man the Serb had idolised all his life — Roger Federer. Federer, the darling of the world of tennis, the winner of 17 Grand Slams and a joint-record seven Wimbledon titles, had the entire world behind him. Every single fan wanted a fairy tale ending for the Swiss maestro who had inspired ...
Read Full Post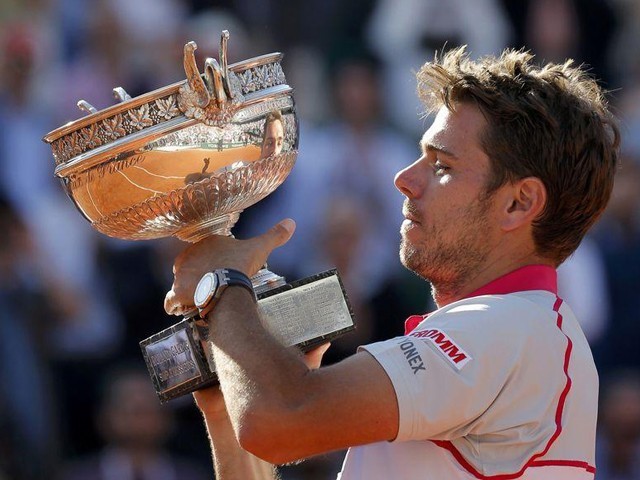 On a windy afternoon at the Roland Garros, when large shadows loomed over Court Philippe Chatrier, the world's number one Novak Djokovic stared in the distant horizon with pursed lips, perhaps still reflecting on what had hit him so hard. A few hours earlier, it was all about him claiming the coveted career slam as only the eighth player in history. After all, he had emerged rightfully as the heir to the throne, having brutally put to sword in previous rounds, The King of Clay. Few doubted the outcome to be otherwise, considering his only remaining hurdle was a Swiss not called Roger Federer. The first casualty of a war is ...
Read Full Post
On Sunday, November 23, 2014, history was made for Switzerland by their most prolific and magnanimous sportsman Roger Federer, when he beat Richard Gasquet to give his team an unassailable lead of 3-1 in the tie, guaranteeing their maiden Davis Cup title. Federer's reaction after his sublime drop shot was telling of how desperately he wanted to win this for his country and teammates. He had been criticised over the years, at times even by his compatriot Stanislas Wawrinka, of not committing enough to the Davis Cup. But all that was in the past and on the day of the win, they were primed to ...
Read Full Post
In the realm of tennis, the Swiss class prevailed yet again. However, this time it was not the four-time Australian Open champion Roger Federer, who made the headlines. The new champion of the Australian Open 2014 is Stanislas Wawrinka, who earned his title on January 26, 2014 after defeating the unbending, unflinching and ruthless Rafael Nadal. Stanislas Wawrinka of Switzerland celebrates defeating Rafael Nadal of Spain in their men's singles final match at the Australian Open 2014 tennis tournament in Melbourne January 26, 2014. Photo: Reuters The match had a series of daunting backhands from both players, the services went on ...
Read Full Post