This time around when I was writing this blog, for some odd reason, the only thing that kept coming to my mind was the phrase "spreading love". Last year when I visited the UK, I had a chance to watch the Lion King musical – an absolute breathtaking experience, which can never be replaced and is one of the highlights of my life. "And can you feel the love tonight? It is where we are It's enough for this wide-eyed wanderer that we got this far And can you feel the love tonight? How it's laid to rest It's enough to make kings ...
Read Full Post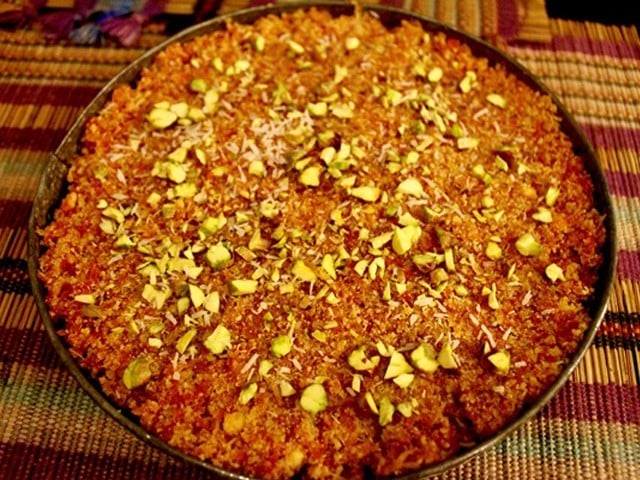 This year, I wanted to start things off with something sweet. Maybe I wanted to hint at my guardian angels to make the next 12 months as sweet for me as the desi dish I was about to make. Desi desserts are always full of flavours, with each bite one floats off to a sweet paradise. Plump with refined butter and glistening with syrup, these delicacies are not for the faint-hearted. It is hard for me to walk past a shop where slabs of Sohan halwa topped with almonds, or newly fried bright orange jalebis sit enticingly in the window, and not find ...
Read Full Post
During my last winter break, I found the ultimate gratification for my sweet tooth cravings in Bahrain. It was an accidental discovery soon to develop into a love affair. I had stumbled on a yellow, crumbly cake hiding in my aunt's kitchen. This was a cake not witnessed by me before as it defied my prior experiences with cakes. I knew it was cake because of its smell but it hadn't risen –  which is not a compliment for cakes. It was a crumbly scone-resembling cake drenched in sticky syrup. It reminded me of the local Arabian Mahal-e-halwa. Curious, I convinced my ...
Read Full Post
The waiter picked up my Naan. He saw my quizzical expression and said, "It's not hot anymore. I am getting you a fresh one." Then he comes back and asks in a solicitous whisper if I am enjoying myself. With such courtliness, how could I not? This Michelin star service was not at an exorbitantly priced restaurant. No, the setting of this delightful exchange was Waheed Nihari at Karachi's Burns Road a.k.a. food paradise. Ernest Hemingway called Paris a moveable feast – in the same vein, Karachi is an immovable feast and Burns Road the location. The food capital of Pakistan is reputed to be Lahore. I beg to differ. Lahore ...
Read Full Post