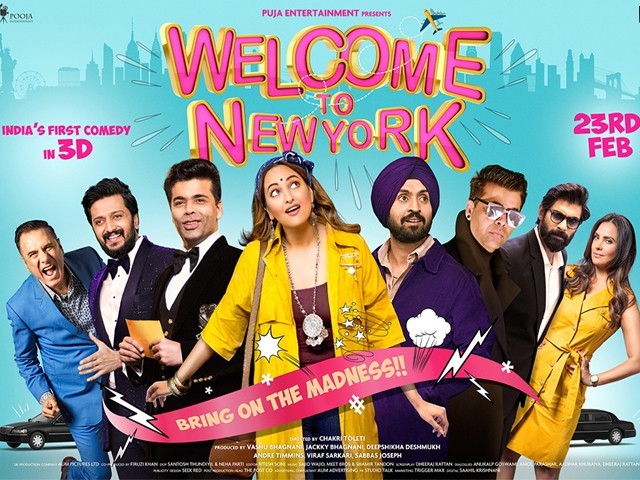 Some films can be declared hits or flops even before they release, based on the strength of their trailers and the audience's response to it. Watching the trailer of Welcome To New York – which is director Chakri Toleti's first venture in Bollywood – instigated a feeling of disappointment not unusual in the industry, as audiences wondered what the plot was and why they should go to the theatres. Even though the cast has a plethora of popular names, in terms of its content, the film did not appear to offer much to get excited about. The film is set amidst the backdrop ...
Read Full Post
It is extremely amusing when movies have ridiculously high levels of disconnection with the audience, especially when its title and tagline state the opposite. Raabta, the latest punar-janam (rebirth) absurdity to come out of Bollywood, is so shamelessly dedicated to its primary theme of reincarnation that it doesn't even mind taking elements already used in a vast number of movies to fill its 150-minute long run time. It has an uncanny similarity to the absurd concoction of Befikre, Before Sunrise and Before Sunset (in reference to a fledgling romance in an exotic European locale). From the opening parts right down to the cringe-worthy climax ripped off from Titanic, and a weird combination ...
Read Full Post
Not too long ago, Bollywood released a cricket biopic of a fallen star called Azhar (2016). Among other things that went wrong with Azhar, the biggest problem with it was the mockery it made of cricket. Even before Azhar, films like Kai po che! (2013) and Victory (2009) also struggled to show the sport the way it is played. Admittedly, it's very difficult to make sports genre movies because you have actors playing the sport that may not be their strength. However, if you miss the basic laws of the game, there is a bigger problem than the actor. M ...
Read Full Post
PK has undeniably been the most anticipated movie for the last few years. Apart from Aamir Khan's fans, even film critics have been waiting to see producer Vidhu Vinod Chopra's and director Rajkumar Hirani's combination of magic. PK revolves around a wide-eyed, rebellious yet innocent stranger in a city who goes by the initials of PK (Aamir) and the people he meets whilst exploring the new city. His journey starts from the middle of Rajasthan where he befriends a man named Bhairon Singh (Sanjay Dutt). Bhairon makes PK feel right at home but eventually, PK has to move on with his journey ...
Read Full Post