Upcoming Pakistani film Chhalawa's trailer has generated a lot of buzz, mainly due to it featuring an ensemble cast and presenting a fun and interesting premise. The film is produced, directed and written by Wajahat Rauf, while the music is by Shiraz Uppal. Chhalawa is Rauf's third venture, and stars Mehwish Hayat, Azfar Rehman, Zara Noor Abbas, Asad Siddiqui, Mohsin Ejaz and Aashir Wajahat. The film appears to be a light-hearted romantic-comedy showcasing the love story between Zoya (Hayat) and Sameer (Rehman). Zoya is a young woman belonging to a rural area in Punjab who is being forced into marriage against her ...
Read Full Post
Director cum producer, Wajahat Rauf, is back to entice moviegoers with another road film Lahore Se Aagey. The upcoming rom-com is a sequel to his directorial debut Karachi Se Lahore (2015). Although, Rauf's first film received mixed reviews, his new project has been a much anticipated movie this year with Yasir Hussain and Saba Qamar as the lead pair. The short teaser, and now the trailer, has received an overwhelmingly positive response. The audience is rather pleased as it promises the right balance of humour, romance, music, and dance. As per the trailer, the spinoff chiefly focuses on Karachi Se Lahore's character Moti, played ...
Read Full Post
It's safe to say that Coke Studio season nine ended with a lot of hype, grandeur, and lavishness. Similar to its previous seasons, this season was a bag of mixed flavours. Some episodes were brilliant; some were ordinary, while others were below average. Therefore, with a total of seven episodes and 30 songs, here is my pick of the five best creations of the season. 5. Tu Kuja Man Kuja Finale Artist: Shiraz Uppal and Rafaqat Ali Khan Music Director: Shiraz Uppal Shiraz Uppal and Rafaqat Ali created a soulful kalam with a mesmerising chorus – that managed to win my heart. Usually a male duet with similar ...
Read Full Post
I would put down Coke Studio's episode five as a bag of mixed surprises. I must confess that it did take some time for the compositions to sink in, but gradually, I have developed a liking for most of the tracks now. I call this an 'overdose syndrome.' With such an overdose of great music, one finds themselves in a dilemma. Perhaps, if I had listened to some of these compositions independently, I would have developed an instant liking towards them. But with excellent precedents such as Afreen Afreen and Man Kunto Maula, one is cautious in choosing a new favourite. However, the more you listen ...
Read Full Post
I can't believe the 4th episode is out already, and I can finally sense the season coming to full bloom with all its glory. Somehow the healthy competition between the music directors is working wonderfully for this season. Bringing in great diversity of genres, instruments and musicians – the composers have made sure this season stands out. The competition is not just among the peers, but also the umpteen good quality composers who didn't make the cut this time and are waiting for their call next season. It's great to see the market-forces at work here, ultimately benefiting the primary stakeholders – ...
Read Full Post
She was sitting outside when the sound first reached her ears. Her gnarly hands gripped the chair firmly. Staggering, she got up and walked towards the sound. The melody grew louder, different voices rising and falling. Melancholy gripped her. As a few minutes passed, the song reached its peak moments. And then the sound died abruptly. Puzzled, she hurried into the room. Her husband stood in the middle of the room, gripping the remote firmly. He glared at the television set with contempt. But Naghmana Bibi was not discouraged by his anger. She saw what others could not see. They saw his proud head, ...
Read Full Post
The music industry in Pakistan has had its golden age, when people used to listen to local music, invest in cassettes and CDs and were wholeheartedly devoted to the local musical talent. With the advent of technology and the internet, the music industry has suffered a hit. Now, people download pirated music off the internet. This has led to the deterioration of the industry and is highly discouraging for the Pakistani music artists. Now most artists rely on concerts, endorsements and pay checks from advertisements, instead of album sales, to keep their guitars strung. There have been attempts to revive the music industry which ...
Read Full Post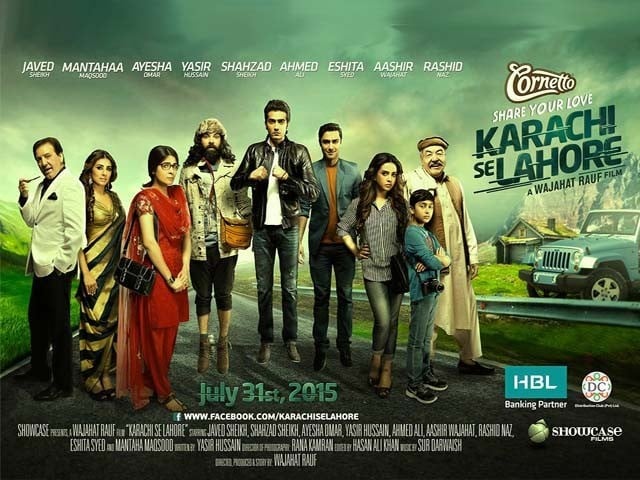 Karachi Se Lahore is another comedy flick from the back to back line-up in Pakistani cinema. It is directed and produced by Wajahat Rauf and the screenplay was written by Yasir Hussain. The story kicks off with the introduction of Zaheem (Shahzad Sheikh) and Maryam (Ayesha Omar) who are neighbours constantly arguing and fighting on senseless issues. Zaheem is seen living alone in an apartment (no mention of his family) and is a banker at Habib Bank Limited (HBL) (too much branding, as expected) who is clearly not happy with his current situation. Being the lead in the film, his acting on the big ...
Read Full Post