If you want to see how Sindh has failed its children, visit a public school in some of the obscure towns of the province. I was well aware of the fact that government-run schools had flaws, but the extent of this problem was always abstract for me, up until I had a first-hand experience. I was in Shikarpur recently (the city once known as the Paris of Sindh) to attend a cousin's wedding. While in town, I thought it would be a great idea to see how education was faring in a place known for its academic excellence, considering Shikarpur ...
Read Full Post
Eid is often considered synonymous to happiness, joy and companionship. Eid helps people reconnect and it works as an excuse for Muslims to celebrate three days with their family and friends. However, this Eid, we should not forget those who have lost so much of their world in the past year that Eid for them is as bland as any other day. For such people, who have experienced real loss and real pain, celebrating Eid is beyond comprehension. And we, who have been fortunate enough to not be struck by tragedy as yet, should partake in their pain and pay tribute ...
Read Full Post
This past Monday, my mother asked me for the third time,  "What colour kurta do you want for Eid?" By now, between two aunts and a friend, I have already been gifted three new kurtas. My response to my mother was same as it was to my aunts and my friend that I am not celebrating Eid. My mother of course wasn't amused. This is the second year in a row I am not celebrating Eid. My friends look at me as this perpetually grim personality who needs to lighten up, and what better excuse than Eid. Eidul Fitr, or as we know it in ...
Read Full Post
The news of a bomb-blast at an imambargah in Shikarpur rocked the nation on Friday. But the attack was particularly shocking for my family. They remember a different Shikarpur – a land of peace, tolerance and Sufism, a land once called the 'Paris of Sindh'. Many a wars have been fought by people coveting dominion over the emerald city. In the Journal of the Asiatic Society of Bengal in 1841, Lieut. Postans describes Shikarpur as, "The most important town in the country of Sindh in point of trade, population and influence". My father was born in Shikarpur, my grandfather was born in Shikarpur, as was his father ...
Read Full Post
It has become clear that the state of Sindh's health is desperate.  There is an acute shortage of vaccines, trained paramedical staff including lady health workers. Multi-national pharmaceutical companies are almost inconspicuous in their absence on any visible scale. They are not seen offering any organized flood relief effort. The medicines given for charity maybe in the form of small donations in an individual capacity. Due to lack of clean drinking water, the most vulnerable will be children and women. But as someone who has visited the rural areas pf Sindh (Kaccha, Bela and other rural areas) for the past 40 years ...
Read Full Post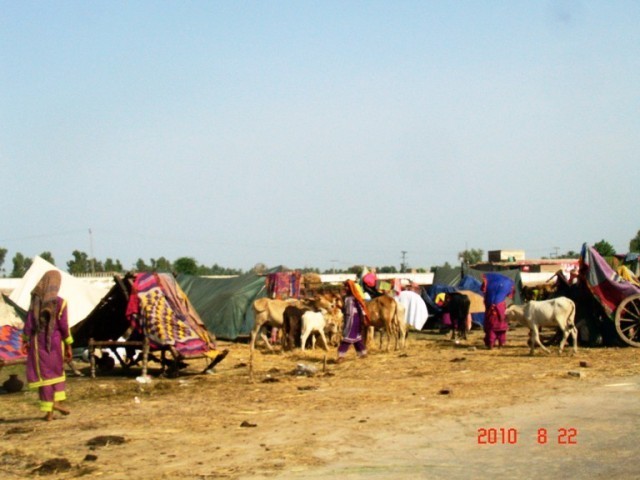 During our descent towards Sukkur Airport, all heads in the cabin peered over shoulders and towards the windows to catch a glimpse of the floods' devastation. Gasps abounded as the Indus suddenly appeared below in placid, expansive pools engulfing everything that had once been land. All that was now visible was a shapeless, silver deluge shimmering in the evening sun, dotted occasionally by green treetops. Brown, rectangular roofs of what had once been homes or schools now lay empty, abandoned and completely lifeless. There wasn't a figure around, not a soul visible from our vantage point in the air. ...
Read Full Post