Man-Up – a term synonymous to 'cutting down on the whining' or 'keeping quiet when getting hurt' or 'not crying in the face of adversity'. How often is it that we hear this term by people in our lives, telling a child to 'man up' when he gets hurt and complains about it in the school playground, or telling a kid to 'man up' when he cries after finding out that his younger brother had eaten his last remaining chocolate bar, or telling a tearful football player to 'man up' when his team loses a game? "Boys don't cry!" is ...
Read Full Post
I walk out of the plane and I'm hit with humidity, heat, and a smell that I can't even describe with words. This is home. The airport is packed as I trudge my way to get my overweight, large suitcases. My eyes are watering, my hair is in a state, and my clothes that seemed so loose back in Rome are suddenly sticking to me as the gaze of almost every male present follows me in a carnal manner.  This is home. I try and relax as I look at the out-dated conveyor belt slowly moving bag after bag until I finally see my own. I push ...
Read Full Post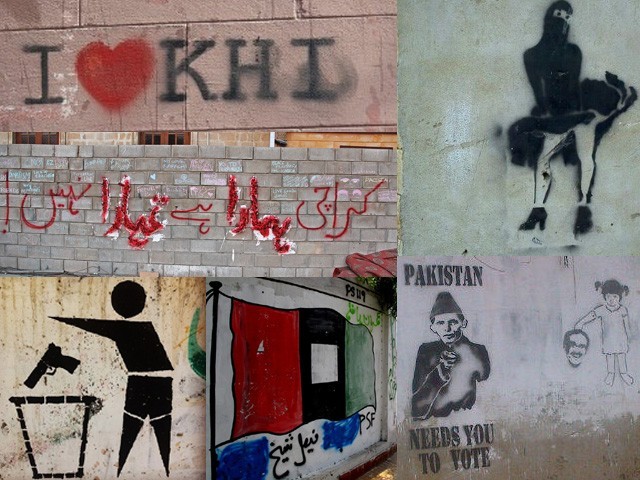 "Man-Pasand shaddi…" (Marriage of your choice) "Kia aap be-aulaad hain?" (Are you childless?) "Kamzor jism ko mota banaein…" (Beat weakness and get healthy) Photo: Sana Urooj I am sure every single person in Karachi is immune to all these appealing statements painted on walls catching our eyes almost daily. The system is usually blamed for such cheap marketing tactics but it is in fact, Karachiites' signature trend – purposely created. Graffiti, defined as wordings or images scribbled on a wall, actually originates from ancient Romans and Egyptians in the form of cave paintings and was used as a manner of self-expression. It has transformed ever since in ...
Read Full Post