In 2016, a colleague of mine happened to take a trip to Maldives, and showed me his pictures when he came back. I didn't know much about Maldives at the time, but the moment I saw the pictures, the extraordinary beauty and splendour of the place blew me away, and I immediately placed Maldives on my bucket list of the 'must-see' places around the world. Soon after, I did my initial research and realised the trip would be an expensive one. Thus, it was a couple of years after being introduced to Maldives that I finally got the chance ...
Read Full Post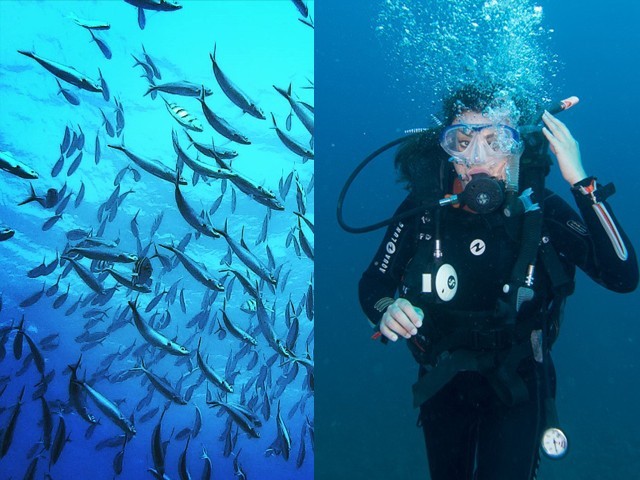 There is a phrase I often use to describe my very first scuba diving experience in Antalya, Turkey years ago, "Diving made me believe there is a God!" It was a surreal feeling, to connect with the majestic creatures at the depths of the ocean, with a feeling of absolute peace overtaking my relatively complex existence in the moments I spent underwater. The symbolism behind it alone is much deeper that we can ever imagine. Touching the ocean floor symbolises respect for nature, and thereby leads to a miraculous harmony with the oceanic life as they accept you in their space. ...
Read Full Post
My mother tells me a story of my childhood often. I was three, at some swimming club in London, and my sisters were taking swimming lessons. Too young to be allowed in at that age, I fought and wrestled against my mother, till the point that she was physically restraining me. The bemused instructor told my mother to let me go, to see what I would do. I made a running leap into the water, and haven't looked back since. Having been a self-proclaimed water baby my entire life, scuba diving was naturally always high on my to-do list. Last year, I finally ...
Read Full Post
What can be a more frustrating start to a day, than to be stuck in heavy traffic for an hour, chasing endless deadlines and shuffling from meeting to meeting? Nothing. All of us go through these ups and downs that trigger bad days. One really can't make time for themselves in this busy busy world! With such perplexities, our inner batteries need to be re-charged, once in a while. Going out for a walk, swimming at a breathtaking beach, feeling the warmth of the sun on your skin or even breathing fresh air is enough to achieve a little peace of mind in an otherwise busy life. Work ...
Read Full Post
A few weeks ago, my cousin asked me to accompany him on a scuba diving trip to Mubarak village, a place just outside Karachi. I was excited by the prospect and agreed in an instant, so he picked me up before sunrise. When we reached the village, we took a boat ride to Charna Island for the dive. We were accompanied by a team of professionals who briefed us before the dive. I was surprised to learn that one can enjoy the experience of scuba diving without knowing how to swim. After a few other important instructions regarding underwater communication signals, ...
Read Full Post