This summer, I had the chance to pay a short visit to Karachi – a city I've never had the opportunity to visit before. Soon after landing and taking a cab to the hotel, we started hearing stories of locals out and about in the city. This aged driver, who drove us to our hotel, told us how, for the last few months, Karachi has been a lot more peaceful because of the Rangers' operation. He also said, "This operation should be extended to the entire province to ensure complete implementation of law and order." That driver was not the only one who felt that the Ranger's ...
Read Full Post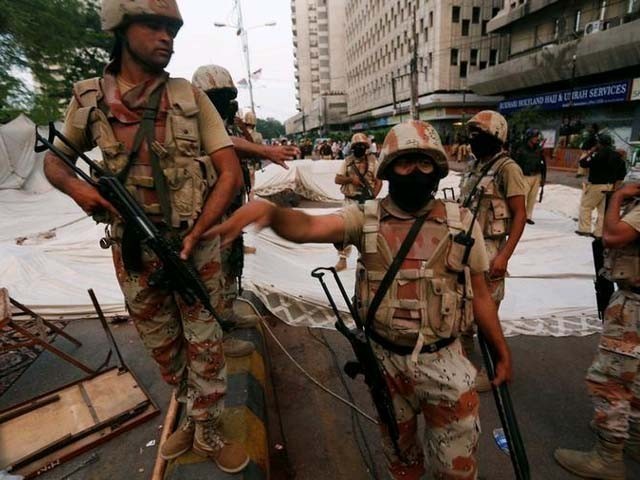 On October 24, 2016, on my way to IBA University for a class, I encountered a horizontally parked ranger's mobile on Shahrah-e-Faisal (at co-ordinates 24.851588, 67.032374). The flow of traffic had halted, and I was running short on time. I decided to take a picture of the scene so I'd have evidence to prove why I was late, to my teacher. A ranger's official, upon witnessing this, rushed to my car immediately, grabbed me and started pulling at me. He dragged me out of the car and snatched my phone. More Ranger's personnel gathered around me and without any justification, ...
Read Full Post
In his fiery and 'courageous' speech, followed by his 'courageous' exit from the country, Asif Ali Zardari seemingly tried to intimidate the country's establishment in general and the army in particular. The speech was filled with direct and indirect attacks at, and threats to the Pakistan Army, apparently as a pre-emptive response to what followed. It was later that the Pakistan People's Party (PPP) clarified that these accusations and threats were actually hurled at former army men and not ones currently in service. This was the first of many unbelievably lousy explanations put forth by PPP as part of a damage control exercise. Muttahida Qaumi Movement (MQM) ...
Read Full Post