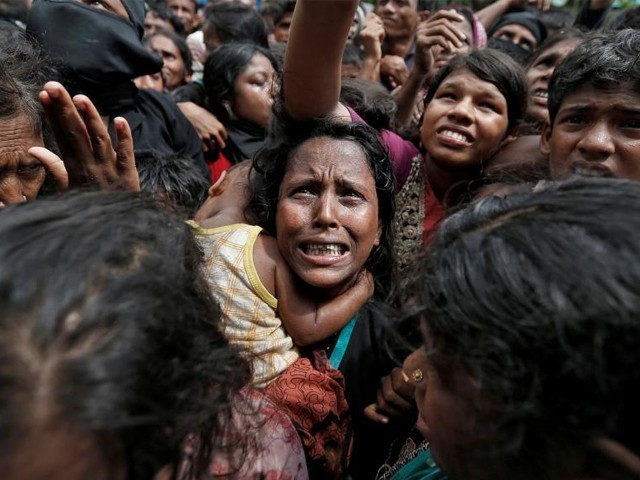 "The world has abandoned us," was the message that was sent loud and clear last year to the global community from the victims of Aleppo, Syria. There were clear reports of chemical attacks against inhabitants, including children, perpetrated by the Syrian regime. Yet, the international community watched helplessly as rebel-held parts of Aleppo, the largest town in Syria, descended into a humanitarian catastrophe. While the crisis received reasonable coverage in international media, it failed to mobilise large-scale demonstrations in western capital cities. There were more people gathered in front of the French Embassy to mock the burkini ban than there were to ...
Read Full Post
I had a long day at work and was so tired that I hit the bed as soon as I reached home, missing all the updates on Qaddafi's death that were aired whilst I slumbered. And as I came to work this morning, my colleague showed me some pictures of his body coming in from wire services. I was shell-shocked. I couldn't believe what I was seeing. I saw his mutilated face, the small tunnel he was hiding in and people celebrating his death on the roads. It was depressing. Although I was never his supporter and condemned his dictatorship, what ...
Read Full Post
The late Moamer Qaddafi was regarded a hero in Libya till the uprising started against his regime in February this year. People respected him as one of their spiritual and even revolutionary leaders. Nobody in Libya thought even in their wildest dreams that one day Qaddafi would not only be removed from power, but also killed ruthlessly and that too at the hands of Libyans themselves. Early on Thursday, Qaddafi was killed when new regime forces launched a final assault on his home town Sirte. The former dictator was wounded as he tried to flee the scene, with injuries to his head and legs. Video footage showed his bloodied body ...
Read Full Post
In Qaddafi we have lost not only a despot but also one of the most remarkable figures of the 20th century. Call him eccentric, idiosyncratic or an oddity; yet the satisfaction of finding le mot juste will elude you. The problem here is not with Qaddafi, it's with these words: none of them can do justice to the personality of 'the mad dog of Middle East'. Only if there was a word which could sum up his callousness, clownery, perversity and political maturity, many could die happy. The only competition that Qaddafi had was His Excellency, President for Life, Field Marshal Al Hadji Doctor Idi ...
Read Full Post
As the gunfire reaches Colonel Qaddafi's compound, it seems as though 'the end is near' for the longest serving dictator in the modern world. However, since neither was this a Libyan-led nor a Libyan-owned war, one may argue that this is only just the beginning of the end. When we might get to see Qaddafi creep out of his compound or get killed in the process cannot be foretold; however the situation in Libya does seem to be more fluid and 'complacency,' a by-product of winning the war, may get the better of everyone. As his regime fades into the background ...
Read Full Post