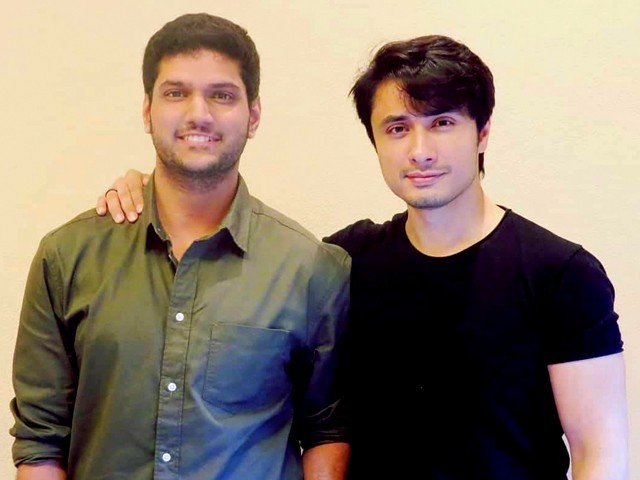 A global superstar at the moment, Ali Zafar is a man of all seasons. Not only is he multifaceted, having achieved success as a musician and an actor, but he also puts his heart and soul into everything he does. He has now made an incredibly successful Lollywood debut as well, as the producer and lead actor in this year's Teefa in Trouble. In an exclusive interview, I learnt about Zafar's current projects, Bollywood and marriage. You started singing at a very young age and have since established yourself as one of the leading contemporary singers in South Asia. What ...
Read Full Post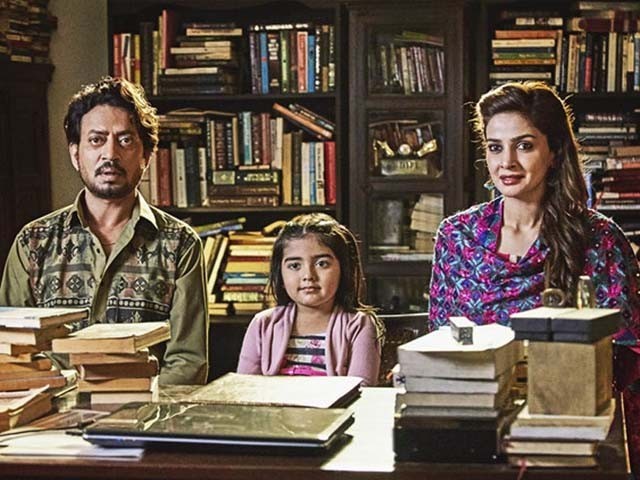 When you think of language, you think in a language. For me, it's English. It always has been. Sometimes, I wonder if my thoughts were in another language, would I be different? Would my life have turned out differently? Perhaps. You never know, that's the thing. Hindi Medium made me realise that language has the power to change. I see it every day around me. I see it at work when I try to communicate in Urdu but my vocabulary falls short. I used to see it in school, when people mocked that one kid for speaking in Urdu because God forbid, ...
Read Full Post
A self-confessed Indian spy was caught in Pakistan to be sentenced to death, so some people in Mumbai went to an apparel outlet and stomped on clothes that were made in Pakistan. Sometimes, facts can be more absurd than fiction. The store, the ever popular Zara, that carries clothes made in multiple countries, was accosted by Raj Thackeray's Maharashtra Navnirman Sena (MNS). Hindu hardliners and Indian nationalists all in one, the party is known to take extreme stances on multiple issues concerning Muslims, cows, Pakistan, etcetera. The violence that the party usually propagates is interestingly in direct contrast with the glossy image India reflects to the world; the land of breakthrough ...
Read Full Post
Compiling a list of the worst Pakistani movies of 2016 is a daunting task, and not only because it is guaranteed to increase the number of one's enemies in show business. It is a real challenge because keeping the list down to 10 items is a formidable task when the number of the year's bad films is much larger. Much, much larger. A total of about 30Urdu films were released in 2016. A few, such as Mah-e-Mir, Ho Mann Jahaan and Actor-in-Law, were actually good but the vast majority failed to deliver on the promise of the resurgent Pakistani film industry, whose revival is the subject ...
Read Full Post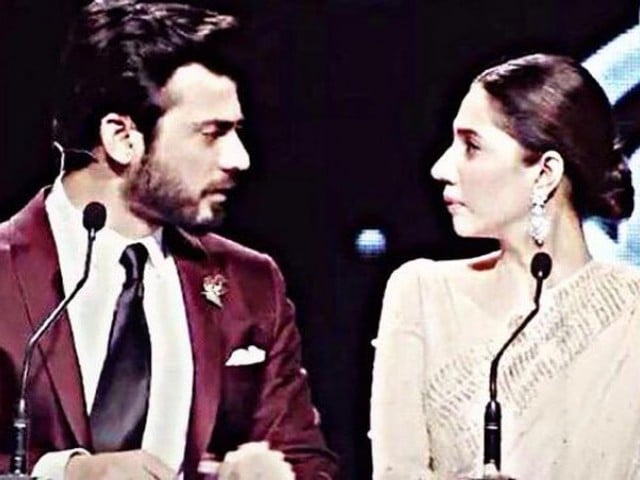 Thank God for Fawad Khan and Mahira Khan, their powers are unlimited! Now that they are back in Pakistan, India is safe and the Indian actors whose jobs they took or whose films (see Ajay Devgn) might have flopped because of their magical presence in side roles or extended cameos are even safer. However, don't underestimate the power these two extraordinary individuals possess, one tweet from them, one line on Facebook, or just a simple press release and the entire Kashmir issue would be resolved. It is just amazing how selfish they are by holding back, when a little effort on their part ...
Read Full Post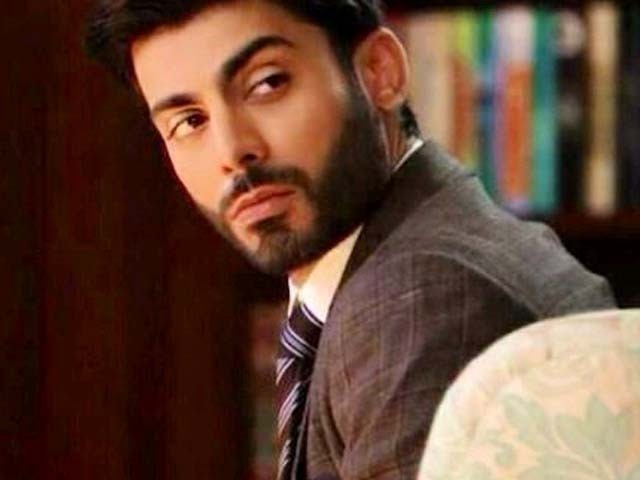 To ask a Pakistani actor to go back to his country when there has allegedly been a terrorist attack on Indian soil by Pakistanis, is both stupid and understandable. The citizens ask for quick retaliation and, as always, people in the world of arts, culture and film are the softest targets. The Maharashtra Navnirman Sena (MNS), sensing the public pulse, cashed in on the anger and gave Pakistani actors and artists a 48-hour ultimatum to leave India. And mind you, a lot of Indians are irate with the presence of the Pakistani artists in India. That does not make them right or ...
Read Full Post
Another fatwa about women has emerged from the glorious Kingdom of Saudi Arabia, a fatwa that declares the innocent enjoyment of a football match to be haram for women. After all, with the infamous wife-beating bill courtesy of the Council of Islamic Ideology (CII), Pakistan, KSA could hardly stand to be left behind. Of course they've graduated from wife-beating to wife-eating so now it's on to figuratively invading the privacy of people's homes and telling them what to watch on TV. Of course, it's not okay for the civil society or legal bodies to figuratively invade homes, or work-places, or ...
Read Full Post
Nepotism has a new face in Pakistan. Can you guess who it is? No, it's not Nawaz Sharif. It's not the Bhutto clan. It's not the politicians or the bureaucracy. All those institutions have been swept aside by that new lady in town. We fondly call her 'Lollywood', but she's more formally known as Pakistan's film industry. She isn't really new, but her recently acquired contemporary ornaments have taken years off her face. She wears Bol around her neck, carries Bin Roye under her arm and has crowned her head with Waar. In step with her is her entourage; a horde of uncles and aunties, brothers ...
Read Full Post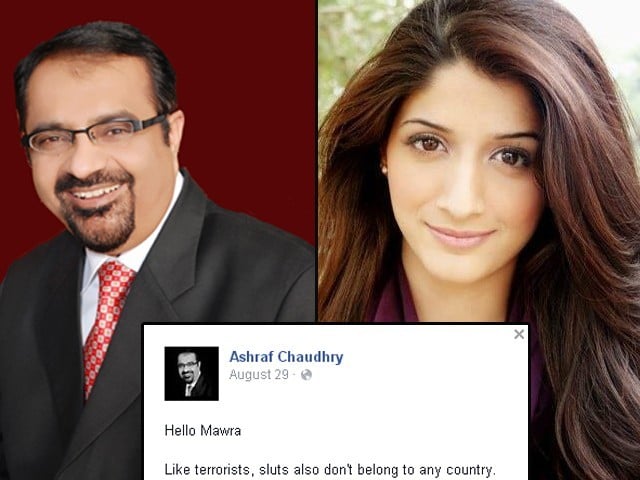 A country must be a mother. No other person could suffer so much at your hands and still call you its own. We may call Pakistan our mother, we may respect it as if it was our mother, we may even love it like our mother but is there a place for mothers, sisters, and daughters in this Pakistan? Is there no country for women? We are quick to stand up in arms when the sanctity of our adopted mother is called into question. We are often told, "The sovereignty of Pakistan must come first." There was a similar visceral reaction in Pakistan to the ...
Read Full Post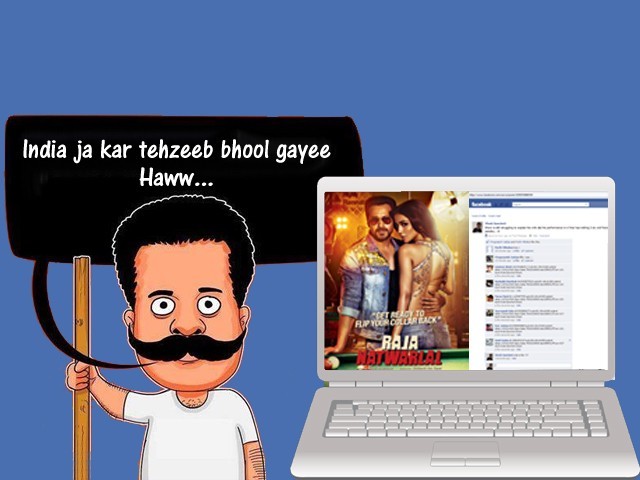 "There is no hypocrisy in Pakistan; we just have completely different standards for men and women." The comment above summarises the general feedback I received on a meme I created, which went viral on Facebook last week. I hope the irony of that statement was not lost on them. The idea behind the meme was to call out a population that was in an uproar about Humaima Malick crossing over to the tinsel town next door but was showing a general acceptance towards Fawad Khan doing the same. I am no moral authority to judge anyone's behaviour but it is always fun to start ...
Read Full Post