It was over a year ago when a terrible tragedy befell a good family. While driving home at night, close to their house in DHA Phase 4 on main Khayaban-e-Badar in Karachi, a middle aged couple was blind sighted by a speeding vehicle. The fierce impact of metal gnashing on metal lasted several seconds, dragging their car sideways for what felt like an eternity. Both occupants were left hurt. The husband, a tall and kind-hearted man, usually armed with a ready smile that I automatically recall when I think of him today, suffered a head injury. Here, he performed one last ...
Read Full Post
Progress comes at a price they say, but when it comes to Karachi, motorcyclists seem to be the ones paying this price most often, if not always. From entry into state-of-the-art shopping malls and luxury hotels to snap checking by the police, motorcyclists face discrimination in most situations. This is about the rights of two million motorcyclists — sales agents, delivery staff, factory workers and other corporate as well as public sector employees — who serve the city in one way or the other. If you are on a motorcycle, the security at a five-star hotel will not let you in, nor will they treat ...
Read Full Post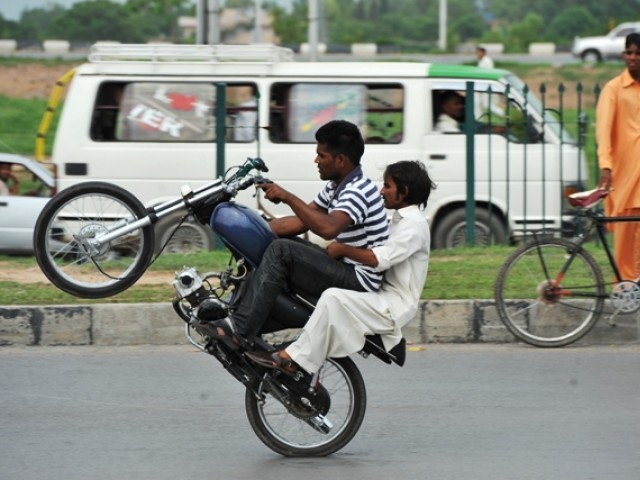 In a third world country like Pakistan, where successive governments have failed to provide a reliable transport system, motorcycles tend to be the lifeline for masses. Take the example of Karachi, which accommodates more than half a million motorcyclists every day. While the number of motorcycles has increased in recent years at a phenomenal pace, the government and traffic regulators have made no efforts to bring discipline in this realm. The Excise and Taxation Department of Sindh has finally started issuing official registration plates for motorcycles purchased as of July – an initiative one must appreciate as it could provide traffic ...
Read Full Post
I walked as fast as I could, and recited 'Ayatal Kursi' more than 10 times in two minutes. I could see the motorcyclist from the corner of my eye. He was staring at me as he passed and a shiver ran down my spine. I tried to catch my breath. My palms were cold with sweat and fear choked my heart. Retribution was coming; I was going to be punished  for people-watching. I shouldn't have stopped and stared at a couple being mugged on the roadside by a twenty-something holding his pistol towards his elderly prey. The motorcyclist had stood there so nonchalantly, ...
Read Full Post
I was sitting outside a local tea shop with my friends, adjacent to Sanda Road when a bike came crashing into the footpath near us. A young boy aged around 16-18 lay on the pavement in a pool of blood. The young boy had been riding his motorbike on the back-wheel through the city's busiest road at high speeds. Sadly, he was unable to control his bike. This was the first time I encountered such a brutal accident and I pray to Allah that it may be the last. Motorcyclists like this guy can be found displaying their dangerous stunts on busy ...
Read Full Post