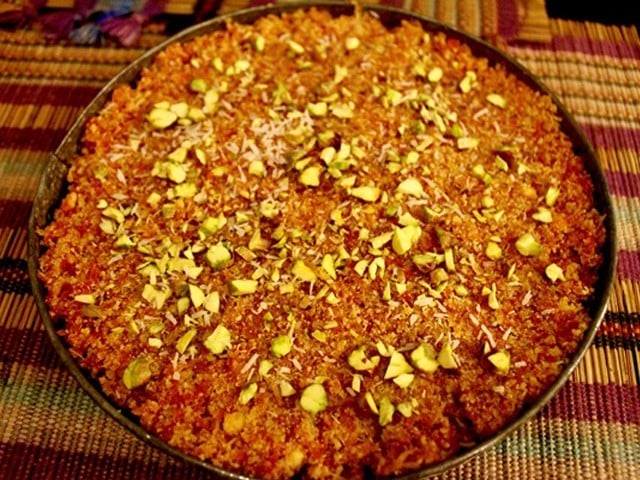 This year, I wanted to start things off with something sweet. Maybe I wanted to hint at my guardian angels to make the next 12 months as sweet for me as the desi dish I was about to make. Desi desserts are always full of flavours, with each bite one floats off to a sweet paradise. Plump with refined butter and glistening with syrup, these delicacies are not for the faint-hearted. It is hard for me to walk past a shop where slabs of Sohan halwa topped with almonds, or newly fried bright orange jalebis sit enticingly in the window, and not find ...
Read Full Post
Eid will always remind me of my childhood and growing up in Pakistan. I have a clear sensory memory of awakening to aromas of cloves and cardamom wafting from the kitchen into my bedroom. This is a day that revolves around family togetherness and a celebration of food, after a month of abstinence and contemplation. Though a global Muslim festival, Eid is celebrated differently in each country, highlighting the fact that this is not just a religious day, but a time to celebrate our culture and identity. But, the one unifying similarity is that Eid is a celebration of food, authentic flavours ...
Read Full Post
Recently, an international journal of psychiatry published a report about a new disease – the 'Bara Bhai Syndrome'. It was discovered during research workshops held in Pakistan and India. The hallmark of this disease has been described as an extreme preoccupation with the duty of providing care to the family, heightened sense of sacrifice and responsibility, feeling of guilt and premature ageing. While the disease has been found to be more rampant in South-East Asia, thousands of immigrants in developed countries have also tested positive for it. The disease typically affects the first-born male child. However, comparable symptoms can also be exhibited by the only ...
Read Full Post
In my part of the world, every celebration is accompanied by a dessert. Be it a wedding, an engagement, a birth, a promotion, a graduation, purchase of a house, a new car, or any other achievement or joyous occasion like Eid – the tiniest of the joys are celebrated with our mouths full of sweets and desserts. Nothing is more loved on such occasions than the scrumptious mithai most commonly known as 'gulab jamun'. It is a personal favourite! In Pakistan, people usually buy gulab jamuns and never make it at home. Specialised mithai makers called halwaees make these delicious sweets. However, I had to learn how to ...
Read Full Post